Henderson Neighborhood News for Dec. 4-10, 2014
December 3, 2014 - 5:01 pm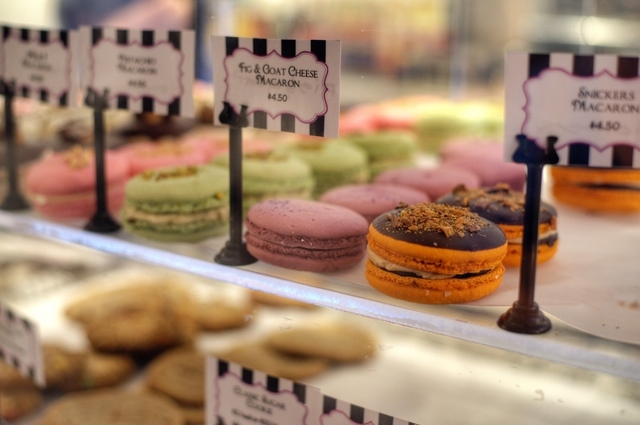 CAR SUPERSTORE TO ATTEMPT TO BREAK GUINNESS WORLD RECORD
Henderson Hyundai Superstore, 460 N. Boulder Highway, plans to break the Guinness World Record for the world's largest parade of Hyundai cars at 9 a.m. Dec. 7. The goal is to have more than 157 Hyundai participants.
The store also plans to donate $20 for each participating vehicle to STOP DUI, a nonprofit that raises awareness to the consequences of intoxicated driving, in honor of National Impaired Driving Prevention Month.
Hyundai owners interested in participating can register online or at the superstore from 8 a.m. to 9 p.m. Monday through Saturday.
For more information, visit hyundaiparade.com.
LIBRARY PLANS MICROSOFT PUBLISHER INTRODUCTION CLASS
A Microsoft Publisher 2013 introduction class is planned for 10 a.m. Dec. 11 at the Green Valley Library, 2797 N. Green Valley Parkway. Registration is required.
For more information, visit mypubliclibrary.com or call 702-207-4261.
FLU VACCINES TO BE OFFERED AT LIBRARY DEC. 13
Southern Nevada Immunization & Health Coalition plans to offer free flu vaccines from noon to 4 p.m. Dec. 13 at the Green Valley Library, 2797 N. Green Valley Library, for people 6 months or older. Parents should bring children's shot records.
For more information, visit vaxvegas.org or call 702-207-4260.
BAKERY TO PARTNER WITH SANTA IN FOOD DRIVE DEC. 16
Gimme Some Sugar Bake Shoppe, 19 S. Stephanie St., Suite 160, plans to partner with Santa Claus to host a canned food drive from 5 to 7 p.m. Dec. 16. With each donation, children can sit with Santa and receive a free chocolate chip cookie. Photos are also available with a $10 donation.
All donations are set to benefit Three Square food bank.
For more information, visit gimmesomesugarlv.com or call 702-882-2537.
WINNERS NAMED IN HENDERSON ECONOMIC DEVELOPMENT AND SMALL BUSINESS AWARDS
The city of Henderson and the Henderson Chamber of Commerce announced the winners of the 15th Annual Economic Development and Small Business Awards. The awards recognize the businesses and people that have made an impact in the Henderson business community.
Barclaycard received the Economic Development Project of the Year award. VadaTech was honored with the Expansion Project of the Year award. Cowabunga Bay Water Park was named Redevelopment Project of the Year. Windom Kimsey, president and CEO of Tate Snyder Kimsey Architects, received the Private Sector Person of the Year award. Terry Culp, deputy director of Nevada Industry Excellence, was named O'Callaghan Public Sector Person of the Year.
For more information, visit hendersonmeansbusiness.com.
POST OFFICE LOCATIONS TO COLLECT ITEMS FOR TOY DRIVE
Several Henderson post office locations are accepting toys through Dec. 18 to contribute to Toys for Tots.
Individuals can drop off items at the Henderson Main Post Office, 404 S. Boulder Highway; the Valle Verde Post Office, 1575 Horizon W. Ridge Parkway; the Seven Hills Post Office, 3055 St. Rose Parkway; and the Green Valley Post Office, 2722 N. Green Valley Parkway. Residents who cannot drive to these locations may give toys to their Henderson mail carriers.
The gifts must be new and unwrapped.
CITY OF HENDERSON PLANS MEETINGS
The city of Henderson plans its next Planning Commission meeting at 6 p.m. Dec. 11 at Henderson City Hall, 240 S. Water St.
A Neighborhood Connections meeting for Ward 4 is planned from 6 to 7 p.m. Dec. 10 at the Henderson Multigenerational Center. Henderson Mayor Andy Hafen, Councilman Sam Bateman and city staff members are set to attend to answer questions and provide information to residents in the town hall-style meeting.
For more information, visit cityofhenderson.com/city_clerk.
CASA FOUNDATION TO BENEFIT FROM TOY DRIVE
Distill, Elixir and Remedy's restaurants plan a toy drive through Dec. 5 to benefit the Casa Foundation, a nonprofit that assists children in the Clark County foster care system.
All toys must be new and unwrapped and can be donated at: Distill, 10820 W. Charleston Blvd. and 4830 W. Pyle Ave.; Elixir, 2920 N. Green Valley Parkway; and Remedy's, 3265 St. Rose Parkway and 530 Conestoga Way.
For more information, visit elixirlounge.net, distillbar.com or remedystavern.com.
TREE OF MEMORY PROGRAM TO BENEFIT SHILOH HORSE RESCUE
Palm Mortuaries and cemeteries plan to offer holiday ornaments that can be engraved with the names of lost loved ones through Dec. 12.
"Each year, Palm Mortuaries and Cemeteries select a nonprofit organization to benefit through the sales of our personalized holiday ornaments," said Glenn Abercrombie, general manager of Palm Eastern. "This year, all proceeds from ornament sales will benefit Shiloh Horse Rescue, a wonderful organization founded by Jill Curtis-Weber, wife of the late actor, Tony Curtis."
Palm Mortuary's annual Tree of Memory holiday services are scheduled at 7 p.m. Dec. 4 at the Palm Boulder Highway, 800 S. Boulder Highway; Dec. 6 at Palm Northwest, 6701 N. Jones Blvd.; and Dec. 9 at Palm Eastern, 7600 S. Eastern Ave.
Ornaments can be ordered at all Palm locations between 9 a.m. and 4 p.m. daily. For more information, visitpalmmortuary.com.