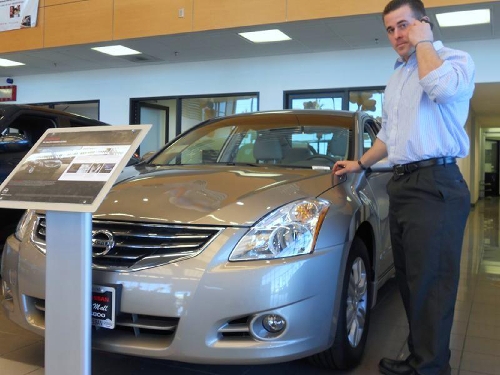 Zero percent financing is a very real way to save money when purchasing a car, according to Henderson Nissan Sales Manager Gabe Cunha.
"When I talk to customers, the most important thing to me is pitching financial sense," said Cunha, 26, and a five-year veteran of the car business. "With 60-month financing on a $20,000 vehicle with 12 percent interest, the swing in payment is $132 when you have zero percent financing.
"When you figure in the savings over five years, it amounts to almost $7,900 that is saved by the customer who utilized zero percent financing. The biggest reason people find themselves upside down in a car is because of financing charges."
Henderson Nissan has offered zero percent financing for quite some time, but many simply don't understand the benefit, Cunha added.
"When people walk in three years after buying a car with $7,900 in finance charges, they are usually upside down in the purchase of the new vehicle. This can become a perpetual problem when the customer simply rolls the negative for one car into the new one. That is done on a regular basis, but it doesn't make good sense financially."
The answer?
"Zero percent financing is the only way to go and I know that our customers appreciate that we encourage them to go with zero percent financing," Cunha said. "In the past few months, at least 30 percent of our customers have taken advantage of zero percent financing.
"In most cases, we'll see the customer return in a few years to buy another car from us because of the fact that we carefully led them into the right financing program with zero percent financing. They feel that we have guided them in a professional manner that is a win-win for everyone involved."
Cunha added that a common misconception is that buyers need perfect credit in order to qualify for zero percent financing.
"That's simply not true," Cunha said. "Lower credit scores definitely affect the outcome, but I have seen people qualify for zero percent when their credit score was low. That's especially true if you're a good Nissan customer. Way too many things have happened to people that were simply the result of a miserable economy and we're willing to help them."
Sherri Shugreen, who works in a skilled nursing facility, is one of the Henderson Nissan customers who capitalized on the zero percent financing.
"It was absolutely awesome," said Shugreen, who traded her 2009 Nissan Murano for a 2010 Nissan Altima. "My payments on the Murano were too high and Gabe converted me into the Altima and I couldn't believe that he was able get it done. The payment was $130 a month cheaper and my insurance went down. My savings in gas went up since my Altima gets 24 miles to the gallon in the city and 34 on the highway.
"On top of that, I was in Henderson Nissan for only an hour and a half. I recommend to all my friends that they go to Henderson Nissan. Gabriel is a good businessman and I'm very impressed by him. He was amazing."
Further information regarding zero percent financing can be found by calling Cunha at 558-5800 or by visiting Henderson Nissan at 295 Auto Mall Drive in the Valley Automall.
Henderson Nissan is led by General Manager Marty McKenna. The dealership is part of the Super Store Auto Group that has five dealerships in Las Vegas and 26 throughout the nation.
Further information regarding Henderson Nissan can be found at www.hendersonnissan.net.