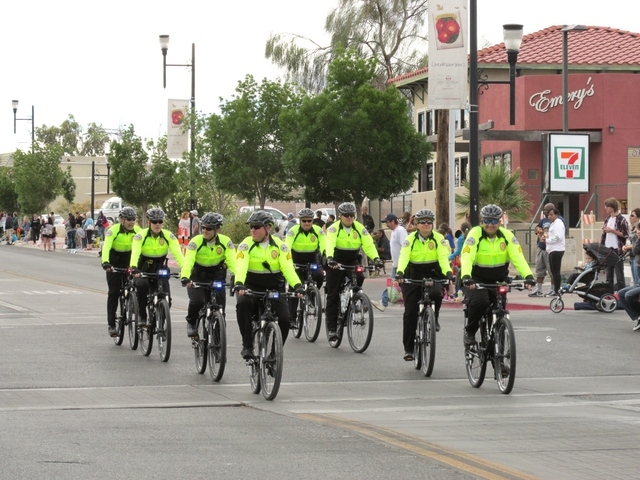 Residents can see the newest unit of the Henderson Police Department zooming by on bicycles donning neon green shirts and spandex.
The city of Henderson decided to launch the team during National Bike Month to accompany its recent designation as a Bicycle Friendly Community from the League of American Bicyclists.
"There are many benefits to this unit," said Henderson Sgt. Matt Zobrist. "It allows us to have better contact with the community and also to be more stealthy."
The city received a grant from the U.S. Department of Justice to create a bicycle unit. The $45,627 grant paid for bicycles, uniforms, helmets and bike racks for patrol cars.
The primary goal of the unit is community outreach. Officers are expected to be at community events from the upcoming the Fourth of July celebration to festivals such as SuperRun and the Heritage Day Parade.
Zobrist said officers are also equipped with information about biking laws and Henderson trails.
Zobrist, who has been with the city of Henderson for 16 years, is member of the part-time, 18-person team composed of 15 officers and three sergeants.
He joined the Henderson Police Department after college.
Like many on the team, Zobrist has served in various capacities with the department from community relations to patrol sergeant.
He said he liked the idea of joining the bicycle unit because of the community aspect and being able to be more accessible to help residents.
"(The bicycle unit) is more approachable," he said. "You see a (bike) cop on the street, it might be a little easier to talk to them. I like the friendliness we convey."
In addition to being more approachable, Zobrist said the unit provides for a better opportunity for stealth.
"You can see a patrol car coming down the street from a mile away," he said.
According to Kathleen Richards, a spokeswoman with the city of Henderson, there were no specific requirements to join the unit.
"Instead, officers were selected across multiple shifts and area commands so they could be assigned to events or operations during their regular patrol hours without incurring overtime," she said.
To be a part of the unit, officers had to go through the Metropolitan Police Department's certification program.
Preparing for the unit has been a test of endurance, Zobrist said.
"It's much different than regular cardio," he said.
Zobrist described himself as a leisure rider before the unit.
"You have to get used to a whole different kind of soreness," he said.
Plus, it's not just riding around. Officers must get used to carrying equipment while on their bikes.
For more information, visit cityofhenderson.com.
Contact Henderson View reporter Michael Lyle at mlyle@viewnews.com or 702-387-5201.