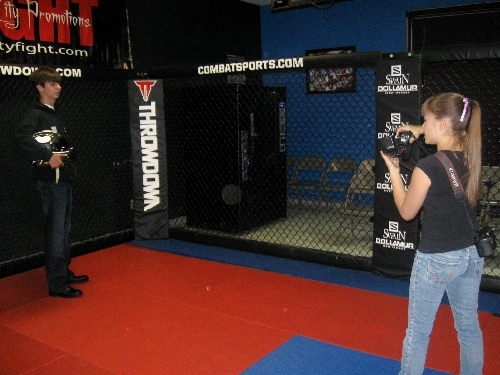 The unforgettable odor of the Clark County coroner's office was sobering enough to convince 15-year-old race car driver Parker Nicklin not to text while driving.
"It is so dangerous," Parker said. "This can cost people their lives. It's just not safe."
Parker and his father, Steve Nicklin, both Henderson residents, have launched a campaign to warn drivers about the dangers of using the phone while driving.
Although it is a law in Nevada, Nicklin doesn't believe people are taking it seriously.
"We see people still using their phones while driving," Nicklin said.
Parker described a car accident he witnessed after leaving a movie theater.
"The car was T-boned," Parker said. "Then I saw the girl look down to finish her text after she was hit."
Parker remembers the passenger getting out of the car holding his leg.
"She could have cost him his life," Parker said.
As a race car driver, Parker said he knows the dangers of high speeds.
"You can travel a far distance going 60 miles per hour," Parker said.
Adding a distraction to high driving speeds doesn't seem safe, he said.
Parker, who has a learner's permit, remembered a recent trip when he was driving to California with his family.
For a split second, he took his eyes off the road. When he looked up, he was getting closer to the car in front of him.
"I tried to get to the brakes but just didn't get there in time," Parker said.
It was a small accident about four months ago. No one was hurt.
"But I felt bad about it for three months," Parker said.
It led Parker to participate in the Coroner's Visitation Program, which is designed to deter the reckless behavior of youths.
"I expected to see bodies and body bags," Parker said. "You never forget the smell. We talked a lot about drugs and crashes."
Parker said he didn't expect to hear about the dangers of distracted driving and using a cellphone.
"It is overwhelming the number of crashes that happen because of distractions," Parker said.
This prompted him to start a campaign to reach out to all drivers. He used some of his proceeds from racing to launch the campaign.
Parker made a YouTube video to serve as a public service announcement. The campaign also includes sweat shirts, T-shirts and polo shirts addressing the issue. Merchandise and the video announcement are available at teamparkerstore.com.
The family has placed a billboard near the Thomas & Mack Center at the University of Nevada, Las Vegas to encourage drivers to "Just Let it Ring."
"Hopefully when they are pulling out of Thomas & Mack, they will look at it," Nicklin said. "It is a hard thing to do. I have my sticker in the car to remind me to 'Just Let it Ring.' The question is, 'Are you disciplined enough to do it?' "
While encouraging drivers of all ages, Parker thinks if he can engage other teenagers to stop using their phones while driving, they will send the message to the rest of the family. He said he persuaded his sister and mom to stop texting.
"(Teens) can peer pressure their family," Nicklin said.
Nicklin said the campaign is still gaining momentum.
"It is slow at first, but you just have to be patient," Nicklin said.
Parker has partnered with Mothers Against Drunk Driving and has donated a portion of proceeds from the merchandise sold on the website to the nonprofit.
Nicklin said he is talking with AT&T Inc. about a program to curb the number of teens who text while driving.
As Parker continues to pursue his dream of being a Formula One race car driver, he knows he will always carry this cause with him.
"This is something I will always promote," Parker said. "I don't want people to get hurt."
Contact Henderson/Anthem View reporter Michael Lyle at mlyle@viewnews.com or 387-5201.