Henderson resident, inspired by military experiences, started support group at Bank of America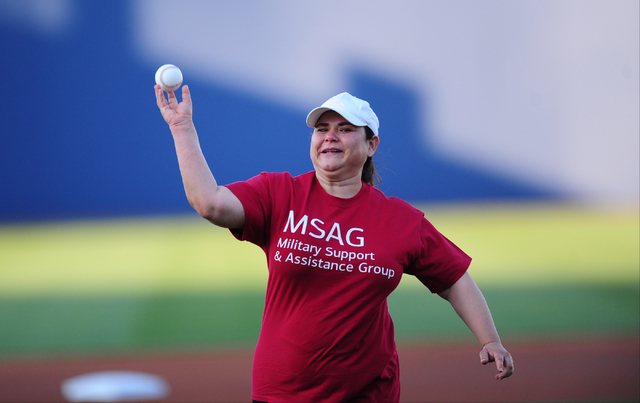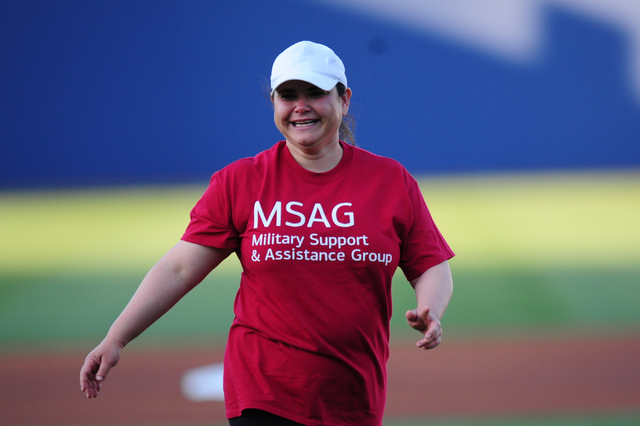 Stepping up to the plate at Cashman Field, Ido Williams wasn't sure if her pitch would make it the distance.
She had survived Air Force basic training despite speaking only Spanish and multiple deployments across the globe, including a stint in Afghanistan right after 9/11. But the first pitch at a Las Vegas 51s game seemed daunting.
"I practiced with my husband and some of my co-workers," she said. "Thankfully, they allowed me to stand a little closer (to home plate)."
Williams, a Henderson resident, was recently acknowledged at the team's Military Mondays and selected to give the first pitch.
Bill Devine, the administrative manager for the Sierra Nevada complex for Bank of America Merrill Lynch and a member of the Military Support and Assistance Group, said the group began a partnership with the 51s to sponsor a veteran each Monday.
"We have people (who have served in the military) and nobody knows what they've done," he said. "So you would see someone like Ido and never know what she is all about."
While baseball fans in the stadium got a glimpse of Williams' service in the Air Force, it's just a fraction of who she is and what she's been through.
Following in her brother's footsteps
Williams was born in Arizona, 45 minutes from the Mexican border. Though her family lived in Mexico — Williams grew up there as well — they came to the United States because it was the closest hospital to deliver a baby.
One of five siblings, Williams said she looked up to her older brother, who had joined the Army.
"I talked about him all the time and everything he was doing," she said.
She realized that she wanted to follow the same path and join the military, though her brother was hesitant to support it.
At the time, Williams was shaky, at best, with her English. She visited an Air Force recruiter in San Antonio and took a placement test to see how she would fare.
She scored low on English. However, in every other component, such as math, she had high scores.
"He said it was enough to make it," Williams said.
She spent the next few weeks memorizing a study book for the Air Force entrance exam, looking up all the words in a Spanish-English dictionary so she could study for the test.
"It paid off," she said. "I scored a 93 percent."
Her brother eventually conceded after seeing her determination to join. But it was her younger sister, who was going through boot camp in California, who tried to dissuade her.
Her sister, who grew up in California with an aunt, had trouble during boot camp despite speaking English.
"She said she was struggling even with being fluent in English and worried how I would do," Williams said. "That made me want to join even more."
Making it through boot camp
It was 1999, and a nervous yet determined Williams showed up at the airport in high heels and makeup, with too much luggage, ready for boot camp in San Diego.
"I didn't know what to pack, so I packed everything," she said. "I wanted to make a good impression, so I dressed up. Everyone else was in sweatpants."
She was immediately berated with insults upon arriving at boot camp, she said.
"But the yelling didn't really bother me," she said. "I didn't know what they were saying. Also, I was used to yelling. They hadn't met my mother."
During her time in boot camp, she said she faced racist terms such as "wetback."
"I had an instructor who couldn't grasp how I was born in America and couldn't speak English and made it all the way through," Williams said.
That instructor had Williams investigated, though he found nothing.
Physically, she endured. A lifetime of running around in Mexico had made her adaptable to any obstacle. It was the mental games that wore on her.
At night, when her bunkmates were asleep, Williams was in the bathroom reading an English-Spanish dictionary by flashlight, trying to study and prepare for tests. It paid off, and she was one of the members who graduated.
Next, she went to tech school for training in her specialty. Again, she was met with hostility from people who thought her language skills would hinder her job performance. She shook off their critiques and continued to work toward her goals.
About four months later, she was ready for her first deployment — to South Korea.
"I think I was the only one really excited about it," she said. "I was ready to see the world."
Deploying again after 9/11
After South Korea was Germany, where Williams fell in love with the country and her work in Services & Fleet Management and Analysis. But all that came to a screeching halt one day.
She was watching CNN before her shift and saw a plane fly into a tower in New York City.
As details of 9/11 emerged, the base was put on lockdown. Within 48 hours, Williams was deployed to Afghanistan.
Her next six months in the desert were a blur as the team worked 16-hour shifts, mostly sitting around waiting for instructions.
"I became the queen of spades," she said, referring to constantly playing the card game.
Eventually, she returned to Germany.
Nearing the end of her contract, Williams decided to extend her discharge for a year while she figured out what to do next. She was stationed at Nellis Air Force Base and did a couple of quick deployments from there. She decided she wanted to become a linguist.
"I loved studying other languages," she said. "It is a doorway to other people's cultures."
Williams waited for an opportunity. But when her superior thought another deployment was underway, he denied her request, thinking her time would better be served overseas.
"I was crushed," she said.
If she would have entered the linguist program, she said she would have stayed in the Air Force. Since her opportunity was gone, she decided to finish her career there and begin her next chapter.
Restarting civilian life
Before transitioning to civilian life, Williams took the rest of her leave that she had saved up. She was making a transaction at Bank of America when she noticed a flier for a career fair.
"I liked the idea of going into banking," she said. For the hiring staff at Bank of America, bringing her on was an easy choice.
"I am bilingual and military," she said. "It's a no-brainer."
Williams eased back into the civilian world starting as a teller. However, she wasn't quite done with military life and helped to found the local chapter of the Military Support and Assistance Group. Devine said the group helps military personnel transition to civilian life, sometimes providing mentors who have gone through similar experiences.
He added that the group has worked to spread the word that this resource is available.
"Some people don't want people to know," he said.
Williams has also organized supply drives to collect items such as toiletries.
"You don't know how many times those supplies have helped me when I was overseas," she said.
The board of the Military Support and Assistance Group nominated Williams to be the next honored by Military Mondays — she successfully threw her pitch May 23.
Devine said each Monday has been inspiring, watching veterans get recognized.
"One Monday, we had (another veteran) throw the first pitch," Devine said. "There were only 200 people in the stands, but they all got to their feet to shake his hand and thank him for his service. It was a great thing to see."
Visit militarytransition.bankofamerica.com.
To reach Henderson View reporter Michael Lyle, email mlyle@viewnews.com or call 702-387-5201. Find him on Twitter: @mjlyle.
Military Support and Assistance Group
For more information on the Bank of America program, visit militarytransition.bankofamerica.com.