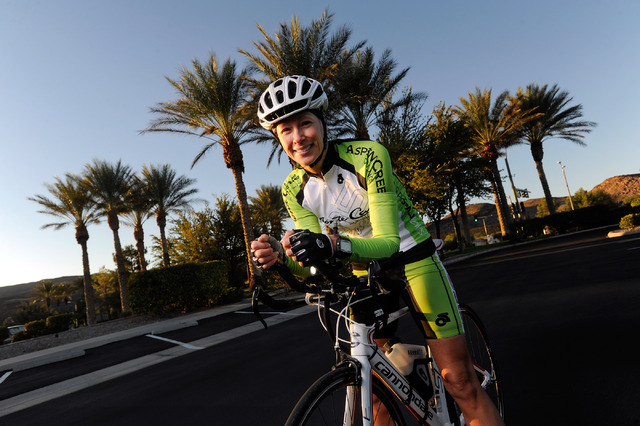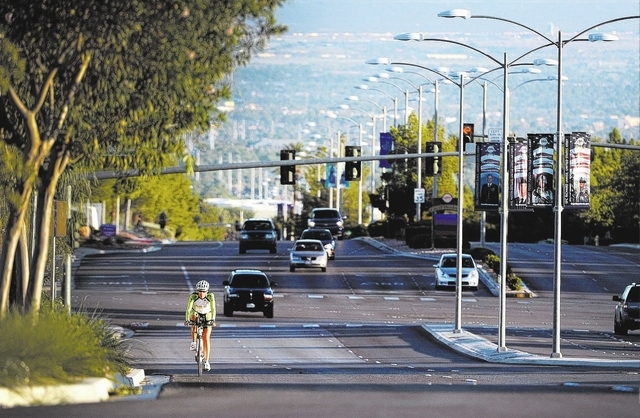 Chemotherapy saps the strength and energy of most people. Michelle White isn't most people.
An avid triathlete, the 47-year-old married mother of three daughters has been training hard throughout her chemotherapy for breast cancer — cycling up to 60 miles per week — and will celebrate her sixth and final round of treatments in November by captaining a team of 12 women in the Ragnar Relay Las Vegas, a 200-mile overnight relay course in which each runner must complete at least three legs of up to eight miles each.
White, a Henderson resident, finished the 70.3-mile Ironman St. George (Utah) in May and captained her team, Legs of Las Vegas, in the Ragnar Relay Wasatch Back in Utah in June before she was diagnosed with cancer in July.
"I was quite shocked. You never think you're going to be the person to get cancer," she said. "You definitely recognize your own mortality. I felt like I was invincible — I was the fearless one out of my group of girls — but you realize you're not invincible.
"It's not going to slow me down, but it puts a different perspective on life. I still believe anything can be overcome."
After receiving her diagnosis, White had to endure a "very scary" 10 days in which she waited to learn what stage her cancer was in. It was stage two — of a possible four — which meant it hadn't spread to the rest of her body, but the bad news was it was the most aggressive and invasive form of breast cancer. Her tumor had grown large quickly, causing her bilateral surgery to be delayed until December.
"The good news is the chemotherapy has been working very effectively," she said. "(The tumor) has shrunk significantly, so we know it's working."
White and her girlfriends recently celebrated the halfway point of her chemotherapy, which she said slows her for about a week.
"During the chemo week, my activity level goes down," she said. "I'm down for three days where I don't do any exercise. I'm extremely tired, a little nauseous, and my energy level is way down.
"It takes me a few days to bounce back and start to exercise again, because my red and white blood cells are down and I'm weak."
A Colorado native who books conventions at the MGM Grand, White has completed about 20 triathlons, 10 marathons and 40 half marathons. She said exercise has been a huge help in her battle with cancer.
"If you can exercise a little bit, you get the great endorphins. It puts you in a better place moodwise," she said. "My motto is, 'Any day you get out the door is a good day.' "
A self-described "glass-half-full girl," White said she has been overwhelmed by the love and support shown by her friends and family throughout her ordeal — especially by her mother, who she had been estranged from before her diagnosis.
"They say cancer is the forgiveness disease," she said. "My mom and I haven't talked for two years, and it's brought us back together. It's a happy thing for me.
"One thing about cancer is I can't believe how many people are there to support and help me and really, really care. I feel fortunate in my life."
White said having cancer also has inspired her to become a volunteer and help others.
"That's one thing I haven't done in my life and felt I could do more of — give back," she said. "That's a lesson I've learned from cancer, and I will be giving back a lot more. I definitely need to devote more time to it.
"You have to take the positives away from it. That's how you have to look at everything in life."
White, who ran the Boston Marathon in 2008 before becoming a triathlete because of her tattered feet, is planning to enter an Ironman Las Vegas event in October 2014 that is comprised of a 1.2-mile swim, 56-mile bike ride and 13.1-mile run.
"Maybe when I'm 50, I'll do a full Ironman," she said. "I love triathlons. I love the challenge. They're more fun than straight running."
White, who will undergo radiation treatments well into 2014 following her surgery, also is looking forward to tasting her favorite foods again, as chemotherapy robs people of their appetite and taste buds.
"That part I really, really hate about chemo," she said. "I not only can't breathe when I run, but I can't taste food for a good week after chemo."
Genetics didn't play a role in White getting breast cancer.
"It's sporadic, not genetic," she said. "Unfortunately, it's bad luck, the doctor tells me. I'm probably due for bad luck, but I'm gonna kick its butt and come back stronger than ever."
A former high school basketball and soccer player, White believes being in good shape will help carry her through her ordeal.
"I'm tough, so I'm getting through it. I'd like to think because of my fitness going into it I'm persevering better than most," she said. "Everybody's symptoms are different, so it's hard to say. But I feel good this week."
Contact reporter Todd Dewey at tdewey@reviewjournal.com or 702-383-0354. Follow him on Twitter: @tdewey33.
October is Breast Cancer Awareness Month. For more coverage, click here.