Henderson residents pull together ways to show support for local law enforcement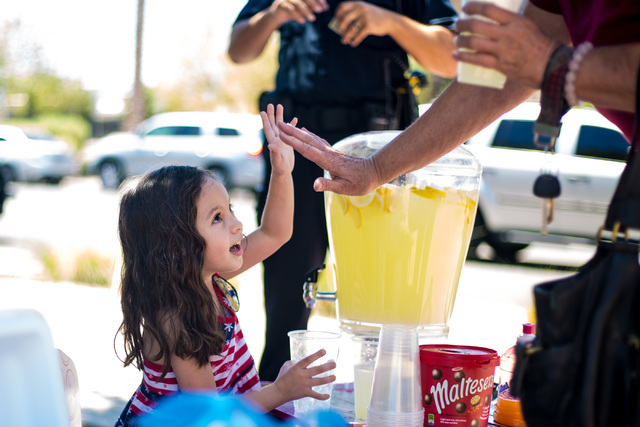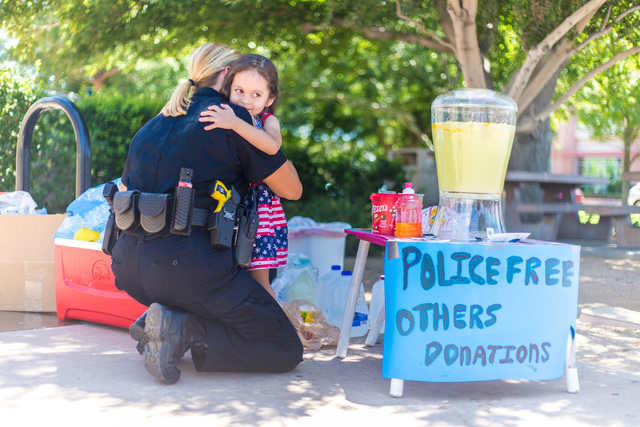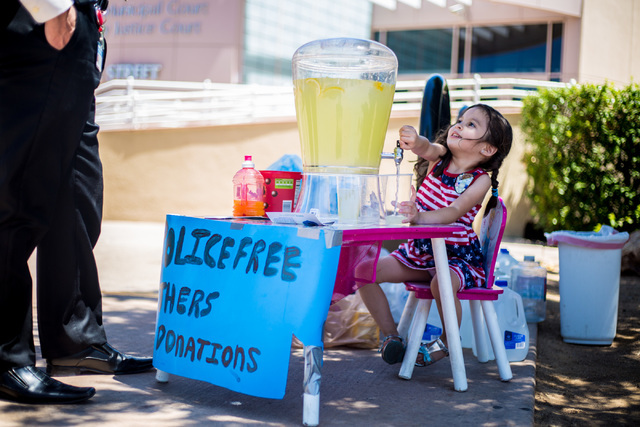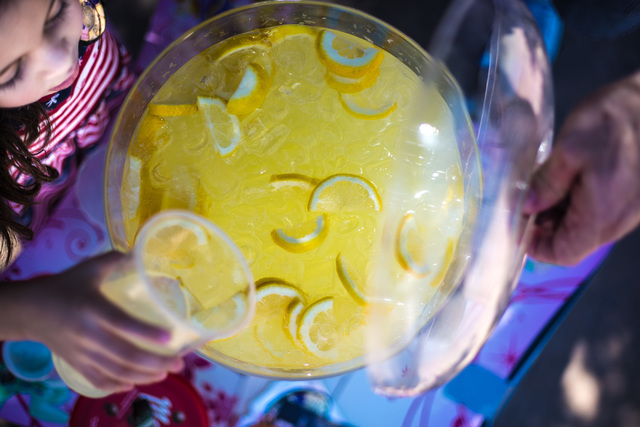 In response to police officers being shot in a recent series of events around the country, Henderson residents are finding ways to support their local law enforcement.
Henderson resident Robert Babcock said for months his 3-year-old daughter Theresa Ann would beg him to set up a lemonade stand.
"But with where we are located, I didn't think we'd get much traffic," he said. "After (the police shooting in) Baton Rouge, I made her a deal."
After three officers were killed July 17 in Baton Rouge, La., Babcock thought his daughter could show support by raising money through a lemonade stand.
Babcock told his daughter she could set up a stand if she would do it near the Henderson Justice Court, 243 S. Water St.
"She said, 'Of course,' " Babcock said.
Though the lemonade would be free for police, officers were able to donate if they wanted. Theresa Ann was expecting to have only a few officers stop by.
"We probably had close to 30 officers," Babcock said of the stand, which started July 19. "We raised $1,380. Every officer who stopped by donated."
Theresa Ann isn't the only person in Henderson doing acts of kindness for law enforcement.
Corrine Altman, the manager of the Hallmark store at 1445 W. Sunset Road, also wanted to provide a way for customers to support local law enforcement.
"So we are doing a 'Thank Our Blue' program, where we ask customers if they want to add a card onto their purchase to send to a cop," she said. "I think under the circumstances, officers need to know they are appreciated."
The store's staff planned on collecting cards through July, and as of press time, they had collected more than 300.
"Our customers have been on board," Altman said. "There has been an outpouring of appreciation. One lady even dropped a Starbucks card in."
In addition to customers, Altman said wives, mothers and aunts of officers have come into the store to write a note of appreciation.
This isn't the first time Altman said the store has written notes to appreciate people. In May, the store collected more than 700 cards to send to members of the military.
"And that's just our store," she said. "Other stores have collected too."
Cards will be sent to officers with the Henderson Police Department, the North Las Vegas Police Department and the Metropolitan Police Department.
Babcock said his daughter is already looking toward the next fundraising opportunity. For her birthday, Aug. 23, she plans to hold a fundraiser to raise money for bulletproof vests for dogs.
For more information, visit her Love with Lemons Facebook page, tinyurl.com/z8jtxjm.
Editor's note: On Aug. 5, Hallmark Gold Crown was set to present Metro with nearly 700 cards signed by valley residents from July 15-31 as part of its Thank Our Blue program. The cards are mounted on 12 display boards to be delivered to Metro's eight Area Commands, as well as the Henderson, North Las Vegas and Boulder City police departments and Nevada Highway Patrol.
To reach Henderson View reporter Michael Lyle, email mlyle@viewnews.com or call 702-387-5201. Find him on Twitter: @mjlyle.