Henderson residents remember the events of 9/11
September 5, 2011 - 11:20 pm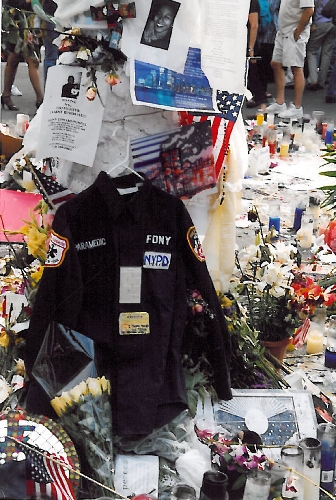 Even 10 years after the tragedies of Sept. 11, some people can recall every smell, sight and sound from that day.
Whether it was trying to find a way out of New York City, like Lynn Young, who worked two blocks from the World Trade Center , or trying to provide relief, like Jeffrey Varnes, who directed the disaster relief for the American Red Cross at the United flight 93 crash site in Shanksville, Pa., the details of that day were long ago, but never forgotten.
Varnes and Young, now residents of Henderson, were hundreds of miles apart that day, but both agreed how beautiful that day was.
Young, who worked on Wall Street, decided to forgo a trip to the farmers market, which was held every Tuesday in the plaza of the World Trade Center.
"I was very anxious to get to my desk," Young said. "I had a lot of tasks to get done, so I figured I would just go to the farmers market another time."
Varnes, who worked for the American Red Cross in Pennsylvania, had just finished reading the paper as he did every morning before work.
"I remember reading about a child's death at a fair," Varnes said. "Since the Red Cross had first aid stations set up near the fair, I wondered what role we could provide (at the fair). I dispatched a team, and they left a little after 8:30 a.m."
IN NEW YORK
The first crash reverberated through New York, carrying over to Young's office.
"We were told a plane crashed into the World Trade Center," Young said. "I thought, 'What idiot would crash into the tower? It is such a clear day.' But then my innocence was lost."
As Young watched the second plane smash into the second tower, the realization that this was no accident pressed into her hard.
"We never thought the towers would come down," Young said.
She was wrong.
"You could feel the shock waves," Young said. "You could hear the sound of concrete being pulverized."
Young said crowds of hysterical people pushed into the lobby of her building.
Finally, they received word that lower Manhattan must be evacuated.
"Someone had the good sense to rip up gym towels so we could cover our faces," Young said.
Even with the damp, tattered cloth tightly wrapped around her face, shielding her mouth and nose from debris, Young was knocked back by the dust and pungent smell of smoke the moment she stepped out the door.
"It was piercing," Young said.
On the street, hundreds of shoes cluttered the pavement.
"People literally ran out of their shoes," Young said. "Everything was so gray. The street light had come on because it was so dark."
It took several hours, which included walking across the Manhattan Bridge and hitching a ride on a ferry boat, to get home.
That night, Young washed off the dirt and debris.
"I didn't realize how covered I was until I saw all the dirt go down the drain," Young said.
The next few days, Young realized how small New York was as the names of the deceased increased.
"I didn't realize how many people I knew," Young said. "Some I brushed paths with, some were friends of friends."
IN PENNSYLVANIA
Over in Pennsylvania, Varnes found out from his wife about the first plane crash.
"We thought it was just a tragic error," Varnes said.
But then a second plane hit the second tower at the World Trade Center , followed by a third plane at the Penatgon and a fourth plane in a field in western Pennsylvania. That proved to Varnes this wasn't an error.
Varnes' wife began packing his bags, expecting him to be deployed to New York City with the American Red Cross.
"But then I got a call that I would go to Shanksville," Varnes said.
Varnes later learned that the plane, United Flight 93, might have been heading toward the White House but had crashed after passengers fought the hijackers .
"They were seen as the first strike back," Varnes said.
Arriving at Shanksville, Varnes discovered he would be the directing all American Red Cross initiatives for that site .
"It was a very sobering piece of information," Varnes said. "I thought I was going to be a part of a team, not lead the team."
Varnes provided support to families of the victims and responders at the site.
Over the next week, families arrived, memorials were arranged and morticians went through remains as every day seemed like a week for Varnes.
"I didn't have time to watch the news to see what was going on," Varnes said. "I didn't realize how much our country was going through."
Because flights were grounded, Varnes arranged memorials in Shanksville and in California for the West Coast families who couldn't make it. Flight 93 had been flying to San Francisco when it was hijacked.
First lady Laura Bush and Lynne Cheney, wife of Vice President Dick Cheney, spoke at the memorial service in Pennsylvania.
The day of the memorial, the bus carrying the families drove by the crash site before arriving at the ceremony.
"They got (to the service), and they all sat on the bus," Varnes said.
All the families were overwhelmed.
"I was worried if Mrs. Bush would run out of time," Varnes said. "But she said, 'I am here for the families. They can take all the time they need.' It was good to have the first and second ladies. Their husbands couldn't be there because they had so much going on. It was good because (President George W. Bush and Cheney) had to wear their war hats. The first and second lady could wear the condolence hat."
One of the hardest calls Varnes had to make was at the candlelight vigil. He had to determine how many candles to put out.
Each candle represented a life lost on United Flight 93.
"If I placed candles out for the hijackers, I would make a statement," Varnes said. "If I didn't place candles out (for the hijackers), it would make a statement."
Varnes decided one candle would represent all lives lost.
As horrific as that day was, Varnes can also remember how united people were.
"For at least four days after," Varnes said. "Never in my lifetime had I seen the country united like that."
Varnes remembers the people of Shanksville coming out to pay tribute to the lives lost on United flight 93.
"But how do you say you are sorry?" Varnes said. "How do you find those words?"
So the people of Shanksville stood in a circle and clapped. It was a sight that Varnes still hasn't forgotten 10 years later.
Looking back
With the anniversary of the event, Varnes plans to go back to Shanksville for a commemoration service.
Young plans to stay in Henderson and fly her memory flag, with the names of each victim embroidered on it, in honor of the victims and remember that day.
"People refer to it as an incident or a disaster," Young said. "Call it what it is. That is the day war was declared on us."
Contact Henderson/Anthem View reporter Michael Lyle at mlyle@viewnews.com or 387-5201.