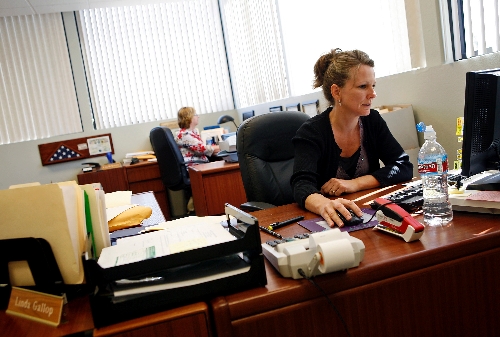 The idea 10 years ago by former Henderson Chamber of Commerce CEO Alice Martz was simple — develop an incubator that helps a small business grow to its fullest potential.
Mom-and-Pop businesses that might need extra assistance could come to the center, find resources and develop into a self-sufficient company.
"There are business incubators all over the world, and we didn't have one in Southern Nevada," said Rebecca Fay, the foundation administrator for the Henderson Resource Business Center. "So we decided to give it a shot."
September was the Henderson Business Resource Center's 10-year anniversary. Since 2001, the center has watched 10 companies graduate from the incubator, 112 S. Water St.
Kirk Clausen, r egional president of Wells Fargo Bank, which is a resource center sponsor, said investing into smaller businesses is beneficial to the larger community because they eventually give back by offering jobs or contributing to the cycle of buying and selling goods and services.
"It helps make the community more vibrant," Clausen said. "Everybody benefits."
Like the businesses it has helped grow, the resource center also has developed over time by offering new services to the business community.
"It took us a while to fully develop," Fay said.
Fay said that when the center first started offering offices for new businesses, the space was more of a shell.
But after donations from organizations such as American Pacific Corp., the offices are now furnished and even painted.
"It gives it more of an executive office feel," Fay said.
The center offers businesses space at competitive prices, Fay said.
"It allows people to come in with their computer, plug in and get started," Fay said. "We have six-month, short-term leases. When you're starting a business and you've never rented an office before, signing a three-year lease can seem kind of daunting."
All 12 of the center's spaces are occupied.
"We have everything from CPA firms to website design companies to attorneys," Fay said.
All businesses that rent have to go through business counseling and write a business plan, which they must revisit from time to time.
"As a small-business owner, you're busy," Fay said. "You might lose sight of what your goal was, which is why we have you revisit your plan from time to time."
The goal, along with offering a start-up space, is to see businesses develop beyond the resource center and thrive on their own.
Success stories include Imagine Communications and K2 Energy, which Fay said outgrew the center and are now successful businesses.
"In Inc. Magazine, K2 Energy was ranked the 79th out of 500 of the fastest-growing companies in the United States ," Fay said.
Johnnie Stoker founded K2 Energy, a battery manufacturing business, in 2006.
"Six years ago, I did a web search for resources for start-up companies," Stoker said.
Stoker found the resource center, which provided K2 Energy with space and the resources to grow.
After two years at the center, K2 Energy was able to move to its new location at 112 American Pacific Drive. The company has grown from a staff of four to 60.
"And we are getting ready to add more," Stoker said.
Fay encourages all businesses that move on from the center to stay in Henderson to help with job generation in the community. And so far, all have.
Aside from office space, the center has developed resources for the business community such as counseling and offering educational classes and seminars on anything from marketing and web design to payroll and human resources.
Even during the recession , the center continued to see an influx of people with start-up business ideas.
"I think the recession brought more exposure," Fay said. "People would come in after they lost their job and be interested in starting their own company."
Because the center is a nonprofit, it is funded and supported through community partners, such as Wells Fargo, USAA Savings Bank and the city of Henderson's economic development department .
Wells Fargo, which has been involved with the Henderson Chamber of Commerce for more than 15 years, has been a sponsor of the resource center for the past decade.
Its biggest contribution has been office space, which it donates to the center for $1 a year.
"It is one of those things where you could either write a big check or essentially say we are going to contribute by giving you space," Clausen said.
Clausen said that because of technology advances, the bank doesn't need as much space as it used to .
"We don't need the same square footage to serve the same number of people," Clausen said. "We both benefit from this because we don't have a huge empty space."
For the decade to come, Fay wants to see expansion.
"I would like to see the (Henderson) Chamber of Commerce and the incubator under the same space," Fay said.
Fay said the center is creating a bigger database of companies willing to donate services, ranging from legal to marketing advice, to the businesses at the incubator.
Clausen foresees continual partnership with Wells Fargo and the center.
"I hope it's not just the next decade," Clausen said , "b ut the decade after that until the building wears out."
Contact Henderson/Anthem View reporter Michael Lyle at mlyle@viewnews.com or 387-5201.