Henderson safety: Parks, swimming and trails offer residents recreation and security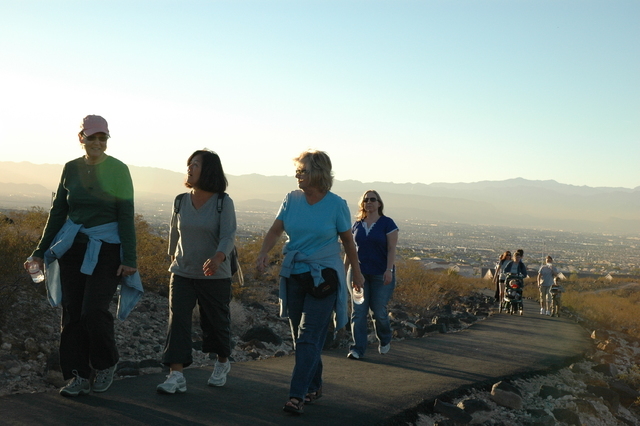 Despite living in Nevada's second-largest city, Henderson is still considered by its residents to have a small-town feel.
With a growing population of more than 280,000, the city has been considered as one of the nation's safest. To explore the claim, Henderson View takes a look at various city departments and resources that contribute to the community's overall safety.
CRIME RATE
In 2013, the FBI reported Henderson's violent crime rate was 136.8 per 100,000 population compared to the nation's rate of 367.9. A violent crime includes murder, non-negligent manslaughter, forcible rape, robbery and aggravated assault, according to the agency's Uniform Crime Rate report.
The cities of Las Vegas and North Las Vegas had a rate of 758 and 800.4 per 100,000 population, respectively; however, since the statistics are based on Census populations, crimes involving tourists can inflate the numbers.
CITY RANKINGS
With a violent crime rate 62 percent less than the nation's, Henderson has been recognized as one of the top 10 safest cities by various publications. The following are a few of the most recent:
Movoto, a real estate blog, named the city America's fifth-safest in December 2014. Using the 2012 census, the blog gathered a list of the 100 most populous cities in the U.S. and critiqued each using statistics reported by the FBI.
Law Street Media bumped Henderson from the sixth- to the fifth-safest city in November 2014 due to the 19 percent decrease in its violent crime rate from 2012 to 2013.
In July 2013, Business Insider created a list of the country's 20 safest cities with populations of more than 200,000. Henderson received eighth place based on its low violent crime rate.
The city landed second place in Forbes' compilation of America's safest cities in 2011. The list included cities with populations of more than 250,000.
In a recent survey of residents, 92 percent of the 427 respondents said they felt "very safe" in their neighborhood, according to Mayor Andy Hafen.
"Safety is one of our key priorities in the city of Henderson," Hafen said. "We are committed to providing the best public safety services and programs in partnership with our residents and businesses. Henderson has a reputation as a safe community."
PRIDE IN PARKS
The city of Henderson is home to more than 60 parks, and the list continues to grow.
With a gold medal for excellence in the field of park and recreation management under its belt, park personnel take pride in providing safe environments for residents.
"Our maintenance staff checks the condition of the playgrounds and parks daily," said Douglas Guild, parks superintendent. "We pick up any broken glass and trash. We check the connections. We look for anything that's loose, sticking out or broken."
On a monthly basis, playground equipment technician Don Hooper inspects all play structures and is in charge of making any repairs. He also monitors the installation of play structures and conducts layout inspections.
"I know all the proper procedures for the installation, so I make sure they're using the right hardware and tools," Hooper said. "When it's completely done, we do a safety audit before it's open to the public, and that's all documented."
In addition to playgrounds, the staff manages the city's skate parks, dog parks, splash pads and equestrian ring. The department also maintains safety standards imposed by the city, including shade covers, posted age groups for playgrounds and lighting, according to parks operation manager Ray Everhart.
"While working, we always have the philosophy, 'Would we bring our kids here?', and that's been instilled throughout the ranks," Everhart said. "When we take a walk through a park, we look at it with a critical eye and see how we can fix things and make it better.
"We care about the safety of our residents. Even if one person gets hurt, that's one too many. We do everything we can to prevent it."
SWIMMING SAFETY
The city operates four year-round pools and six seasonal pools.
Each pool has a determined minimum of lifeguards that must be on staff at all times, which is decided by the American Red Cross lifeguard standards and approved by the Southern Nevada Health District.
To become a lifeguard, individuals must complete a course through the American Red Cross that covers water, CPR and first aid skills, according to recreation services manager Adam Blackmore.
"Other lifeguarding agency certifications are accepted for the interview process, but completion of the (American Red Cross) course … is a conditional part of employment," Blackmore said. "Once employed, the individual is required to complete random skill and vigilance audits during their shifts, attend a monthly all-staff training in-service and complete a weekly 'skill of the week' that focuses on guest safety and/or service."
In addition to staff safety, the city stresses pool safety by regularly testing the water. An aquatics maintenance technician conducts a water quality test daily, and the pool manager performs a standard chemical check every four hours the facility is open.
"If the pool chemicals are found to be outside the operating limits set by the (health district), the pool would close until the levels return to normal," Blackmore said. "We also spend a great deal of time cleaning the pools to ensure they are ready for the public's enjoyment."
Pool checks are also conducted daily to allow guests to reapply sunscreen, rehydrate and use the restroom while the lifeguards practice drills, run through the emergency action plan, inspect the pool and perform water safety education demonstrations.
"Many people are not aware that Southern Nevada has one of the highest drowning rates in the nation," said aquatics supervisor Angela Summers. "Until recently, drowning ranked No. 2 as the leading cause of death in children ages 4 or younger in Nevada."
The city anticipates organizing about 50 drowning prevention presentations at elementary schools, day care sites, after-school programs and Parent Teacher Association meetings this year. The message is set to reach around 6,000 children.
TRAIL BLAZING
With 184 miles of trails spanning across the community, the city relies on more than 70 volunteers to watch over them.
To become a volunteer, individuals must be at least 16 with parental consent and agree to a background check and minimum time commitment of one week.
Volunteers attend a one-hour training session to learn what to look for and how to report it. They are also given a vest, badge, hat, pen and paper, according to outdoor recreation supervisor Chuck Ashby.
"They're looking for graffiti, debris and people not using the trail properly," Ashby said. "We tell them if they see any crimes taking place, they should first call the police and stay a safe distance away."
Henderson's Trail Watch program was created about six years ago to supplement the city's staff.
"At that time, we had to reduce our budgets because of the economic downturn, so the program was created to engage the community and encourage them to have ownership over the trails," Ashby said. "People are less likely to do crimes if they see our volunteers and staff out there monitoring."
In February, Ashby said he received 34 reports from volunteers who spent 56 hours walking the trails. All reports that require staff attention are fixed within a week.
"It puts eyes and ears out on the trails at almost all times of the day and night," he said. "It unifies the community and creates pride in ownership. We get a lot of compliments on our trails."
For more information, visit tinyurl.com/hendoparksrec.
Editor's note: This is the first of a four-part series explaining how the city of Henderson contributes to the community's safety. Look for the next story May 7.
To reach Henderson View reporter Caitlyn Belcher, email cbelcher@viewnews.com or call 702-383-0403. Find her on twitter: @caitlynbelcher.