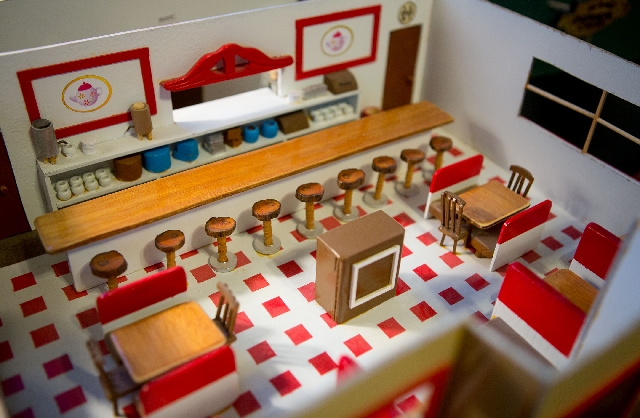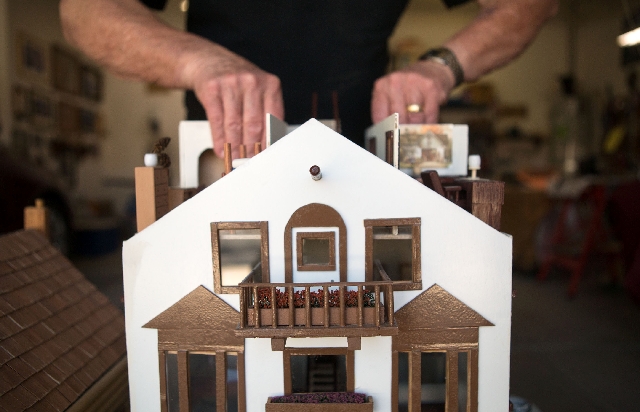 Wanting to use spare wood around his home, Bill Hornecker transformed unused and unneeded scraps into a hobby — building miniature houses.
"I knew I loved wood," Hornecker said. "I never knew it would end up like this."
Hornecker, a Henderson resident, was a business manager for an auto dealership his entire career. He had never worked with wood or with any elements of construction.
Nonetheless, he had an idea in his head to try to make a miniature house using wood dowling.
"I thought I would build a birdhouse," he said.
It took him about two months to make the first one.
"I would work on it a little bit each day," he said.
In the end, Hornecker had created a small wood cabin.
But once he started, Hornecker realized how much he enjoyed it and wanted to come up with new ideas to create.
He uses anything from store-bought to scrap wood to make his pieces, sometimes even using driftwood he has found.
Tools such as a drill press and woodworking saws have been added to his list of specialty equipment to carry out each craft.
He's in no rush to finish a project, so he dedicates months at a time to build the houses.
"It's a long process," he said. "Once I get started, I start to get enthused about it. I'm always thinking of new things, even while I'm sleeping."
He never knows exactly how each creation will turn out.
"I have an idea that develops along the way," he said.
Among his creations are saloons, fire stations, barbershops and a post office.
He doesn't just build, he also furnishes each one with handmade accessories ranging from dining room chairs and tables to bookshelves.
"Most of the detail is inside," he said.
Unlike a dollhouse, all the pieces inside are glued in place.
His latest addition, a three-story house, was by far his hardest, he said.
"It has the most detail," he said. "It has a dining room with 10 chairs."
The 22 houses he has made are scattered in various rooms of his home. He has given his children some of the designs.
Hornecker has received mixed feelings about his hobby.
"My kids don't really get excited about it," he said. "They think it's cute."
However, friends and neighbors think he has a true talent in his craft.
Hornecker has dabbled in making other crafts, such as items made out of wine corks. But making his miniature houses is his main hobby.
Contact Henderson/Anthem View reporter Michael Lyle at mlyle@viewnews.com or 702-387-5201.