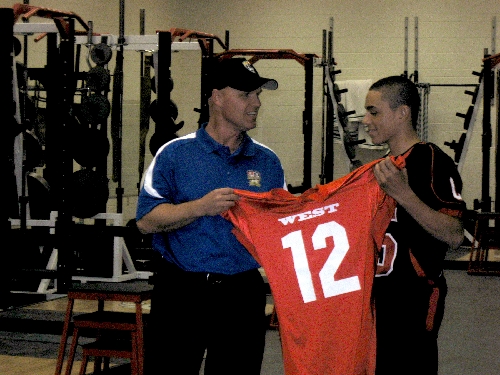 At 12, Ethan Dedeaux is preparing for one of the biggest games in his football career. Ethan was one of about 40 seventh-graders around the country chosen to play at the fourth annual Eastbay Youth All-American Bowl, an opportunity that could open doors to playing for college teams.
"It is like the Super Bowl for these kids," said Jon Dedeaux, Ethan's dad.
Ethan's budding career started six years ago when Dedeaux took Ethan to a Henderson Cowboys football practice.
Dedeaux didn't buy pads or gear for his son at first because he wanted to see if football was the right sport for him.
"After I saw that he had good footwork and was into it, I went out and bought everything," Dedeaux said.
That purchase has paid off as Ethan has shown his skills as a running back and defensive back.
"Ethan can turn a game around," Dedeaux said.
Confident in his son's skills, Dedeaux has let Ethan, a seventh-grader at Del Webb Middle School, practice with the freshman football team at Coronado High School .
"The team wanted Ethan to suit up and play a game with them," Dedeaux said.
Ethan's coach on the Henderson Cowboys, Jeromy Oblad , said Ethan has grown over the years. The Cowboys play in the National Youth Sports Nevada League.
"He has really improved in strength and speed, allowing him to be a devastating physical presence on the field," Oblad said. "He has also really increased his knowledge of the game, allowing him to consistently be in the right place at the right time, which in turn, allows him to make incredible plays at crucial moments for his team."
Somewhere between natural talent and hard work, Ethan, 12, has found his niche in football.
"It is a little bit of both," Dedeaux said. "He is really blessed (with natural ability) but has a strong work ethic, too. He is a leader on the field."
Then again, it also could be his competitive nature.
"I'm just really competitive," Ethan said. "I like to win."
Either way, Ethan has proved himself not only as a four-time most valuable player on the Henderson Cowboys but also to the people of Football University and Eastbay, which puts on an annual football game for the nation's top young players.
The fourth annual Eastbay Youth All-American Bowl is scheduled for Jan. 8, 2012, in San Antonio .
"I wasn't surprised," Oblad said. "In November of 2010, when I nominated Ethan for the FBU camp that would lead to his Top Gun selection, and eventually the All-American Game, I told his dad Jon at that time that Ethan would be playing and starring in the All-American Game in January 2012."
The Eastbay Youth All-American Bowl consists of three games: one featuring the top 40 seventh-graders in the United States with a 175-pound weight limit; one for the top 40 eighth-graders with a 185-pound weight limit; and one for the top 40 eighth-graders without a weight limit.
In July, Ethan was selected to go to a three-day Football University training camp in Virginia, where his performance was evaluated.
"I knew I did well at camp," Ethan said. "I didn't know I did that well."
Dedeaux submitted a nomination form for the Eastbay bowl. Several thousand youths were competing for spots.
Ethan was rated the top seventh-grade prospect.
Despite his achievements, Ethan remains modest.
"I'm just waiting for him to get a big head," Dedeaux said. "He hasn't yet."
On Nov. 4, Ethan received his game-day jersey, which he will wear Jan. 8.
"I'm getting nervous," Ethan said. "I don't want to mess up."
This opportunity is bigger than playing in one game.
"Apparently colleges start recruiting in eighth grade," Dedeaux said.
Ethan hopes to play high school football at Bishop Gorman. In the meantime, he plans to continue playing for the Henderson Cowboys.
Contact Henderson/Anthem View reporter Michael Lyle at mlyle@viewnews.com or 387-5201.