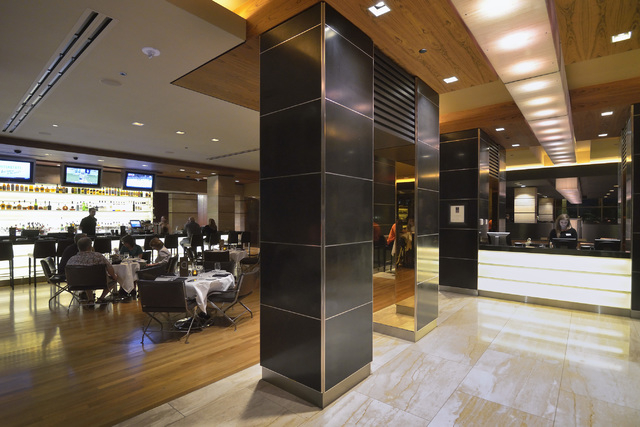 Nothing is sexier than suburban planned communities, good schools and low crime rates.
So we learned Monday when Henderson was named one of the "19 Sexiest Spring Break Destinations in America" by a dating website.
Yes — Henderson, Nevada. Not the ones in North Carolina or Kentucky. We checked.
Even for an admittedly unscientific web listicle, this seemed — to put it politely — odd. Henderson, after all, is best known as a (no pun intended) bedroom community — and a rather conservative one at that.
The city has no "sexually oriented businesses" by the official definition. And elected officials are just fine with that. Last year, the City Council rejected a proposed Love Store "romance boutique" because it was planned for a commercial, not industrial, area.
Even mall staple Spencer Gifts has come under official investigation for its mildly naughty inventory.
So had the people who made the list ever, you know, been to Henderson? Funny you should ask.
"Actually, no one on our team has been to Henderson. But a bunch of us have been to Las Vegas," said Hayley Matthews, editor-in-chief of datingadvice.com.
More than once, she mentioned that Henderson is only 20 minutes from Vegas.
"We thought it'd be great to give people an opportunity to get off the Strip," she said.
To be clear, the ranking isn't meant to suggest Henderson is a hot spring-break destination, just that maybe it should be.
"Sexy things to do: The Water Street District, Black Mountain Golf and Country Club and Ethel M Chocolates"
At least publicly, people in Henderson find no humor in this honor.
"Well, I think it shows the diversity of what the community is able to offer people," said D.J. Allen, board chairman for the Henderson Chamber of Commerce.
Debra March, a city councilwoman, said the ranking makes sense to her.
"Not only are we a safe community, but we are appealing to retirees, professionals, a great place to live work and play," she wrote. "We also appeal to the youthful community looking for a fun place to play during spring break!"
OK, but … sexy?
"I mean, there's parts of the community that really are attractive when it comes to destinations," Allen said, mentioning the M Resort, Lake Las Vegas and Green Valley Ranch.
Another person, who shall remain nameless here, wanted to read the survey before commenting and asked, "Is it a valid survey or meant for humor?"
You tell us.
"Sexy places to stay: Fiesta Henderson Hotel and Casino, Green Valley Ranch Resort and Spa and Sunset Station"
The web page featuring the list seems to reflect a certain ambivalence.
The listings for most other cities — including No. 1 Panama City Beach, Fla. — feature photos of bikini-wearing spring-breakers or palm-tree-decorated beaches.
Henderson's photo is a sweeping view of houses with a mountain behind them. Pretty, yes. Looks like a nice place to live, sure. But sexy?
Matthews said she and about five others on her "content team" looked at Wikipedia, as well as city and visitors bureau websites, in crafting the list. There was no formula.
She said they know some people will be surprised to see a particular city — like, oh, maybe Henderson? — included.
"We wanted to do the really good destinations that people love … but then we also wanted to highlight some alternatives," Matthews said.
She said no one in Henderson lobbied for the listing or even knew about it beforehand. And she said her site, owned by Gainesville, Fla.-based Digital Brands Inc., does not accept payment for its rankings.
Asked whether she was aware of Henderson's less-than-sexy reputation, as evidenced by any number of news articles, Matthews said: "We definitely didn't take into consideration hard news or anything like that."
Definitely.
"Sexy places to eat: Anthony's Prime Steak and Seafood, Gaetano's Ristorante and Marssa"
Regardless of how the ranking came to be, it represents an entirely untapped marketing angle.
The words "sexy" and "sexiest" appear nowhere on the Chamber of Commerce website or the city's marketing site, VisitHenderson.com.
There are, however, two mentions of "sexy" on the city government website.
One was a UNLV marketing class' recommendation to use the "sexy" image of space to sell a planned space and science center.
The other was a presentation for a 2013 civil engineering conference listing Henderson's UV water treatment and a new high-efficiency boiler as "examples of sexy projects."
The possibilities are endless. Sexiest water park: Cowabunga Bay. Sexiest bingo: Eldorado Casino.
You're welcome, Henderson.
Contact Eric Hartley at ehartley@reviewjournal.com or 702-550-9229. Find him on Twitter: @ethartley.