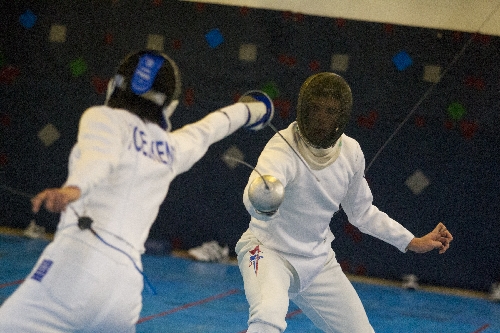 "En garde."
It's probably the No. 1 statement 15-year-old Henderson resident Zachary Zeller gets whenever people find out he is a fencer.
They've seen it on television and movies and already have a preconceived notion about the sport.
"But the movies are very different," Zachary said.
Beyond the flashy moves and sword work are the demands that challenge Zachary physically and mentally.
"It's not just physical," the Bishop Gorman High School freshman said. "There is a strategy to it. You have to be willing to change your decision in the blink of an eye."
But the eight years he has been training paid off recently when he was selected to be one of about 20 people from the United States going to the Federation Internationale D'Escrime Junior World Cup, which was scheduled for Feb. 3 in Sweden.
"Basically the top 20 in the country qualify to go to Sweden," he said. "My mind-set is just like any other tournament. It helps keep my nerves down. I don't know what to expect, but it wouldn't hurt to get in the top 64."
Zachary was 8 when his parents signed him up for lessons.
"They were at an auction and had to bid on something," Zachary said. "One of the items was five lessons with an Olympic coach."
Since he began, he has been with Yves Auriol, a four-time Olympic coach, and Jacques Lacour, who has coached three Olympians, at the Fencing Academy of Nevada, 1220 S. Rainbow Blvd.
"He works hard," Lacour said. "Sometimes he works too much."
Within six months of lessons, Zachary began competing in smaller, local tournaments
"I think (my first one) had about six people," he said. "I got third."
He switched to national competitions in 2008.
"It was nerve-racking because I'd never done it before," Zachary said.
His current regimen includes three days of fencing lessons and two days of personal training for strength and speed conditioning.
Matches are typically three minutes long or the best of 15 points.
"That's why you need conditioning," Zachary said.
He said he has been at tournaments where he has competed off and on from 8 a.m. to 8 p.m.
"Then I had to get up the next morning and compete again at 8 a.m.," Zachary added.
He said the biggest lesson he has learned – in addition to crafting techniques such as lunging or parrying – was patience.
"It is definitely one of the key aspects in fencing," he said. "One of my biggest issues was learning not to attack and waiting for people to come to me."
The experience has been rewarding and has allowed Zachary to travel to places such as New York, Virginia and Georgia to compete.
This was slated to be his first match outside the country.
Lacour said being in the top 64 is a good goal.
"But it's all about the experience," Lacour said. "This is his first one, so it's all about learning."
One day, Zachary hopes to make it to the Olympics.
"It's no time in the near future," he said.
Lacour said because Zachary is young, anything is possible.
"Why not?" Lacour said. "He works hard at everything, so it's possible."
Fencing has no qualifying event for the Olympics, as there is in other events such as swimming. Instead, it is based on the number of wins and the competitions athletes have attended.
"It's cumulative of all your points," Zachary said. "You just hope you get enough."
Contact Henderson/Anthem View reporter Michael Lyle at mlyle@viewnews.com or 702-387-5201.