Henderson teen's documentary about bullying wins competition
September 9, 2013 - 1:28 pm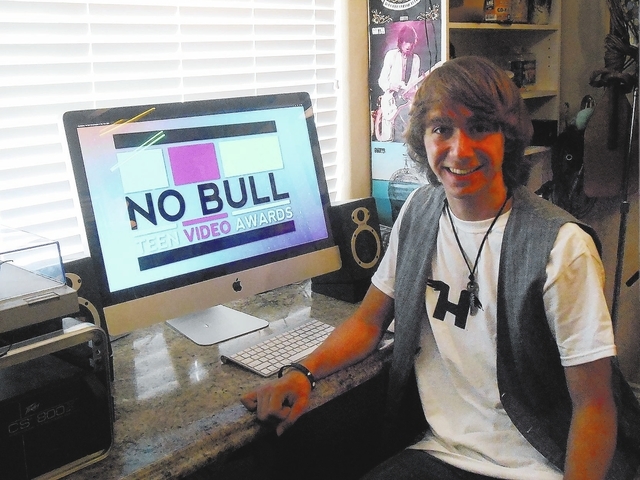 Hunter Hopewell used his experience being cyberbullied in his freshman year of high school as inspiration to create a film that shows people the effects of being bullied.
"(Film) is probably one of the best ways to depict the problem with bullying," he said. "People who haven't experienced it or parents who don't understand it just say, 'It's kids being kids.' This shows them the effects from that person's perspective."
His film, "Numbskull," recently won the best documentary from 2013 No Bull Teen Video Awards. The competition was part of the Great American No Bull Challenge, a competition that inspires teens to use film to promote social change.
Hopewell, 17, has lived in Henderson most of his life, attending Coronado High School,
After being involved with film — he made short videos with friends for fun — he discovered his love for directing and decided to join the school's broadcasting club.
The experience allowed him to grow in his craft, directing and producing many short videos for his school. He even won competitions.
His teacher, Michael Clark, told the class about the No Bull Teen Video challenge in 2011.
"Bullying is such a hot topic right now," Clark said. "It's good that people use their creative abilities to show what's happening."
As a filmmaker, Hopewell was curious. But he knew the effects of bullying firsthand and decided to enter the competition to make a statement.
In his freshman year, he remembered being cyberbullied by classmates he barely knew.
"They were saying nasty, nasty stuff to me," he said.
Hopewell experienced hate-filled obscenities. The bullies even told him to commit suicide.
They weren't sending stuff just to Hopewell; they also told his dad how much they hated his son.
The police eventually tracked down the youths responsible and Hopewell said they were disciplined, but some of the damage was already done.
"It creates a lot of self-doubt," he said. "You start questioning if those things are true and question how other people see you."
Hopewell had no doubt that he could depict what bullying looks like in his film.
This was a way Hopewell could channel his experience into a creative means he was familiar with.
Four of Clark's students entered the competition, and two made it to the finals.
Hopewell's first film, "Alone," featured a student, played by Hopewell, who kept finding Post-it notes with degrading remarks.
"Every time he got rid of one, another would appear," he said. "It's like the Internet. You might try to erase something off the Internet, but it's always there."
The film ends with Hopewell taking a match to all the notes.
"I know some people feel hopeless, and that's what I wanted to show," he said.
Hopewell won at the competition and knew he would re-enter it.
His current film, "Numbskull," shows the ongoing struggle a high schooler, again played by Hopewell, deals with as a result of cyberbullying.
The character constantly hears the taunts of a bully even when at home, walking to school or in the middle of class. Though others don't feel the weight of those words — in the film only Hopewell can see his aggressor while sitting in class or walking down the hall — the person being bullied is affected throughout the day.
But "Numbskull" has more of a happy ending, with Hopewell being healed and making new friends.
"Everyone likes a happy ending," he said. "I wanted to end it on a positive note."
Sitting in the audience for the competition, Hopewell had no expectation to win.
"I knew there were 15 of us and only seven could win," he said.
Clark wasn't surprised that Hopewell won.
"He created a film that was better than his first one, which was pretty hard to do since his first one was so good," he said.
Hopewell's next stop: Sundance. His film is submitted into the January Sundance Film Festival.
But this is only the beginning. Hopewell hopes to use the film to spread awareness in Nevada.
He has contacted the Nevada attorney general's office about using "Numbskull" whenever talking about bullying in Nevada.
Hopewell said the office has used it already when it was spreading awareness about anti-bullying legislation in the 2013 legislative session.
Hopewell recently started at UNLV as a film major.
"I want to be a director," he said.
Regardless of where the film industry takes him, Hopewell plans to use his abilities to create awareness about bullying.
Contact Henerson/Anthem View reporter Michael Lyle at mlyle@viewnews.com or 702-387-5201.