Henderson veteran gets canine assistance with PTSD struggle
December 23, 2013 - 4:14 pm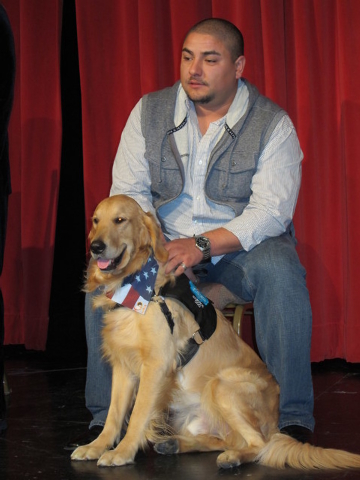 After years of being chained by post-traumatic stress disorder, Iraq War veteran Tony Ray Silva found Freedom, an 18-month-old Golden Retriever.
"This was monumental," Silva said.
The dog was presented to him Dec. 10 at a passing of the leash ceremony.
"Even at the ceremony you could tell Tony was nervous," said Stephanie Gerken, the founder of Michael's Angel Paws, which trained Freedom. "But as Freedom passed by Tony, he got calm."
Originally from California, Silva joined the military 10 years ago.
"I ended up doing two deployments to Iraq," he said.
During his time, he suffered physical wounds such as a herniated disc in his back and an anterior cruciate ligament injury.
"One was from an (improvised explosive device) blast," he said. "It's also from jumping in and out of a helicopter."
But it was the PTSD that proved to be most severe. He said at one point, fellow soldiers were kidnapped, which compounded the PTSD.
"I couldn't sleep," he said. "I made night my day and day my night."
He said he has had PTSD for four or five years — during active duty — and dealt with nightmares, depression and hallucinations.
"I think things are there and they aren't," he said. "For a long time, I was afraid to sleep because I thought I was going to die."
After returning home almost a year ago, he and his wife decided to move to Henderson for a fresh start.
"But I still had a hard time adjusting," he said. "I found myself on the wrong side of the law with legal issues."
Silva ended up in the Veterans Court at the Henderson Municipal Court, which helps defendants who might have committed misdemeanor crimes because of problems readjusting to life after returning home from military service.
"The court has really helped," he said. "It's helping me reacclimate. It's giving me a second chance."
At the court, program facilitators discussed with Silva the prospect of getting a service dog.
It worked out that the organization, Michael's Angel Paws, was looking to give a service dog around the same time.
The organization, which formed in 2012, was named and founded after Gerken's son died soon after birth in 2011.
"He would have needed a service dog," she said.
Gerken now provides service dogs to those in need. She teaches the dogs, either training them from birth or taking people's current companion to make it service-certified, through an eight-month program.
"We have graduated two dogs from the program," Gerken said.
There are about six dogs the group is currently training.
Freedom was the first dog raised by the program since he was a puppy.
Michael's Angel Paws was contacted by the Sun City Anthem Pet Club and the Sun City Anthem Veterans Club, which raised $750 each and was hoping to purchase a dog for a military veteran.
"I met with Freedom, and we instantly clicked," Silva said.
The organizations held the passing of the leash ceremony at the Sun City Anthem Center, 2450 Hampton Road, where more than 200 people showed up to support Silva.
"It broke me down," he said. "It was the first time in a while I felt like people really cared. It was heartwarming."
Freedom is living with Silva.
But for the next six months, Gerken is expected to work with them completing the transition. She is expected to teach Freedom more tasks, including how to help Silva with some of his physical ailments.
In the few days Silva and Freedom have been together, he already has seen a difference.
"I had him at an appointment and people came up to me," Silva said. "Normally, I would freak out. But I had Freedom there, and I knew he had my back."
For more information, visit michaelsangelpaws.org.
Contact Henderson/Anthem View reporter Michael Lyle at mlyle@viewnews.com or 702-387-5201.