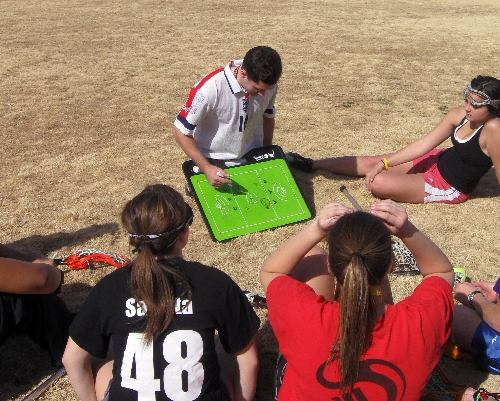 Members of the Henderson Warriors girls lacrosse team continue to prove their skills as they enter the next season.
The up-and-coming sport features girls from Henderson high schools who are ready to cradle, carry, dodge, run and score.
"It is a very fast-paced sport," said Erik Kulenkamp, coach of the Henderson Warriors. "Every player has interaction with the ball. Every player has the chance to score."
The Henderson Warriors are a club team and a member of the Henderson Lacrosse Club, which is governed by the Nevada Women's Lacrosse Association. According to the Henderson Lacrosse Club, there also are two high school boys teams, Cougars Lacrosse and Gators Lacrosse school teams.
The team has been around for nine years to offer lacrosse, which is not available in local high schools.
Lacrosse has been a popular sport on the East Coast and is slowly gaining notoriety on the West Coast, Kulenkamp said.
On a field roughly the size of a soccer field, there are 12 players: five midfielders, three defenders, three attackers and a goalie.
Each player is equipped with a lacrosse stick that they use to pass, carry and catch a rubber ball, trying to score.
"(Scoring) is bigger than hockey and soccer," Kulenkamp said. "Usually you'll see scoring in the 12- to 16-point range if both teams are aggressive."
The Warriors are composed of 16 girls, each with different years of experience.
This is Lauren Rocchio's fourth season playing for the Warriors.
Rocchio, 17, heard about lacrosse from people in her neighborhood.
"All the boys in the neighborhood were playing, so I started to play with the guys," Rocchio said.
But then another girl told her about the Warriors.
Rocchio said she enjoys every aspect of the game from scoring to being around teammates.
"I usually play either midfielder or attacker," Rocchio said. "I am mainly an attacker because I am good at scoring goals."
Kayla Alexander is starting her first season with the Warriors.
Before moving to Henderson, Alexander, 16, played during her freshman year in high school.
"When I found out about it, I just wanted to play forever," Alexander said.
Eager to return to the sport, she signed up this year for the Warriors.
"Every level is welcome," Kulenkamp said. "We don't turn anyone away."
The girls play against girls club teams from other parts of the Las Vegas Valley.
Kulenkamp, who watched boys lacrosse grow in recognition, hopes that girls eventually will get the same attention and that the sport will be offered in Las Vegas-area high schools.
"That is the next step," Kulenkamp said.
Playing girls lacrosse can result in a college scholarship, said Laurie Rocchio, Lauren's mom and team manager.
"If the girls stick with it and go to camps and clinics out of state and a coach sees them and thinks they are coachable, they can get a scholarship," she said.
Lauren Rocchio has been to several camps and said she is thinking over a few scholarship options.
Alexander said she is playing just for the fun of it.
"If I get a scholarship, that's great," Alexander said. "That would just be the cherry on top."
Kulenkamp said the sport is open to girls of all physical backgrounds.
The girls lacrosse season starts March 8 and ends in May with a championship game. 
The team trains in the fall, but practices aren't mandatory.
"It is essentially a spring sport," Kulenkamp said.
For more information, visit hendersonlacrosse.org or email
luarocchio@embarqmail.com. 
Contact Henderson/Anthem View reporter Michael Lyle at mlyle@viewnews.com or 387-5201.