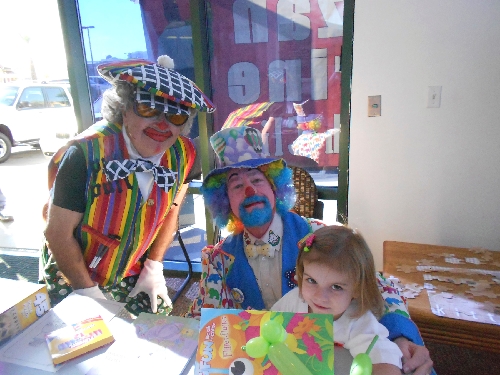 BRAIN BALANCE OF HENDERSON
TO DONATE TO Josh Stevens FOUNDATION
In honor of October being National Bully Awareness Month, Brain Balance of Henderson plans to donate to the Josh Stevens Foundation.
The center does assessments to determine children's and youths' potential learning or behavioral difficulties such as dyslexia or attention deficit hyperactivity disorder.
Brain Balance is slated to give 10 percent of all initial assessments – which are $295 – to the organization that encourages youths to be kind.
For more information, visit brain
balancehenderson.com or joshstevens
foundation.com.
FIREFIGHTERS group wants
TO GIVE SAFETY PRESENTATIONS
The Henderson Professional Fire Fighters is expected to visit parent-teacher organizations and parent-teacher associations to spread awareness on safety issues.
The organization is reaching out to groups to set up presentations.
To schedule a presentation with the Henderson Professional Fire Fighters, call 492-4937.
Henderson company DONATES COMPUTERS TO Fernley HIGH SCHOOL
Tronox LTD, a Henderson-based company, donated Dell computers to Fernley High School in Northern Nevada.
The company specializes in producing titanium-bearing mineral sands and titanium dioxide pigment.
The donation was facilitated between Tronox plant manager Rick Stater and Fernley teacher Jody Erickson in September.
For more information about Tronox, visit tronox.com.
Women's club to meet today
The GFWC Green Valley Woman's Club meeting is set for 6:30 p.m. today at Findlay Toyota, 7733 Eastgate Road. Enrich your life through volunteer work and club fellowship with women (working and retired) who make a difference in our community. For details, contact Beth Ilagan at betril77@yahoo.com or visit gfwcgreenvalley.org
Sunset Garden Club to welcome Bellagio's director of horticulture
The Sunset Garden Club plans to meet at noon today at the Paseo Verde Library, 280 S. Green Valley Parkway.
The scheduled program is "The Plants at the Bellagio" presented by Andres Garcia, executive director of horticulture, at the Bellagio Conservatory.
This event is open to the public. For more information, visit www.sunset
gardenclubofnv.org.
Halloween COSTUME SWAP scheduled
To help families on a tight budget, the city of Henderson is offering a Halloween costume swap from 9:30 to 11 a.m. Saturday at the Whitney Ranch Recreation Center, 1575 Galleria Drive.
People can drop off costumes until Wednesday at the recreation center.
For each gently used and clean costume dropped off, ranging from newborn to adult size, people can receive a ticket that can be redeemed the day of the swap.
For more information, call 267-5850.
Marine Corps foundation planning sixth annual golf tournament
The Marine Corps Law Enforcement Foundation's sixth annual Las Vegas Charity Golf Tournament is scheduled for Nov. 12 at the SouthShore Golf Club, 100 Strada Di Circolo. Registration is from 7 to 8 a.m., and a shotgun start is at 9:15 a.m.
Individual player packages start at $290, and several sponsorship opportunities are available. The event also will include raffle prizes and contests. Registration is due by Wednesday .
For more information, call Mike Tobey at 566-7473.
Sun City MacDonald Ranch plans pancake breakfast, craft show
Sun City MacDonald Ranch is hosting an arts and crafts show and pancake breakfast Saturday at 2020 W. Horizon Ridge Parkway. Breakfast is scheduled from 6:30 to 11:30 a.m., and the arts and craft show is from 7 a.m. to 1 p.m.
For more information, call 270-7000.
MASTER GARDENERS PROGRAM offers
FREE CLASSES at Acacia Park
The University of Nevada Cooperative Extension Master Gardeners program, 4600 Horse Drive in Las Vegas, is offering a series of free classes at Acacia Park, 50 Casa del Fuego, in conjunction with the Henderson Parks and Recreation Department.
Classes are to be taught by Master Gardener instructors and start at 9 a.m. The next class is about safe and sound insect control Saturday .
For more information, visit tinyurl.com/NLVchamberevents.
Garden club to place Blue Star Memorial Byway marker at park
The Sunset Garden Club plans to place a Blue Star Memorial Byway marker at Silver Springs Park, 1951 Silver Springs Parkway, at 1 p.m. Saturday . The public is invited to attend the ceremony and enjoy refreshments. For more information, contact chairwoman Marcia Brown at mbrown4626@aol.com.
Danny Gans memorial run
scheduled for Oct. 20
The Danny Gans Memorial Champions Run for Life is scheduled for Oct. 20 at Discovery Park, 2011 Paseo Verde Parkway. Singer Donny Osmond is set to host the event, which will benefit the Nevada Childhood Cancer Foundation.
The event includes a 5K run, a fun run/walk and a team event. After the 5K, children with critical illnesses can participate in a special run called Champions Run for Life. Other activities include food, raffles, bounce houses, entertainment and a bone marrow drive.
All entries on race day are $40. Teams of 10 or more are $17 per person. Participants may register online at www.active.com or on the day of the race from 6:30 to 7:25 a.m. The fun run/walk begins at 7:30 a.m., followed by the 5K, team, wheelchair and stroller divisions at 8 a.m. The awards ceremony is scheduled for 9:10 a.m., followed by the Champions Run for Life at 9:30 a.m.
For more information, call the Nevada Childhood Cancer Foundation at 735-8434 or email info@nvccf.org.
MAKE A DIFFERENCE DAY TO BE CELEBRATED AT BIRD VIEWING PRESERVE
The city of Henderson Parks and Recreation Department is planning to celebrate Make A Difference Day at 9 a.m. Oct. 27 at the Henderson Bird Viewing Preserve, 350 E. Galleria Drive. City staff members and Master Gardeners are expected to teach how to plant trees and shrubs to enhance wildlife habitat. Expert birders are also expected to provide educational information and answer questions about species of birds and animals that live or visit the preserve. The event is free. For more information, visit cityofhenderson.com/parks.
Free Flu shots to be available
in Henderson
The Southern Nevada Immunization and Health Coalition and its partners plan to host multiple no-cost flu immunization and health clinics until Dec. 8 in the Las Vegas Valley.
The Centers for Disease Control and Prevention's Advisory Committee on Immunization Practices recommends that everyone 6 months or older should receive the flu vaccine each year. It's especially important the following get the shot because they are at high risk for serious flu-related complications or because they live with or care for people who have a greater risk for flu-related complications:
n Pregnant women.
n Children older than 6 months and younger than 5.
n People 50 or older.
n People of any age with certain chronic medical conditions.
n People who live or work in nursing homes and other long-term care facilities.
n Health care workers.
n Caregivers of children younger than 6 months (these children are too young to be vaccinated).
The clinics will provide flu shots on a first-come, first-served basis. Children older than 6 months, adolescents and adults are eligible for the inoculations.
Henderson clinics include:
n 9 a.m. to noon Monday, St. Therese Center for HIV at the Rose de Lima Campus, 100 E. Lake Mead Parkway.
n 10 a.m. to 1 p.m. Dec. 8 at St. Rose Dominican Hospital Siena Campus, MacDonald Conference Center, 3001 St. Rose Parkway.
COATS FOR KIDS DRIVE
is under way at ALBERTSONS
The 13th annual Coats for Kids drive continues through Nov. 3 at Albertsons stores across the valley.
Bring gently used coats to any Albertsons store and place them in the marked box at the front of the store. Aramark Uniforms will pick up the coats and drop them off at Al Phillips The Cleaner, which has cleaned all the coats free for the past 13 years. They are distributed to needy children by The Salvation Army's Family Services.
As part of the Lucky 13 theme for this year, anyone who donates a coat can enter a drawing for one of 13 pairs of free tickets to see Carrot Top's show at the Luxor. Entry forms are available at the Albertsons service desks.
HELP OF SOUTHERN NEVADA
SEEKS HOLIDAY VOLUNTEERS
HELP of Southern Nevada is calling for volunteers to assist with a number of programs this holiday season. Assistance is accepted from individuals who can donate any amount of time.
Areas where volunteers are needed include: Assisting clients with their applications for holiday programs at HELP's main campus, 1640 E. Flamingo Road; assisting in receiving donated Thanksgiving turkeys at various locations (turkeys will be given to more than 1,200 families); and assisting in receiving holiday gifts for selected clients in the Adopt-A-Family program.
To volunteer, contact Joan Lima at jlima@helpsonv.org or 369-4357.
COUNCIL MEETINGS AVAILABLE ONLINE
The city of Henderson has begun live streaming of City Council meetings.
Meetings are at 7 p.m. the first and third Tuesday of the month. Before watching , residents can also view the council agenda and supporting documents. The stream is available at cityofhenderson.com.