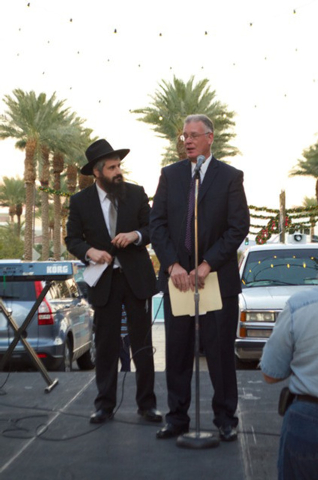 HENDERSON COUNCILMAN TO HOST NEIGHBORHOOD MEETING
Henderson City Councilman Sam Bateman is scheduled to host a Neighborhood Connection meeting at 6 p.m. Dec. 11 at the Henderson Multigenerational Center, 250 S. Paseo Verde Parkway.
Bateman is expected to be joined by Henderson Mayor Andy Hafen and city staff members who will go over updates and take questions from residents.
For more information, visit cityofhenderson.com.
SHOPPING DAY SET FOR DEC. 14
Henderson's parks and recreation department is scheduled to host a shopping day from 11:30 a.m. to 4 p.m. Dec. 14 at the Valley View Recreation Center, 500 Harris St.
The event allows parents to drop off children at the center while they run holiday errands.
Children are set to enjoy games and arts and crafts. Lunch is included.
Participation is $20 per child and is open to children 5 to 12.
For more information, visit cityofhenderson.com/parks.
HENDERSON CHAMBER TO COLLECT GIFTS FOR TOYS FOR TOTS
The Henderson Chamber of Commerce and Leadership Henderson are scheduled to host a Toys for Tots benefit from 5:30 to 8:30 p.m. Dec. 12 at The Landing Restaurant and Bar, 3500 Executive Terminal Drive.
People are invited to bring a new, unwrapped toy.
The event costs $10 and is open to the public.
To register, visit hendersonchamber.com/events.
POST OFFICE LOCATIONS to COLLECT ITEMS FOR TOY DRIVE
Several Henderson Post Office locations are accepting toys to contribute to Toys for Tots.
People can drop off items at the Henderson Main Post Office, 404 S. Boulder Highway; the Valle Verde Post Office, 1575 Horizon Ridge Parkway; the Seven Hills Post Office, 3055 S. St. Rose Parkway; and the Green Valley Post Office, 2722 N. Green Valley Parkway.
The gift must be new and unwrapped.
TOYS TO BE COLLECTED AT BANK OF AMERICA LOCATIONS
Bank of America is scheduled to host its Make-A-Wish toy drive this holiday season.
It is slated to collect toys at 51 banking centers through Dec. 13.
People are encouraged to drop of a new, unwrapped toy, which is slated to be presented to kids and their families at the Make-A-Wish holiday party.