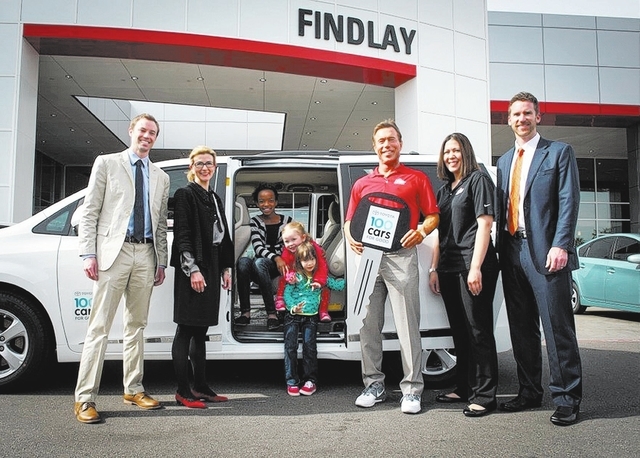 WARD 1 NEIGHBORHOOD CONNECTION MEETING SCHEDULED
The city of Henderson is scheduled to host a Neighborhood Connection meeting for Ward 1 residents at 6 p.m. Feb. 27 at the Heritage Park Senior Facility, 300 S. Racetrack Road.
Henderson City Councilwoman Gerri Schroder is slated to address concerns and answer questions. Other city staff members are scheduled to attend.
For more information, visit cityofhenderson.com.
GRANT TO HELP EXPAND PROGRAM
Bank of America recently announced that Spread the Word Nevada is the recipient of a Neighborhood Builders grant. The nonprofit helps promote early childhood literacy at low-income and at-risk schools. The $200,000 grant is expected to help the program extend its school-year reading program into summer and offer the program at new schools.
For more information, visit spreadthewordnevada.org.
LEADERSHIP HENDERSON TO HOST ANNUAL FUNDRAISER
The Henderson Chamber Foundation and Leadership Henderson are planning to host the fourth annual Biddin' for Bottles fundraiser at 6 p.m. March 29 at Grape Expectations, 7360 Eastgate Road.
Guests are slated to have an opportunity to bid on wine bottles and win silent auction gift baskets.
Last year, the event raised more than $10,000.
Proceeds are planned to benefit Living Grace Homes, a nonprofit that provides safe haven for pregnant teens.
For more information, call 702-565-8951.
CONSTRUCTION ON APARTMENT COMPLEX RESUMES
Construction has resumed on the 200,000-square-foot South Valley Luxury Apartment Complex on Cactus Avenue near Bermuda Road.
Plans were delayed because of the economic recession. But the 100-unit, mid-rise apartment complex has continued development.
Leasing is expected to begin in May.
For more information, visit wghpartners.com.
NEVADA NATURALIST PROGRAM PLANS OPEN HOUSE
The University of Nevada Cooperative Extension's Nevada Naturalist program plans an open house from 8 a.m. to 3 p.m. March 1 at the Lifelong Learning Center, 8050 Paradise Road. Visitors can meet with Nevada Naturalists and instructors, see project presentations, participate in activities, learn about volunteer opportunities and tour the extension's Outdoor Education Center.
For more information, contact Denise Parsons at 702-948-5906 or parsonsd@unce.unr.edu.
CITY LAUNCHES AED LOAN PROGRAM
The city of Henderson is offering an automated external defibrillator loan program for public use.
The portable device is capable of delivering a shock if needed to restore a heart to its normal rhythm in the event of cardiac arrest.
Henderson launched the program after it was approached by three local mothers who founded Adam's Heart, an organization that was created after the son of one of the members experienced sudden cardiac arrest during a soccer game.
AEDs are expected to be provided at public gatherings and sporting events at no cost.
For additional information, call 702-267-4000.
LOCAL AUTHORS TO BE SHOWCASED AT GREEN VALLEY LIBRARY
Henderson Libraries is scheduled to host its Local Author Showcase Launch Party from 10 a.m. to 3:30 p.m. March 8 at the Paseo Verde Library, 280 S. Green Valley Parkway.
The event is expected to feature more than 40 authors and include a book publishing workshop, an author meet-and-greet session and a discussion panel.
A new collection by local authors is also set to be unveiled.
For more information, call 702-492-6581.