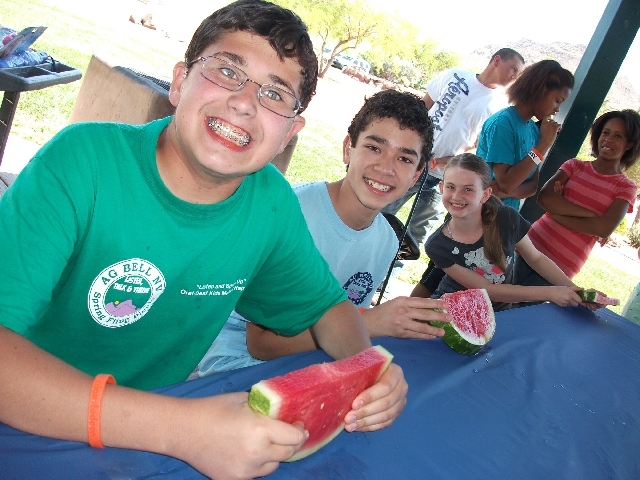 liberty HIGH SCHOOL OFFERS
BASKETBALL CAMP in june
Liberty High School is scheduled to offer three sessions for a summer basketball camp.
Sessions are scheduled from 9 a.m. to noon June 10-14, 17-21 and 24-28 at the school, 3700 Liberty Heights Ave.
The camp is expected to include lessons on individual skills and chances to play as a team.
The camp cost $100 for one session, $150 for two sessions and $200 for all three.
For more information, call 702-799-2270 extension 114046.
SUMMER CAMPS OPEN FOR REGISTRATION
The city of Henderson has opened registration for summer camps, which run from 7 a.m. to 6 p.m. Monday through Friday from June 10 through Aug. 23.
Summer Kids Zone offers drama, music, games, field trips, special events and arts and crafts for children 5 to 12. It costs $99 per week.
Teen Kamp, open to youths from 12 to 15, offers leadership opportunities and themed activities for $110 per week.
Five locations are expected to host the summer programs: the Black Mountain Recreation Center, 599 Greenway Road; the Henderson Multigenerational Center, 250 S. Green Valley Parkway; Bob Miller Middle School, 2400 Cozy Hill Circle; the Silver Springs Recreation Center, 1951 Silver Springs Parkway; and the Whitney Ranch Recreation Center, 1575 Galleria Drive.
For more information, call 702-267-4100 or visit cityofhenderson.com.
HENDERSON PLANS TO SLIDE INTO SUMMER WITH EVENT at anthem hills park
Henderson is scheduled to host its "Slide Into Summer" event from 5 to 7 p.m. June 7 at Anthem Hills Park, 2256 Reunion Drive.
The event is expected to include a giant slip and slide for all ages, a mini slip and slide for children, bounce houses, lawn games and sun safety tips.
Entry costs $5 per person.
For more information, visit cityofhenderson.com/parks.
HENDERSON HOPES TO BREAK
WORLD RECORD for largest swim lesson
The city of Henderson is planning to take part of the largest swim lesson at 8 a.m. June 18 at all city pools.
The event will attempt to break the Guinness World Record for largest swim lesson. The current record was set during the 2012 World's Largest Swimming Lesson event with 24,873 participants representing 15 countries.
More than 25,000 children on five continents are expected to participate this year.
For more information, visit cityofhenderson.com/parks.
MINUTECLINIC OPENS IN HENDERSON
MinuteClinic recently opened a new location inside the CVS Pharmacy store, 21 W. Horizon Ridge Parkway.
Nurse practitioners and physician assistants specialize in health care and diagnosing, treating and writing prescriptions for common illnesses such as ear infections, strep throat, minor wounds or influenza.
This is MinuteClinic's sixth location in the Las Vegas Valley.
The cost for most treatment starts at $79. For more information, visit minuteclinic.com.
GROUPS TO HOST COFFEE MEETING
Desert Newcomers is slated to host its monthly coffee meeting at 10 a.m. May 30 at Green Valley United Methodist Church, 2200 E. Robindale Road.
The event is open to new guests looking to connect and network with other women.
For more information, visit desertnewcomersclub.org.
CAMP THAT REUNITES SIBLINGS IN FOSTER CARE SEEKS DONATIONS
Camp To Belong Nevada, which reunites siblings who are apart due to foster care, is in need of donations from the public for its summer camp program. Camper supplies such as water bottles, flashlights and cans of Gatorade powder are needed.
A full list can be seen at Child Focus, 2685 S. Rainbow Blvd., Suite 112, or call 702-436-1624.
FOOTHILL HIGH SCHOOL SCHEDULES BASKETBALL CAMP june 10-13
Foothill Falcon Basketball has scheduled its summer basketball camp from June 10-13.
The camp is open to boys and girls in third through ninth grade.
Registration costs $100.
For more information, visit betruetotheblue.com.
CITY GIVES TIPS FOR PEST PREVENTION
With summer around the corner bringing warmer weather, the city of Henderson is offering tips for homeowners to be protected from pests such as mosquitoes.
The city recommends that people eliminate potential water sources that could serve as breeding grounds for mosquitoes such as puddles that habitually return or leaky outdoor faucets. It also suggests monitoring outdoor recycling containers, gutters, pools, ornamental ponds and drainage areas that might collect water.
Mosquitoes prefer slow-moving water in which to lay eggs.
If people are concerned about stagnant water sources or swimming pools that aren't maintained, they can call 702-267-3950.
For more information on mosquito prevention, visit southernnevadahealthdistrict.org.