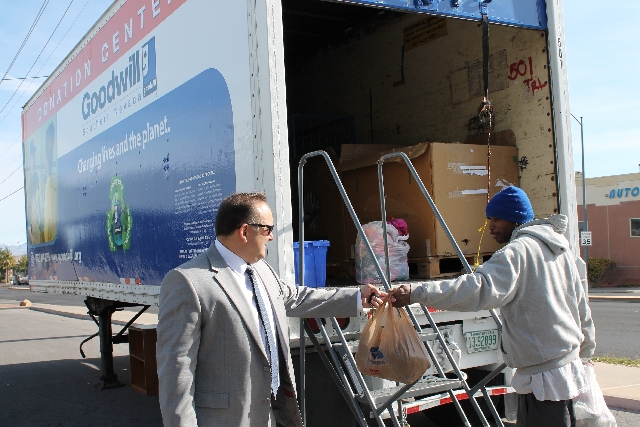 North Las Vegas mayor to speak
to Republican women's group
The Southern Hills Republican Women Federated plan to meet at 11:30 a.m. today at Buckman's, 2600 Hampton Road, Sun City Anthem. Shari Buck, the first woman to be elected mayor of North Las Vegas, is scheduled to speak about trying to save her city during the recession and her fight with unions and city employees to make budget cuts. Two raffles also are planned: a 50/50 raffle and one to benefit military personnel.
Tickets are $25 at the door. For more information, call Ann Danielson at 702-269-1431.
ward 1 CONNECTION MEETING scheduled
Henderson City Councilwoman Gerri Schroder is scheduled to host a Ward 1 Neighborhood Connection meeting at 6 p.m. Thursday at the Heritage Park Senior Facility, 300 Racetrack Road.
Schroder is expected to share updates about the city and answer questions from residents. Representatives from city departments also are scheduled to attend.
For more information, call 702-267-2085.
HENDERSON PLANS EGG HUNT at pool
The city of Henderson is scheduled to host an egg hunt at 1 p.m. March 30 at the Whitney Ranch Activity Pool, 1575 Galleria Drive.
Dozens of eggs are expected to be hidden along the bottom of the pool.
Children must be accompanied by a parent or a guardian.
The event costs $5 per person.
For more information, visit cityofhenderson.com/parks.
BIRD VIEWING PRESERVE
TO DISCUSS PLANT LIFE
Representatives from the Henderson Bird Viewing Preserve, 350 E. Galleria Drive, are scheduled to discuss the many plants of the area at 8 a.m. Thursday.
Even though the preserve is best known for its birds, it also houses various specimens of plants, trees and shrubs. Residents are invited to learn more about plant life.
The event is for participants 16 or older.
Participation is free, but registration is required. For more information, visit cityofhenderson.com/parks.
HENDERSON SEEKS APPLICANTS FOR PARADE
The deadline for applications for entries to the Henderson Heritage Parade is Thursday. The parade is scheduled for April 6 in the Water Street District. Henderson is celebrating its 60th anniversary this year.
For more information, contact Amanda Wellman at amanda.wellman@cityof
henderson.com or at 702-267-2171.
SEMINAR PLANS TO TEACH ABOUT COINS
A seminar on coins is scheduled for 6 p.m. Wednesday at the Henderson Multigenerational Center, 250 S. Green Valley Parkway.
The workshop is expected to explore historical facts about coins and what makes them valuable.
Participants must be 18 or older.
For more information, visit cityofhenderson.com.
WORKSHOP to discuss
ARTHRITIS PREVENTION
Superior Health Solutions and the Foundation for Wellness Professionals are scheduled to host a workshop at
6:30 p.m. March 27 at Whole Foods, 100 S. Green Valley Parkway.
The workshop is expected to discuss arthritis and alternative approaches to relieving joint disease.
The event is free. To RSVP, email sphen.marketing@wholefoods.com.