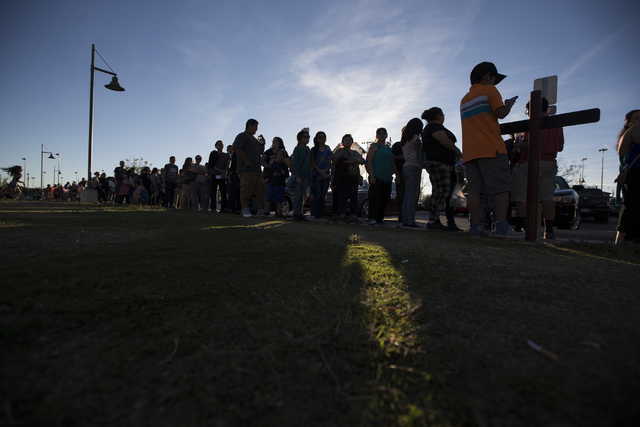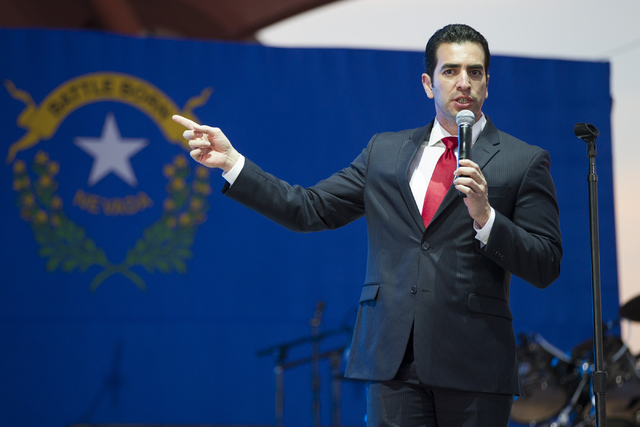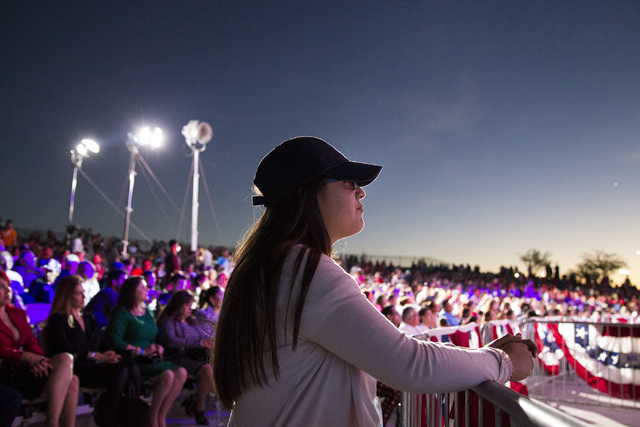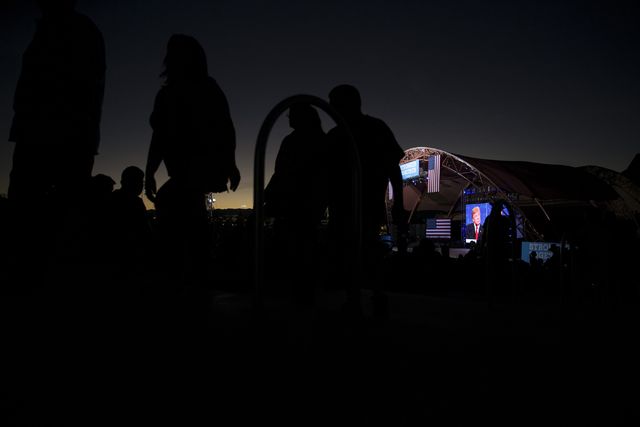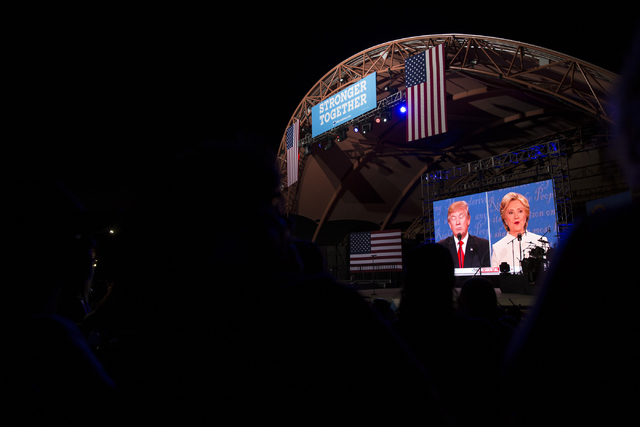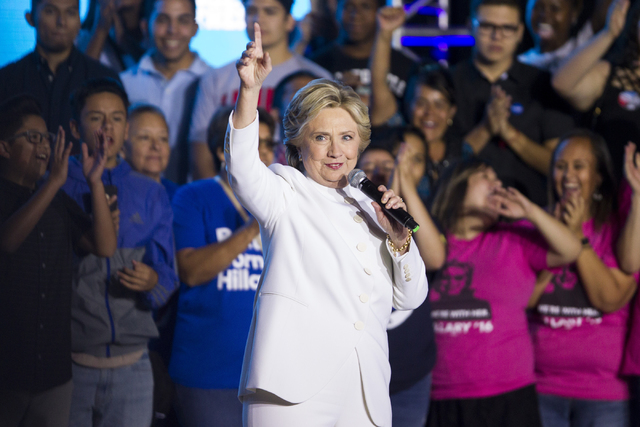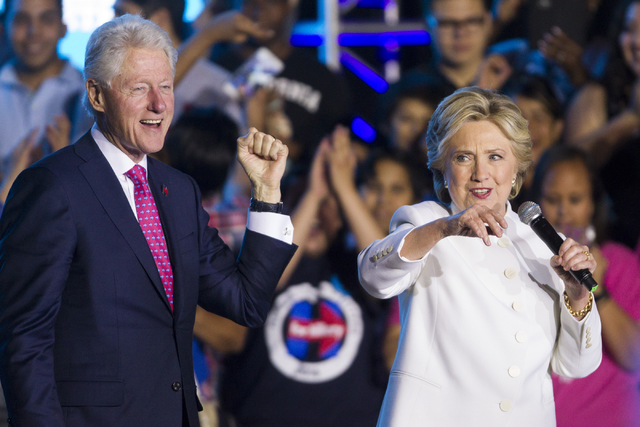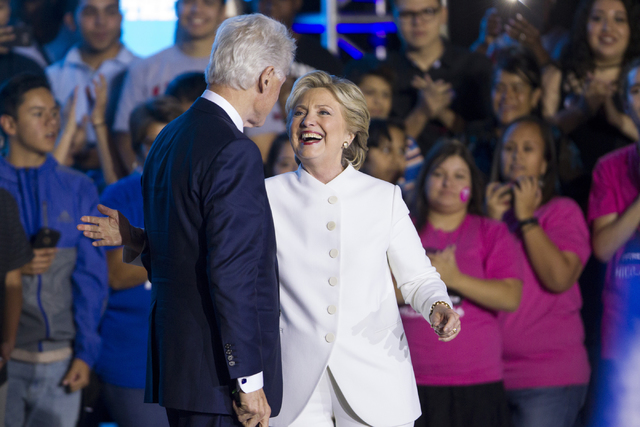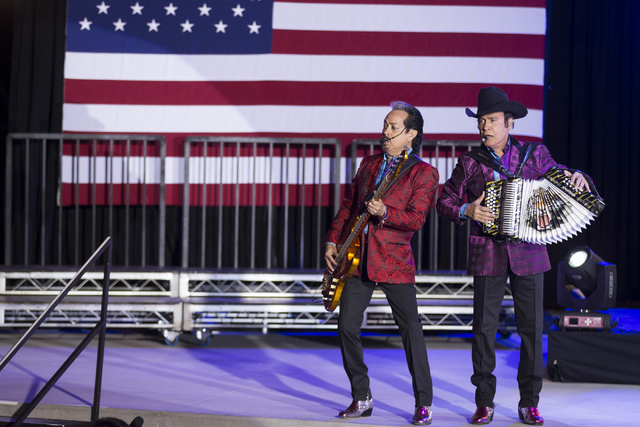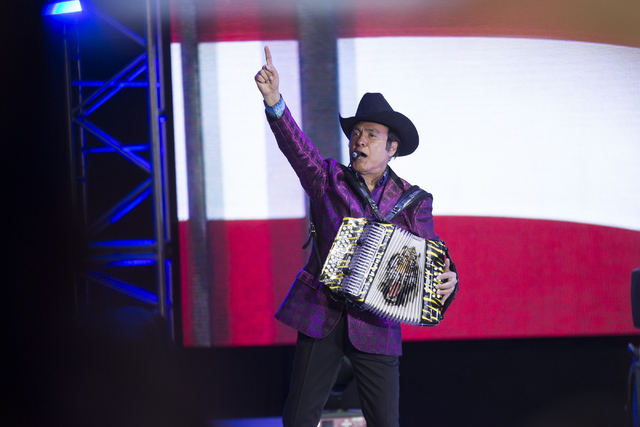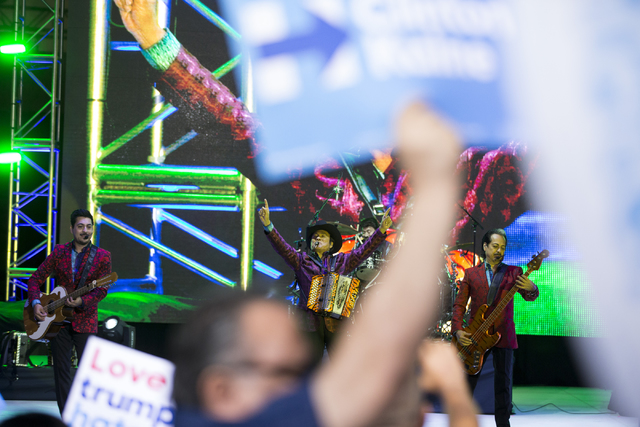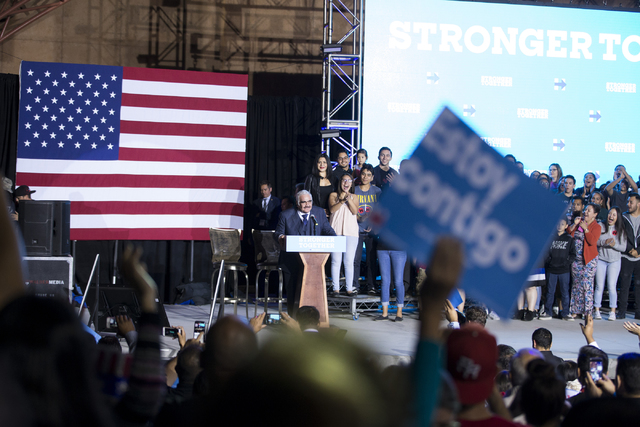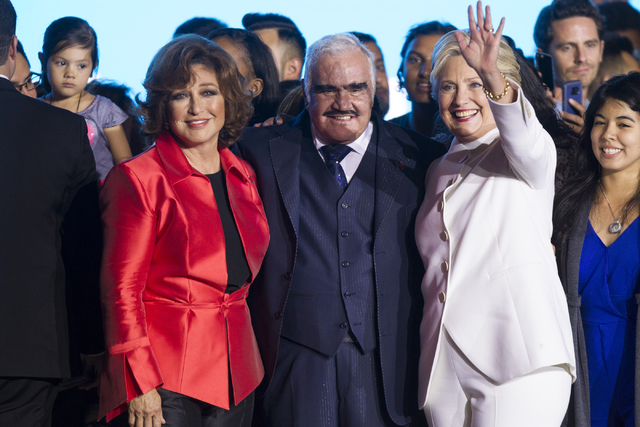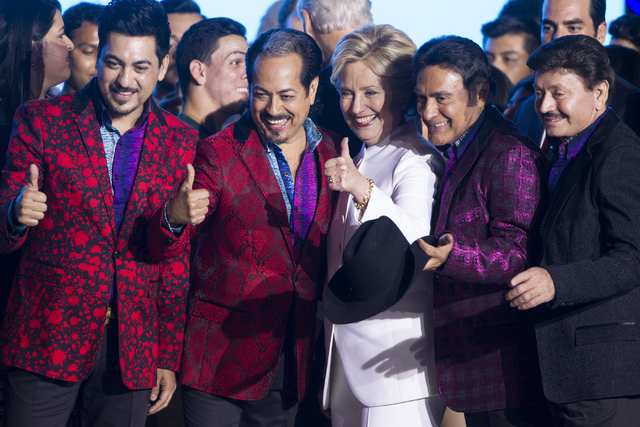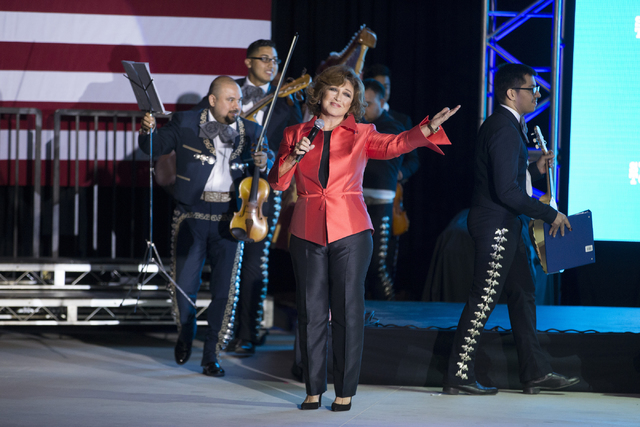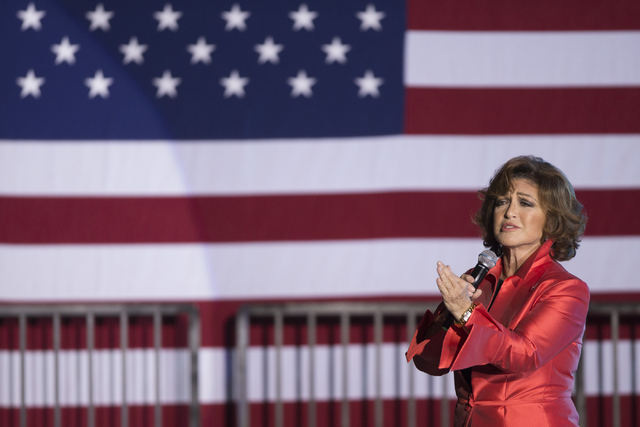 Democratic presidential nominee Hillary Clinton made a surprise appearance Wednesday night at the Hillary for Nevada Debate Watch Party at Craig Ranch Regional Park after leaving the final presidential debate at UNLV.
Clinton was greeted by a roar of cheering fans shouting "Hillary" and "Si se puede" as they waved signs that read, "Estoy contigo" and "Love trumps hate." She was met onstage by legendary Mexican singer Vicente Fernández and joined by her husband, Bill Clinton, at the North Las Vegas event focused on galvanizing Latino voters in the swing state to cast their votes for Clinton.
"I'm proud to be here with my husband and with all of you as far as the eye can see," she said. "It's so important to stand up and say what you believe in. Half of undocumented workers in Nevada pay federal income taxes, which means you pay more to support this country than Donald Trump does. … I just want to say thank you for your hard work. I'll fight to keep families together. I will not let Donald Trump deport 11 million people."
Roughly 5,000 people attended the event. Supporters wore "I'm With Her" T-shirts while waving American flags and uniting with family and friends at the watch party, which, for many, was a first-time event.
"It's wonderful to be a part of this historic event," said Nevada Assemblyman Edgar Flores during the watch party. "Some people don't appreciate our struggles and our sacrifices. This election will show how powerful the Latino vote is."
"I feel that this is a historical event that I wanted my family to be a part of," said Julian Zamora, who came with his wife and two children. "We were Republican, but we changed to Democrat because Trump commends the generalization of Latinos. I don't want my kids to grow up with a president like him."
Some like Maria Vega admitted she came out to see Fernández, who was featured as the guest of honor and who came out of retirement last month to officially endorsed Clinton with a personal corrido, or traditional Mexican ballad, titled "El Corrido de Hillary Clinton," which was played at the event.
"It hurt my pueblo that someone offended us … With Hillary there is respect, and with her as president, we'll always have a bridge," sang Fernández in his song.
Debate topics included immigration — an important topic for the Latin community in Nevada where undocumented immigrants make up 7.2 percent of the state's population, a total of 210,000 people.
As GOP nominee Donald Trump highlighted his plan to build a wall on the U.S.-Mexico border, the crowd could be heard booing and shouting "Arriba Hillary" or ("Rise above, Hillary").
"We're deeply honored that Las Vegas was elected as the site for the last and final debate," said Democratic state Senator Ruben Kihuen. "We're equally excited that the debate focus(ed) on issues, like immigration, which directly impacts Nevada. This event tonight helped rile the Latino community to go out and vote. When people like Donald Trump demonize Latinos by calling us rapists and criminals we wake up and vote against that candidate."
The night also held a special performance by award-winning actress and singer Angelica Maria and multiple Grammy-winning norteño band Los Tigres del Norte, whose members are Clinton supporters and who spoke in support of union workers and their allies Wednesday morning during a protest against Trump outside of Trump International Hotel.
U.S. Senate candidate Catherine Cortez Masto also took to the stage to highlight early voting for Nevada, which runs from Saturday to Nov. 4.
Recent polls show a tight race in Nevada with Clinton opening up a four-point lead over Trump in a Public Policy Polling survey released last Wednesday.
"I believe that America's best days are ahead of us," Clinton told the crowd. "If we work together we will build a better economy and a better America. The only way to win is if you and everyone you know go out and vote."
Reach Sandy Lopez by email at slopez@viewnews.com, by phone at 702-383-4686. Follow @JournalismSandy on Twitter.
Visit our election page for full coverage of the 2016 debate.
RELATED
Clinton, Trump come out swinging in Las Vegas debate
Hillary Clinton makes surprise appearance at North Las Vegas debate party
Motorcades for Clinton, Trump cause few traffic problems
Presidential debate in Las Vegas brings pundits, protesters and pageantry
What they're saying about the Las Vegas presidential debate
Fact-checking the Las Vegas presidential debate
Clinton, Trump protesters clash peacefully before debate
Free speech advocates question UNLV's use of public expression area for debate