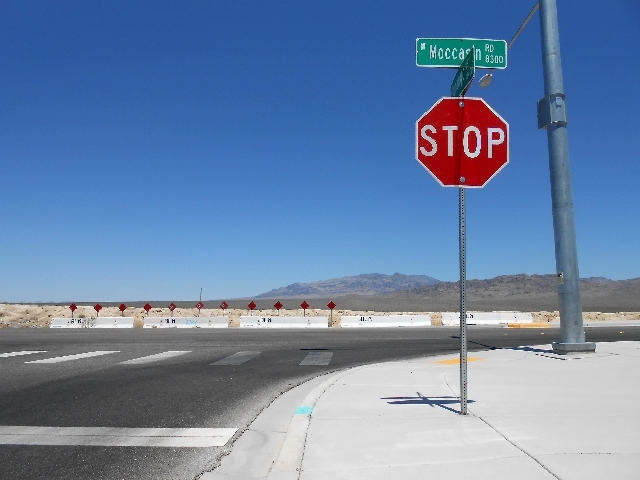 Moccasin Road is the end of the line.
The quiet stretch of asphalt along Centennial Hills' northern border is guarded by imposing Bureau of Land Management-stamped roadblocks meant to mark the end of Durango Drive. Beyond it, there's only a thorny desert lattice of dirt bike trails and telephone poles.
Most everything south of Moccasin Road is the city of Las Vegas: D.R. Horton-developed homes to the east and west and O'Roarke Elementary School and Floyd Lamb Park at Tule Springs less than a mile south.
Built in 2003 with barely room enough for the two entryways that serve homes in the neighboring Legends subdivision, the paved portion of Las Vegas' northernmost city-maintained road spans just one-third of a mile from Clear Mountain Street east to Squirrels Nest Street, with a history that fits its length.
"Staff thinks it's one of those roads submitted by a developer and approved through the planning department," city spokesman Jace Radke said. "We know Becker Trust was the land owner, WL Homes was the applicant, and we think D.R. Horton was the developer."
Neither WL Homes, the company that filed for Moccasin Road's dedication, nor D.R. Horton, the developer that built and likely named it, responded to requests for comment.
"Most of it is unpaved maintenance service road," Radke added. "This road predates a lot of development, so that's basically all I've been able to find out about it."
Moccasin Road didn't always go unnoticed.
City officials hoped to develop 7,600 acres of BLM land north and east of the road as recently as 2008, convening a two-day design development workshop and enlisting help from the Rocky Mountain Institute to publish a 94-page Upper Las Vegas Development Report on the project.
Then the recession swept through the valley, knocking down city blueprints for three business districts, a handful of civic centers and "two to four walkable, mixed-use villages" along the way.
What remains is unpaved West Moccasin Road, which runs nine miles west of Durango Drive, parallel to U.S. Highway 95 to the eastern border of the Las Vegas Paiute Golf Resort.
Officials with the Las Vegas Paiute Tribe Council couldn't confirm any association with the road, though Las Vegas City Councilman Steve Ross ventured to guess that the name was meant as a nod to the nearby tribe.
Ross, who was part of the Upper Las Vegas Development talks, remembers when Moccasin Road was meant to become part of the Sheep Mountain Parkway, Las Vegas' long-dormant 22-mile link between U.S. 95 and Interstate 15.
Today, the would-be freeway looks a lot like a dusty, tumbleweed-blown afterthought on the outskirts of Ward 6. But in a city known for spilling over its borders, tomorrow could look very different.
Ross, for one, wouldn't bet against it.
"I have a son and a daughter who live out there," he said. "I remember pylons being out there when D.R. Horton built those homes.
"So there's a reason the big power line out there is called the Moccasin alignment. One day, when the city grows up, if it becomes part of the (Sheep Mountain) Parkway, there will be an arterial along the Moccasin alignment that goes all the way down to (U.S.) 95. … It could still be part of something bigger."
Contact Centennial and North Las Vegas View reporter James DeHaven at jdehaven@viewnews.com or 702-477-3839.