September 30, 2011 - 1:03 am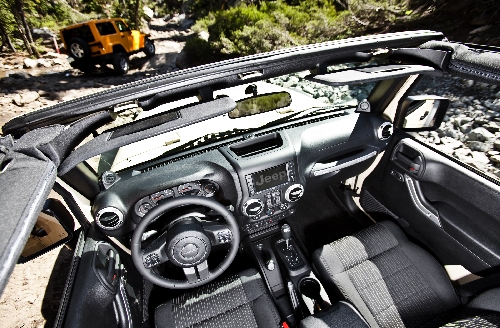 The Wrangler's ancestry dates back more than 70 years, but being on the receiving end of a series of recent improvements has kept this Jeep as up-to-date as ever.
Loyalty to Chrysler's iconic Jeep brand knows no bounds, especially the Wrangler, which some aficionados consider the only true Jeep. And despite the passage of time, it has maintained an unyielding grip on its now-classic design. In short, the Wrangler is the ultimate retro vehicle with unabashed bragging rights to history and heritage.
Jeep's current Fiat minders have managed to tread carefully without messing with Wrangler tradition. However, for the 2011 model year they introduced a kinder, gentler (on the posterior) interior, with better-quality materials for the updated dashboard, seats and door trim as well as the addition of climate control, heated seats and outside mirrors to the options list. Those changes were clearly well-received as Wrangler sales have remained as robust as ever.
For the 2012 model year, the Wrangler (code name JK, as most hard-core Jeepers will tell you) is on the receiving end of a much-needed heart transplant. Tossed aside is the 3.8-liter V-6 rated at 202 horsepower and 237 pound-feet of torque. That engine had been the off-roader's go-to motivation since the 2007 model year. In its place is Chrysler's recently developed "Pentastar" V-6 rated at 285 horsepower and 260 pound-feet of torque. That translates into a horsepower improvement of more than 40 percent, along with a corresponding 10 percent gain in peak torque.
The Wrangler also offers a more efficient optional five-speed automatic transmission in place of the previous four-speed unit. Jeep says that the extra cog helps reduce fuel consumption and offers a lower crawl ratio for severe off-road use.
Still standard is a German-made six-speed manual gearbox, which is the first of its type attached to the Pentastar V-6.
Wrangler fuel economy is now rated at 17 mpg in the city and 21 mpg on the highway with either transmission, up from the old 15/19 mark.
Jeep claims that the new powertrain allows the Wrangler to accelerate to 60 mph from rest in 7.7 seconds; 8.4 for the Unlimited (currently the world's only four-door convertible, by the way), which is claimed to be better than the outgoing models by 25 percent.
Remaining unchanged are the Wrangler and Wrangler Unlimited's maximum towing capacities of 2,000 and 3,500 pounds, respectively.
Base Sport, Sahara and Rubicon trim levels carry over, with the first two featuring part-time four-wheel-drive with optional limited-slip rear differentials. The more rugged Rubicon uses the Off-Road Rock-Trac unit with its extra-low-range gearing, front/rear-locking differentials for greater agility and 32-inch off-road rubber. Ordering the Rubicon also gets you grip-enhancing front and rear locking differentials and a disconnecting front anti-sway bar for maximum boulder-hopping suspension travel. Note that the four-door Unlimited can be specified as a rear-wheel-driver, although that's hardly in the spirit of "Unlimited."
The Wrangler Sport — for an estimated $23,000 including destination charges — lacks standard air conditioning, power windows or cruise control. Those features are included in both the midlevel Sahara and trim-topping Rubicon, as are tubular side steps, premium audio system and 17- or 18-inch wheels in place of the standard 16-inch rims. A three-piece modular hard top is optional on all Wranglers.
In addition, all models are fitted with Hill-start Assist that prevents the vehicle from rolling backward when releasing the brake pedal on an incline. Since you don't have three feet, this is particularly handy with manual-transmission models. Also standard is Trailer-sway Control that helps keep the tail from wagging the dog, so to speak.
Aside from the Wrangler's legendary all-terrain capabilities, it's the more powerful engine and attendant fuel-economy improvements that present the key enhancements, and ones that both serious, crater-crawling Jeep fanatics and first-timers will readily appreciate.