Hotel exec selects TSX from Findlay Acura
October 7, 2011 - 1:02 am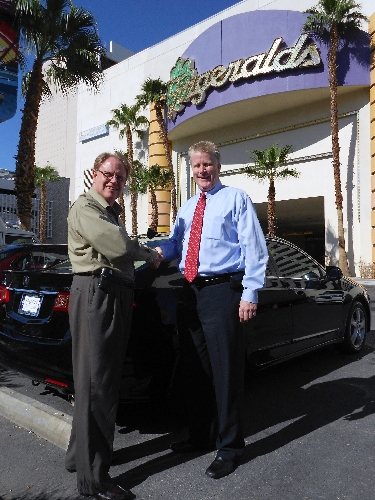 Carl Keppler is a hotel executive with the Fitzgeralds Casino and Hotel who also knows his automobiles. He purchased a 2011 Acura TSX with a technology package from Findlay Acura in the Valley Automall.
"It's an amazing car," said Keppler, who serves as vice president of hotel operations and sales for the downtown Las Vegas property. "I had not purchased a new car for awhile and previously owned had a Honda Accord for eight years, so I was looking to purchase again."
Keppler said he didn't want a large car, but still wanted one that had all of the bells and whistles.
"It's a fun car to drive," said Keppler, who graduated in the third hotel administration class from University of Nevada, Las Vegas in 1971.
"The four-cylinder engine has so much power. We took it up to Brian Head, Utah, where the mountains are very challenging. I was wondering how the TSX would handle the grade and the curves, and it came through with flying colors. I was surprised how smoothly everything worked and the car is so comfortable.
"It has great pickup and is very easy to drive."
Keppler decided to purchase from Findlay Acura after a fellow employee said the dealership would provide the best deal.
"I was given Jim (Red) Donohue's name," said Keppler, speaking about the dealership's Internet/promotions manager. "I called him and he was able to help me. I really enjoyed the test drive and knew then that I had to have it."
Keppler went to Findlay Acura after first reading about the vehicle. He knew what he was looking for.
"I had done my homework," he said. "I had taken a test drive in another competitive car and didn't like the feel of it. But when I drove the TSX, it felt perfect. It's a lower car, but the visibility is excellent both in the front and the back, and that's not something you find with every car.
"I was treated well by Findlay Acura."
Keppler said he is averaging 22 miles per gallon with the TSX.
"Most of that is with city driving," he said. "This car drives so well even with some of the challenges we have in this city. I feel very safe in the TSX."
Findlay Acura is part of the Findlay Automotive Group of dealerships founded more than 50 years ago by the late Pete Findlay, whose son, Cliff, now spearheads new- and used-car operations in Nevada, Utah, Arizona and Idaho.
The dealership is led by General Manager Kevin Hicks. Further information can be found by visiting the dealership at 315 Automall Drive, or by calling 702-982-4100.