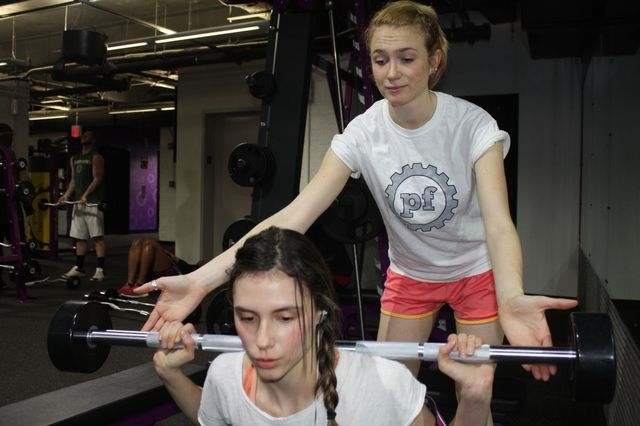 Patterns around lunch breaks provide clues to company culture. In some companies, activities vary, but not so in others. Time allocated can be telling. A survey from OfficeTeam, based in Menlo Park, Calif., shows that 48 percent of 400 employees polled may be rushed, with less than a half-hour. Another 28 percent take at least an hour. Whether you're on the low end, the high or somewhere in between, the culture of your company or business may influence how you spend that time.
At Shoplet, a large e-retailer of office products in New York, associate Diana Regal reports that her marketing and business development team does more than socialize. The under-30 group of five to eight bands together to work out. Sometimes co-workers participate.
"Going to the gym bonds us as a team and helps combat the serious health consequences of sedentary lifestyles," she says.
"We work out for an hour," Regal explains, "like a team, unless one group wants to do cardio and another muscles. We all have gym buddies, but once or twice a week we work out altogether. We feel we're doing our bodies a favor."
The man who played football at Fordham sometimes acts as an unofficial trainer. The team drinks water at the gym, takes the "Shoplet spirit" back to the office and shares the cost of Muscle Milk. Everyone also eats meat and Greek yogurt and occasionally shares a potluck in lieu of a workout.
At Kars4Kids, which fundraises for education and youth programs largely through car donations, there may be less "experience" but more time to communicate at its catered lunches. Media relations director Wendy Kirwan says that about 30 to 50 people, men and women from their mid-20s to mid-40s, congregate in their small cafeteria. Company policy requires employees to eat away from their desks, mostly for sanitation.
"We catch up with the other departments," she says, "but we're just chatting, not focused on work per se. We do end up talking about mission-related matters, but there's no agenda. We get a feel for what is going on. Because people are relaxed … the natural conversation" often leads to stories for her to write.
"I find that having lunch with co-workers (on different projects) is the most productive thing I could be doing with my lunch hour," she says. She enjoys the relaxed work setting — "kind of a cultural norm" — and says people may leave the building.
A third person, Patrick Baynes, spends lunch in a manner that's less structured than a group-workout or meet but nonetheless purposeful. Baynes, a co-founder at Philadelphia's PeopleLinx Inc., which improves employee engagement in social media, capitalizes on a relaxed setting and sometimes uses lunch for a face time with employees to maintain contact.
Working on an open floor, he'll ignore email and telephone calls, but he does spend focused time with the sales staff or chief technology officer. Or he'll go out to lunch with an executive, who tends to be 35 to 45 years old, for "a general casual check-in" about work and the person's personal life.
"When in the office I play pingpong, foosball or video games or do something social with anyone," he adds. "It may fall in the category of team-building, but for me it's just fun." He looks forward to the day catered lunches allow employees to eat on-site.
Take a look at your company. What does lunch tell you about it?
Dr. Mildred L. Culp of WorkWise® welcomes your questions at culp@workwise.net. © 2014 Passage Media.