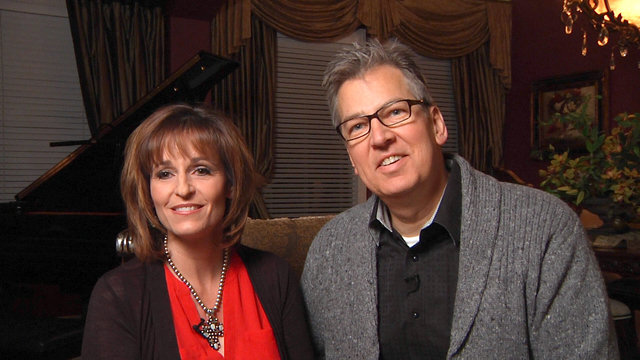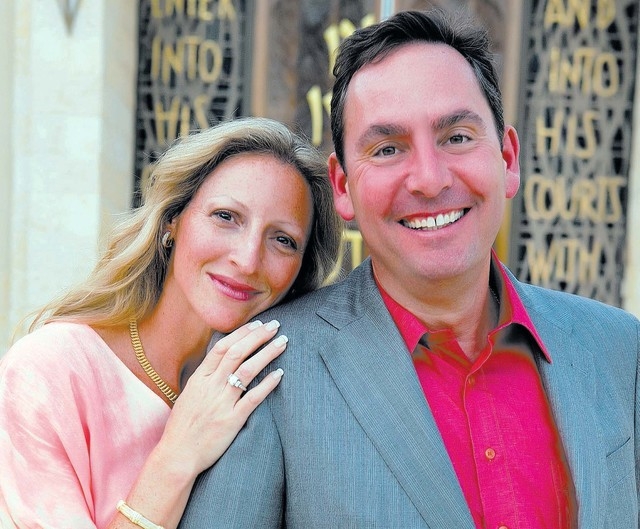 As Valentine's Day approaches, love is in the air. View found memorable stories of how wedded couples met and got to know one another.
TEENS CAUGHT EACH OTHER'S EYE ON CHURCH BUS TRIP
Rachel and Joshua Harris met as teenagers on a three-week church bus trip from Las Vegas to Niagara Falls, N.Y. She was 14, and he was 17 and the trip's official videographer.
"I would pretend to take pictures of the monuments, but I was really taking pictures of him," Rachel said.
A couple of years later, Rachel took a job at Joshua's father's law firm as a runner, replacing Joshua, who was leaving for a church mission in Harrisburg, Pa. It was Joshua's task to train her.
"We would go on the rounds, and he would say, 'Oh, gee, it's time to go to lunch,' and he would take me to lunch," Rachel said. "Later, I realized he was dating me without me knowing."
That trip to Niagara Falls? He'd also secretly included her in his videos. In fact, Joshua put Rachel's photo in a frame and told people in Harrisburg that she was "his girl."
When he returned, their first date was to a U2 concert. But now it was her turn to go away — to attend Brigham Young University in London. Not one to give up, Joshua followed and proposed to her.
SET UP BY FRIEND, COUPLE ORIGINALLY DECIDED THEY WEREN'T MEANT TO BE
Leon and Olya Banchik met in college after they were set up by a friend who predicted they were destined to be husband and wife. But after meeting and talking for a few minutes, the pair mutually decided they were not interested and went their separate ways.
Fast-forward a few years. Olya was attending dental school at New York University. Leon was in dental school at Boston University. Then came 9/11, and the world was turned upside down.
Olya said she "watched the plane crash into the second tower of the World Trade Center from my bedroom window." She lived in the medical district and had to pass by the tents where doctors attempted to identify body parts every day.
Her friends convinced her to get out of the city for a few days. A conference was slated in Philadelphia. She decided to go. The first night there, she walked into a party and spotted Leon. They remembered each other immediately and ended up talking for the rest of the night. They had a lot in common — both had been born in Russia and liked the same books.
"By the end of the night, I had absolutely no doubt in my mind that he was the person I wanted to spend the rest of my life with," Olya said. "Unknown to me, he called his parents and told them that he'd met the girl he was going to marry."
They dated for a few years. In April 2003, Leon made reservations at a hotel in New York City's Battery Park that overlooked the Hudson River. He had the room readied with glowing candles and roses, and when they entered, he asked Olya to marry him.
In 2013, Leon and Olya celebrated their 10th wedding anniversary and 10 years as Las Vegas residents.
LOST CAT HELPED BRING COUPLE TOGETHER
A lost kitty brought Anita and George Alexander together.
They met in October 1986 in Texas on the sprawling apartment complex of Oaks of Westlakes in San Antonio. Anita co-managed the property. George was a tenant.
"I remember admiring Anita at her desk every time I stopped in the main office," George said. "… She was a 'brown-eyed girl' — cute and elegant."
He had a black male cat named Kahlua, an indoor pet. Kahlua went missing, so he notified the property manager's office. The next day, Anita had some good news and some bad news. A black cat had been found on the property, but it was a pregnant female.
"It was in fact Kahlua, a well-nourished male, not a pregnant female," George said.
Seeing a chance to get closer to Anita, he bought her some thank-you gifts — Godiva chocolates and a Saks Fifth Avenue gift certificate. Their first "date" was shopping together to select her thank-you gift at the department store.
"It was storming, a rainy night," Anita recalled. "But I felt safe with him. He had a calming, compassionate personality … and when I would speak, he paid attention."
They were married in a quaint San Antonio chapel almost 25 years ago and settled in Las Vegas about five years later.
MOM PLAYED MATCHMAKER
Sandye and Bryan Abele had just graduated from college in two different cities. Sandye was supposed to move to New York City, but her heart told her to look at Scottsdale, Ariz. She followed the notion and met Bryan's mother, who ran a design center where Sandye bought items for clients. Mom tried to play matchmaker.
"She insisted we were perfect for each other and wanted to introduce us — we both said, 'No!' We could only imagine what the other must be like," Sandye said.
After months of insisting, Sandye finally gave in, and things were set up so they'd meet a group of friends for happy hour.
"We decided to meet first for ice cream," she said. "He was early, and I was running late. He passed by me outside as I walked my dog, not knowing it was me, and he stopped and looked me up and down and smiled. He then went up to my door and knocked."
"I walked up to him, and he said, 'Please, God, tell me you're Sandye, I just walked by you and said to myself, 'Now why can't I ever meet a girl like that?' "
They've been together ever since, going on 18 years.
"He still introduces me as his bride. Love that man," she said.
CO-WORKER'S EX-BOYFRIEND WAS HUSBAND MATERIAL
Lara and David Stone met in Tempe, Ariz., soon after she graduated from college. Her new job was working at a student organization at Arizona State University.
"My boss hired a young woman to assist me who quickly became a good friend," she said. "She would talk about a previous 'boyfriend turned good friend' who lived in Los Angeles."
A few months went by, and the co-worker invited David, the ex-boyfriend, to a party as he'd be in town visiting his family who still lived in Phoenix. Cupid had both of them in his sights, and they began a long distance relationship. One week, she would fly to Los Angeles, and the next week, he would fly to Phoenix.
Lara moved to Los Angeles 1½ years later for graduate school. Now living in the same area, the couple continued dating and married two years later.
ONLINE DATING BROUGHT COUPLE TOGETHER
Adam and Megan Neri owe their meeting to an online dating site and a calculating friend.
Megan originally signed up for match.com but grew discouraged and deactivated her account. In 2009, her friend reactivated it for her — without Megan knowing — and Megan began getting an influx of emails. Adam, she said, "was the only real person" who responded.
Her tagline on the site was "No one puts Baby in a corner," a line from the movie "Dirty Dancing." Adam responded with a comment about the movie. Finally, someone who understood her.
They began to chat, even though according to the site's algorithms, they weren't supposed to be matches. The more they talked, the more they realized how many "nerdy things" they had in common. They were married in 2013 on May the 4th, a Star Wars reference to "May the Force be with you."
MAN'S WOULD-BE WIFE WAS HIS SHOW PRODUCER
Howard and Barbara Kenig say they owe their marriage to bashert, which is Yiddish for soulmate. They've been married for 30 years and are so in tune that they finish each other's sentences.
They met when they both worked at WXYZ in Detroit, where Howard was the host of a major talk radio program. His expertise was in the automobile industry, and being that WXYZ was in the Motor City, he had to ensure that all his information was as up-to-the-minute as possible. That led to him having a reputation as being difficult.
"I went through a number of producers," he said.
Barbara had made her way up to producer on the television side of the operation when the station's brass decided she should be assigned to Howard's show. The pair were called into the office where the idea was proposed.
"We both looked at each other and said, 'No, no way,' at the same time," Barbara said.
She was assigned to his show anyway. They made a great team, so great that they began seeing each other outside of work.
It wasn't until their wedding day that Howard learned that her family name was Tauber. It was odd because he had relatives with that last name, spelled the same way. Then he learned that her family originated from the same small town in Poland as his family.
"This town only has a couple hundred people, so we think we're, like, second or third cousins," Howard said. "We'll have to have the DNA done."
Contact Summerlin/Summerlin South View reporter Jan Hogan at jhogan@viewnews.com or 702-387-2949.
View readers from all over the Las Vegas Valley responded to the call to share their love stories in time for Valentine's Day.
Reporters interviewed a woman who met her future husband as he was slipping her daughter french fries at a restaurant, actors who met in a production of "Fiddler on the Roof" and got engaged on stage, octogenarians who perform together in a local dance troupe, skiers who met future spouses on the slopes, a couple who met when she found his lost cat and more.
To read additional stories and watch a video featuring Henderson residents Liz and Dave Dameron and other local couples, visit reviewjournal.com/life/love-stories.