Humor keeps mood light in Naked Yoga classes
November 20, 2015 - 5:30 pm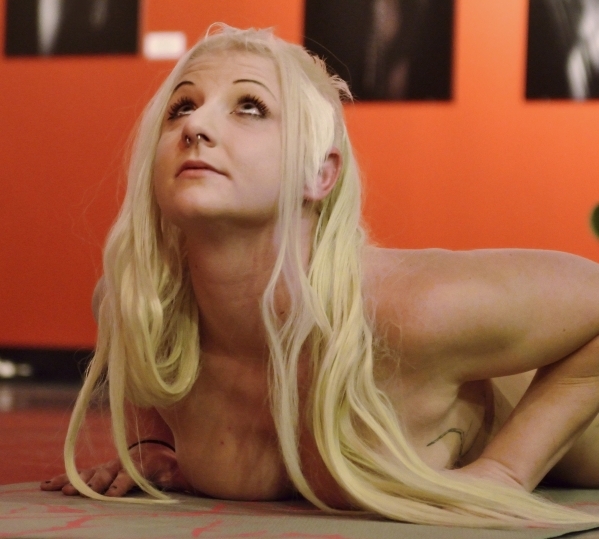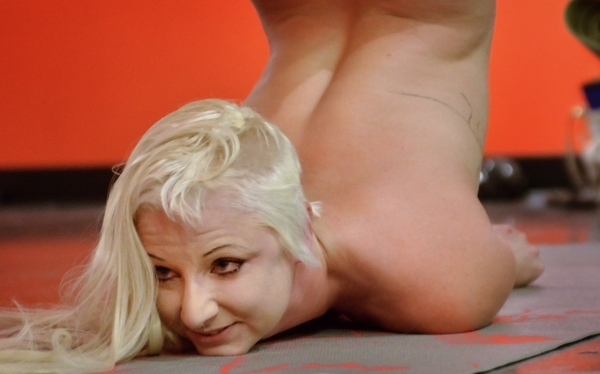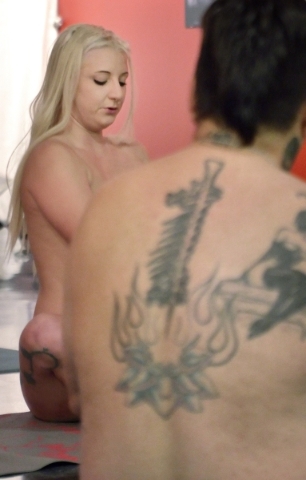 Make no mistake about it, the organizers of The Art of Naked Yoga at the Erotic Heritage Museum, 3275 S. Industrial Road, are aware that some of the people who attend their weekly classes aren't there for the workout but for the titillation, and they're OK with that.
"People like to see girls in those yoga postions naked," said instructor Tasia Lockran. "I'm fine with people who just want to watch, but my hope is that the class will get some people to come down and exercise who might not have normally."
"We get between eight and 20 people in each week, and it's about 90 percent men," said museum director Victoria Hartmann, who usually goes by "Dr. Victoria." "It's in a smaller part of the museum, so that's about all we can have in there. It's yoga with comedy. There's a lot of humor that goes along with it to keep it light."
Lockran does the instruction, and different erotic dancers or adult film performers do the yoga along with her. She has been doing yoga for about 15 years and recently moved to Las Vegas from Los Angeles.
"It's so much cheaper here," Lockran said. "I was hating L.A. and the traffic and the danger and the gunshots. Out here, it's peaceful. It's very nice."
Lockran didn't initiate the class. She took over the classes after the museum was temporarily closed from February to June of 2014. She began teaching it in March this year.
"I had been doing naked yoga with my girlfriends for about a decade," Lockran said. "I had always wanted to teach a naked yoga class, but I didn't even know if it was legal."
Aside from the titillation, Lockran said the benefits of yoga include improved strength, flexibility, balance and sexual health.
The coed, clothing-optional yoga classes are scheduled from 7 to 8 p.m. Thursdays and cost $20 for men and $10 for women. Attendees must be 18 or older and should bring a yoga mat, or mats can be purchased at the class. No cellphones are allowed in the class.
Visit theartofnakedyoga.com (warning: some images are graphic) or call 914-586-2533.
— To reach East Valley View reporter F. Andrew Taylor, email ataylor@viewnews.com or call 702-380-4532.
The Art of Naked Yoga
Erotic Heritage Museum, 3275 S. Industrial Road
7-8 p.m. Thursdays
Cost: $20, men; $10, women
Attendees must be 18 or older and bring a yoga mat; mats can be purchased at class
theartofnakedyoga.com (warning: some images are graphic)
914-586-2533