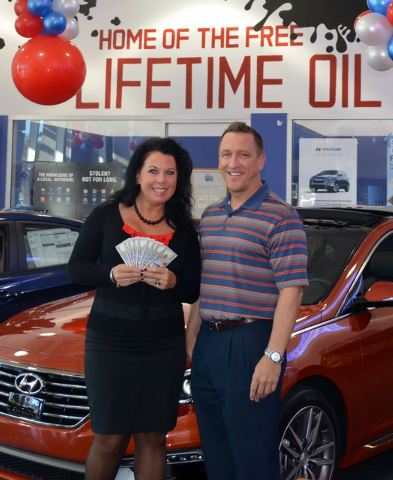 Henderson Hyundai Superstore, a family owned and operated car dealership, has
implemented monthly, community-based mobile promotions called the "Scratch & Win"
game as on ongoing initiative for the public to participate in and redeem prizes. The
game allows individuals to play for a chance to instantly win complimentary prizes and
one lucky local player has already "cashed" in.
Last month, Debbie Nerger, won the grand prize of $1,000 cash. "I was in complete
shock when I was told I was chosen as a winner," said Nerger. "At first, I thought it was
a gimmick for a down payment towards a car, but then I realized, I just simply won by
playing the game with no strings attached."
"As a single mother, having won this prize is very important because it will help me
purchase Christmas gifts for my kids and there's nothing more rewarding than that
during the holiday season," Nerger added.
Nerger, is a former Henderson Hyundai customer, however, she didn't expect to win the
game and expressed she's never had a negative experience at Henderson Hyundai and
will always come back for her car-buying needs and services.
"We created this game specifically for our community to have a fun and rewarding
experience," said Frank J. Maione, owner of Henderson Hyundai Superstore. "The
game allows anyone, not just existing customers, the ability to participate in the special
promotion. Our key goal is to give back to the community with these prizes and neat
giveaways."
The game prizes vary with a grand prize winner selected each month. For September,
prizes included $1,000 cash for the grand prize, a $50 Restaurant.com gift certificate, an
Android tablet, a three-day, two-night vacation stay and complimentary vehicle services
including car washes and oil changes.
"Engaging with our community through this game is exciting for us and we're happy to
see the reactions of players as they win prizes," said Cole Cloninger, operations director
of Henderson Hyundai Superstore.
The "Scratch & Win" game is open to the public and players can partake in the action
by texting the word "CAR" to 30218 where they will be opted to play the game. Players
will then be directed to register by providing an email address and their age. In addition,
players are automatically entered to win $1,000 cash for the grand prize and can play
everyday for more chances to win. Prizes must be redeemed at Henderson Hyundai.
Henderson Hyundai Superstore has been family-owned and operated since 2007 by
Las Vegas local Frank J. Maione. Henderson Hyundai Superstore is ranked as one
of Nevada's top-selling Hyundai dealers and is backed by a reputation of excellence.
It is the only automotive dealership in Nevada to offer free lifetime oil changes and
carwashes with each new Hyundai purchase, and free lifetime powertrain protection with
all pre-owned vehicles.
Henderson Hyundai Superstore sells and services new and used vehicles and is
conveniently located at 460 N. Boulder Highway, Henderson, NV, between Lake Mead
Boulevard and Warm Springs Road.
Henderson Hyundai Superstore carries genuine Hyundai parts, accessories and
certified auto repair and services, all of which can be ordered or scheduled by visiting
www.hendersonhyundai.com. For additional information, please call 702.799.9511.
The dealership is open for sales from 8 a.m. to 9 p.m. Monday through Saturday. Parts
and service are open from 7 a.m. to 6 p.m. Monday through Friday and 7 a.m. to 4 p.m.
Saturday.