In Las Vegas, Walker unveils labor plan
September 14, 2015 - 7:40 pm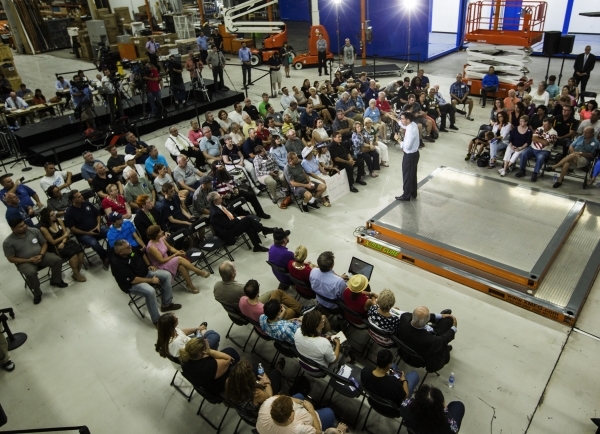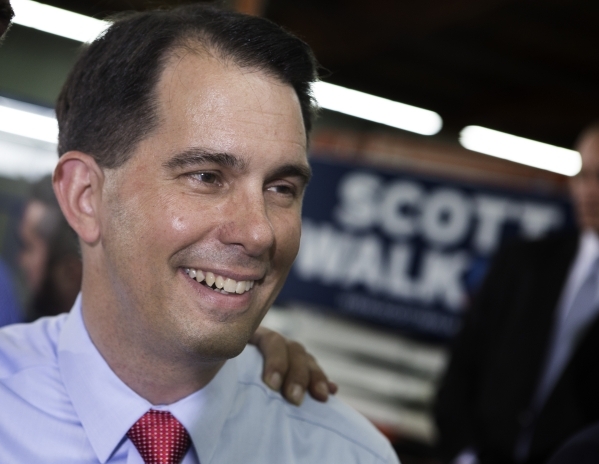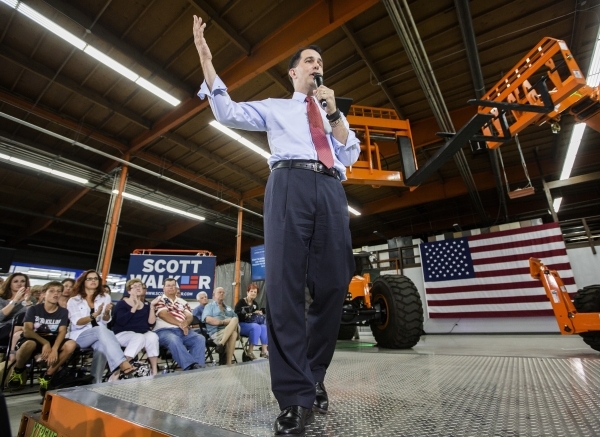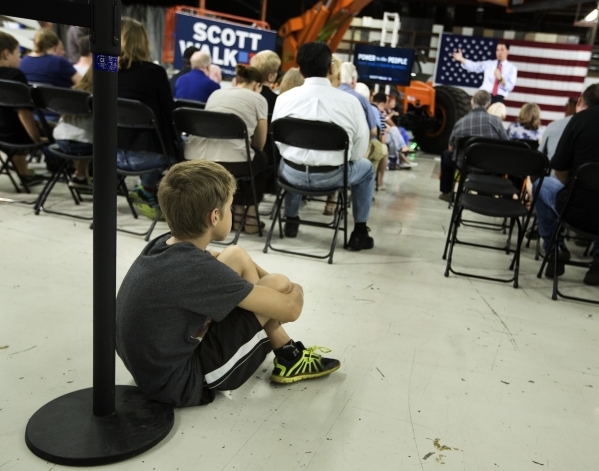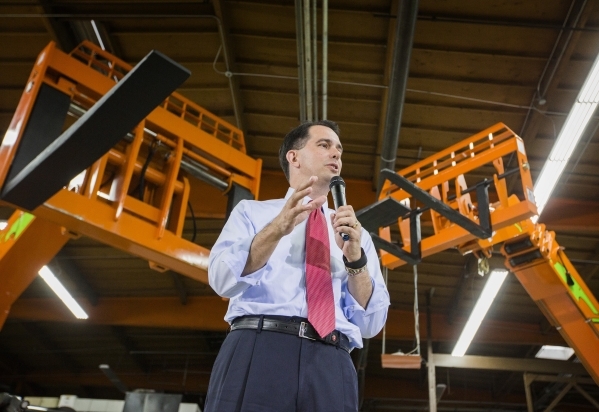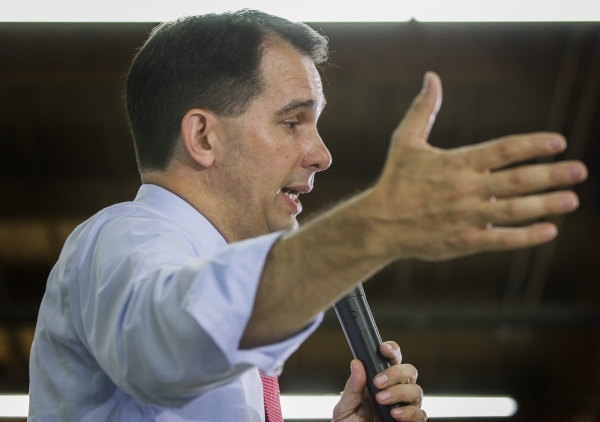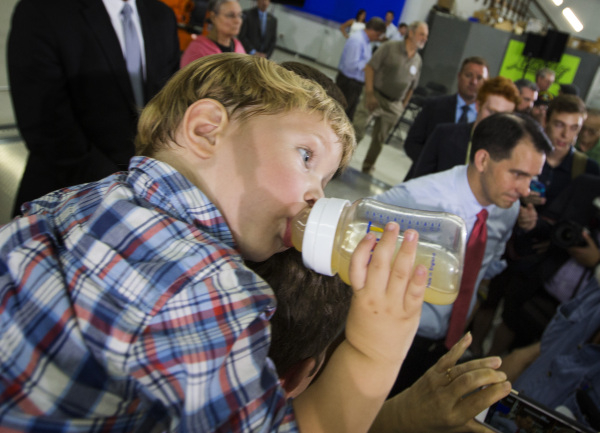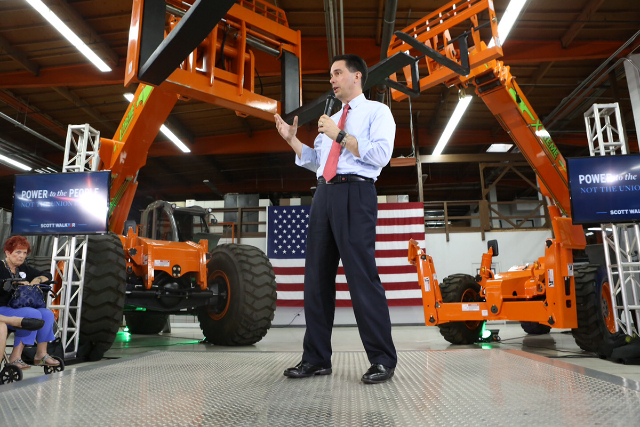 Republican presidential candidate Scott Walker wants to "wreak havoc on Washington" by remaking the landscape of American labor.
Walker's plan, unveiled Monday before about 120 people in a manufacturing warehouse north of downtown Las Vegas, involves such sweeping changes as expanding right-to-work to every state, getting rid of the federal agency that investigates unfair private sector labor practices, and getting rid of federal unions altogether.
His choice of Las Vegas for his announcement's backdrop placed him in a city known for its powerful 55,000-member Culinary Union, which represents the workers who keep the cocktails coming and the roulette wheels rolling in Las Vegas casinos.
Walker pitched himself as battle-tested to the "Battle Born" state audience. The Wisconsin governor drew national attention when he survived a 2011 recall effort that came on the heels of controversial union overhauls. Under Walker's leadership, Wisconsin became a right-to-work state.
He drew on this experience heavily, saying he wanted to take the changes he made in Wisconsin nationwide.
"Imagine what we can do in Washington," he said after a long listing of foes he faced during his fight to upend labor's status quo in Wisconsin.
Walker's plan rang to some as a last-ditch effort amid plummeting poll numbers.
Danny Thompson, secretary-treasurer for the Nevada State AFL-CIO, in a statement accused Walker of being intentionally provocative.
"As Governor Scott Walker's poll numbers fester, he comes to Las Vegas in a desperate attempt to create controversy and get back into the Republican spotlight. Walker has made a name for himself by attacking working people," Thompson said.
"I hope he sees what the labor movement has built in Las Vegas — good jobs that lift people out of poverty. Working men and women keep this city running, and they are looking for a leader with real solutions who will protect their right to speak up together on the job — not a corporate-backed follower like Scott Walker."
Walker's arrival also got a rise out of Culinary Union Local 226, which issued a statement by secretary-treasurer Geoconda Arguello-Kline, who said the union could not let "this kind of rhetoric to go unchallenged."
"It's shameful that someone who thinks he is qualified to be President of the United States of America cannot recognize that hard-working people deserve a voice on-the-job, respect, and a living wage," Arguello-Kline said. "Walker's proposed measures are dangerous for all working men and women, not just union members."
Walker shrugged off unions' outrage, attributing it to union bosses being afraid of losing power.
After his speech, Walker faced questions from the audience about foreign policy, school choice and Yucca Mountain, the controversial plan to truck the country's nuclear waste to a repository roughly 90 miles north of Las Vegas.
Walker said the decision on whether to go forward with Yucca Mountain should be based on science, not politics. The question came from Don Fagan, 17, who said he asked about the project because it's an important issue for Nevadans.
Fagan said he felt Walker skirted the question, as scientists for decades have been studying the project and reaching conflicting conclusions. Fagan said he felt Walker could have more directly outlined his stance on Yucca Mountain.
Charity Berkey, 33, on the other hand, said she felt Walker had been refreshingly direct on a question from the crowd about school choice. Walker said he felt parents know best and there should be as many options available to them as possible.
Berkey said it was great to hear Walker throw his weight behind an issue not on the day's agenda that matters a lot to her family. Berkey was homeschooled and is homeschooling her three children.
"I don't think a lot of politicians can even relate to (school choice)," she said.
Bill Steffin, 70, who said he's been enjoying all the political attention the city has been getting from presidential hopefuls, said it was just nice to see someone with a plan and not mere platitudes.
If elected, Walker couldn't make all of his changes on his own — he'd need to get Congress on board, too.
Contact Bethany Barnes at bbarnes@reviewjournal.com or 702-477-3861. Follow her: @betsbarnes