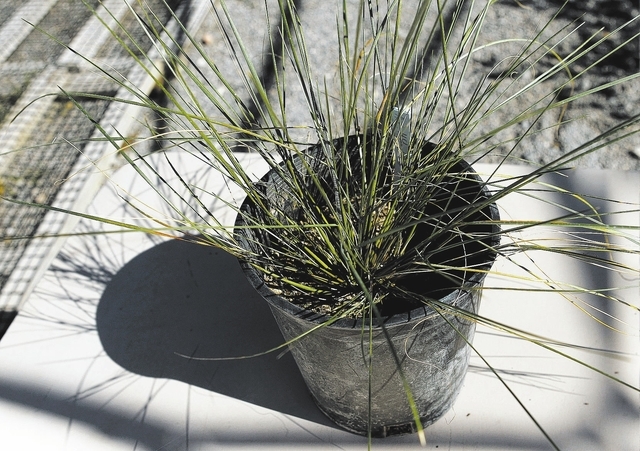 Editor's Note: Nevada 150 is a yearlong series highlighting the people, places and things that make up the history of the Silver State.
It's probably somewhat surprising in itself that Nevada has a state grass. What may be more surprising is that it's not Bermudagrass or Zoysiagrass or even the artificial turf that's taking root (or not) all over the area. It's Indian ricegrass.
Haven't heard of it? You're not alone. Indian ricegrass has been Nevada's state grass since 1977, but it's something you're unlikely to find showcased as an ornamental.
"It's a very diffuse growth form, so it probably wouldn't be attractive for that particular purpose," said Wes Niles, a botanist and professor emeritus at the University of Nevada, Las Vegas.
What that means is that Indian ricegrass sort of spreads out all over the place, instead of growing in a nice attractive, compact formation, like maybe pampas grass. And there's also the fact that Indian ricegrass is downright ugly during part of the year, sort of brown and dried-out looking.
None of which is to say it doesn't deserve its position of state prominence. Because Indian ricegrass was extremely important to ancient peoples.
"The Owens Valley Paiutes, the Southern Paiutes and the Western Shoshone all used it," said Dena Sedar, archaeologist at the Lost City Museum in Overton.
"It has been a food source for indigenous people in our area for a very long time," Niles said.
He said it grows abundantly in sandy areas in low to middle elevations, pretty much throughout the state (and apparently in parts of Utah, too because it has been Utah's state grass since 1990). That very abundance made it very useful, as did the fact that the grain was relatively easy to harvest.
"The grains can be knocked out very easily into a basket," Niles said.
Sedar said both the seeds and the grass itself were used. The bundles of grass were gathered into piles, she said, and beaten with sticks, the seeds dropping into a winnowing tray. The seeds were pounded to remove the skin and then roasted and ground into flour.
About 10 years ago, a cooperative in Montana was milling Indian ricegrass and marketing it as a gluten-free flour they called Montina. It doesn't appear to be available today at the retail level, however, and repeated calls to a Montana resident listed as a co-op representative went unreturned. Now that the gluten-free market has mushroomed, maybe some enterprising Nevadans will take over and market it as Nevida or something.
"It's a good choice," Niles said, "for our state grass."
Contact reporter Heidi Knapp Rinella at hrinella@reviewjournal.com or 702-383-0474.

Celebrating the Silver State