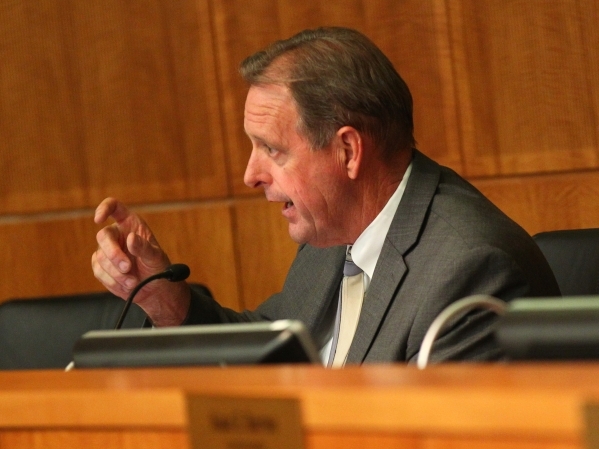 North Las Vegas Mayor John Lee's iPad is officially G-rated again after an FBI analysis, but I'm not sure he's ready to break out the hats and horns in celebration.
Although he presents a professional demeanor, low key and seemingly stress free, in a Friday morning interview his anger gradually percolated to the surface when the subject of the pornographic images he found on his personal iPad was broached. Back in fall 2014, Lee started the inquiry into how images he found disturbing got onto his tablet. After the police delayed picking up the iPad, the tablet was analyzed and discovered pornographic images that didn't appear to involve children. The material on the tablet was deleted, and the inquiry was closed.
In May, the issue surfaced when former North Las Vegas Police Chief Joe Chronister told a Review-Journal reporter he'd wished he's turned over the iPad to an outside law enforcement agency. It smacked of hand-wringing for political purposes — if Chronister had a genuine concern, professional ethics would compel him to pick up the phone — but Lee was moved to tell the iPad tale anew.
After a second analysis of the iPad, which by now must have handler's fatigue, the FBI on Thursday informed the North Las Vegas department it found nothing on the tablet to further an investigation. "Due to a lack of prosecutorial evidence, this investigation remains closed by the North Las Vegas Police Department," a police statement said.
Asked if he was relieved the inquiry he'd believed was closed was once again closed, Lee demurred. "I'm fine," he said in a Friday morning interview. "It doesn't get me down at all. I'm moving forward."
But then he began to talk about trying to adapt to new technology.
"I don't look at this thing for sometimes weeks at a time," Lee said. "It's just not a tool I grew up with. … I don't even surf the Internet. When I want to see a movie, I just ask my wife and she tells me what's playing."
But in an effort to keep track of his calendar and email and keep up with social media, he began using the iPad. "I am not good at email," he said. "If you email me something, I usually call you back."
But he sure remembers the moment he called up an email and pornographic images flashed on the screen. It startled him, he said, and repulsed him. He has four daughters and 14 granddaughters.
He reported to his secretary that he'd "just received something I have never seen before on my computer," he said. "She tells me it happens to everybody."
The initial meeting with police happened by chance, he said, not design. A detective was nearby who directed him to the proper investigator, who informed Lee that he was going on vacation. That, he said, is what facilitated the delay in picking up the iPad, which remained with his assistant for more than a week.
"I left it with my secretary and never thought about it again," Lee said.
He was later contacted by a detective.
"He takes it and then he comes back and gives it back," Lee said. "They said they didn't find anything illegal on it. … I wish they had found something. I was turning it in to report a crime. … I tried to do what was right. I just moved on."
Months later, Lee was contacted by a Review-Journal reporter, who was following up on a conversation with former police chief Chronister. And the iPad inquiry was rekindled.
"There seems to be dissatisfied employees who are very unhappy with some of the decisions I've made," Lee said. " … That's their little personal issue. We've made some great strides in what's happening in North Las Vegas. I get it. Change is uncomfortable. People seem to think when they work in local government that they own the desk or own that title. This city had to change directions or we would have lost our charter. We probably would have been split up between the county and the city of Las Vegas."
From the city's tawdry bond rating to its recurring challenges with its employee unions, there are plenty of reasons to cover your eyes and hide the children in the cellar in North Las Vegas. Not to mention the town's certifiably obscene debt load.
Lee promised to continue with his seven-year plan to return the city to fiscal vibrancy. Most folks would settle for assurances it won't turn into the Hindenburg any time soon.
As for the iPad imbroglio, he said, "I'm very satisfied that what I did was 100 percent right. I would do it again. My heart knew exactly what I was doing. I would still stand up and do the same thing again. I'm fine with that."
Now all he has to do is make good on his promise to save North Las Vegas from its many nasty maladies.
Talk about graphic images for mature audiences only.
John L. Smith's column appears Sunday, Tuesday, Wednesday, Friday and Saturday. He can be reached at 702-383-0295 or jsmith@reviewjournal.com. On Twitter: @jlnevadasmith