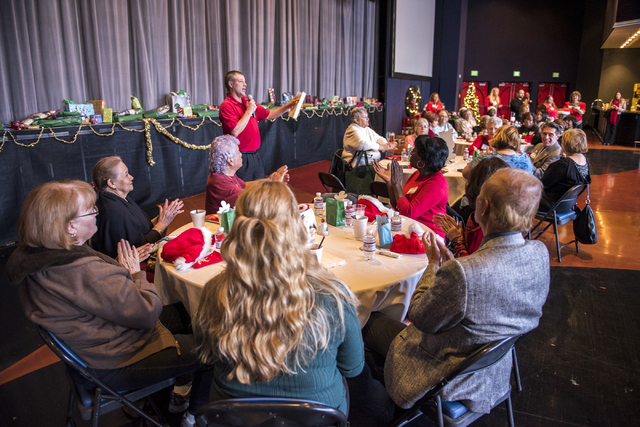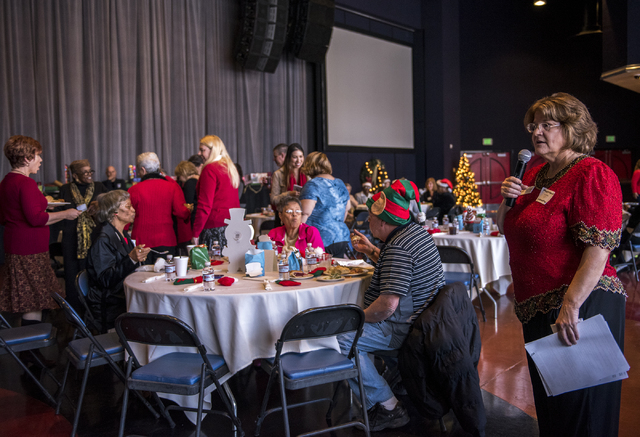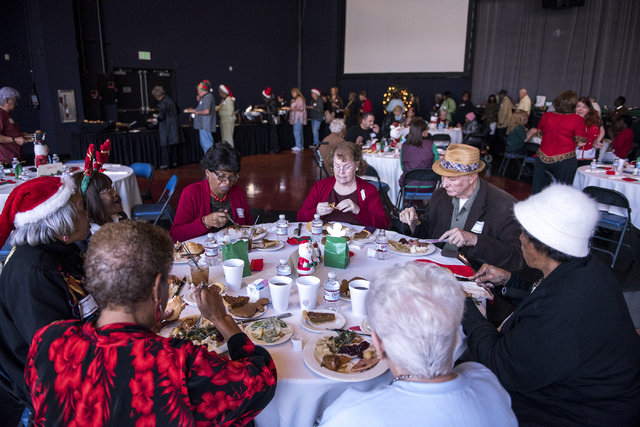 December brings warmth and cheer to many as they gather and spend time with family and friends. For some seniors, however, those close to their hearts have died, leaving them to reminisce about old times and celebrate the holidays alone.
With the help of community leaders and the Cannery, James Seastrand Helping Hands of North Las Vegas hosted a holiday party Dec. 4 for approximately 80 people.
The goal of the nonprofit is to allow seniors to use their limited funds for other items, such as utilities, food and prescriptions, said Marcia Blake, Helping Hands executive director. The nonprofit provides escorted transportation, home maintenance and repairs, and nonperishable food or paper goods to seniors 60 or older who reside in North Las Vegas.
Blake said the holiday celebration has been happening since 2002 and helps solidify community support while spreading holiday spirit.
"The party gives seniors an opportunity to go out and celebrate," she said. "It also gives people in our community a chance to meet the seniors involved in our program and see how sweet and grateful they are for the service we provide."
"I don't have any family here, but I have this holiday party to look forward to every December," said Carmen Hinton, 80. "Despite the rain and my arthritis, I make it a point to come here every year."
Hinton, who lived in Germany during World War II and Spain before moving to Las Vegas with her husband, had three miscarriages. Her husband had cancer and died seven years ago. They were married for 42 years.
"The holidays tend to make me nostalgic," she said. "I'm all alone now. It's just my kitty and me, but I'm so thankful that there are still people that care about us seniors. Helping Hands has been very good to me."
At the holiday party, seniors were treated to a buffet, entertainment and gifts. The event also gave seniors an opportunity to mingle with others and create lasting memories.
"I'm enjoying myself here, surrounded by people who care about me," Virginia Riggs said. "I've even met new people and made new friends."
The event was almost canceled because the organization couldn't find a place to host the annual party, which has grown in popularity.
When Richard Cherchio, a former North Las Vegas city councilman, heard about the group's need for a larger space, he contacted Patrick Hughes, general manager of the Cannery, who "stepped right up to the challenge."
"I know the good people who run the program, and they mentioned their need for a place to provide a day out for these seniors, with many having no family, which is especially hard during the holidays," Cherchio said. "This is a great example of our community, both business and nonprofits, coming together to help people in need at a time of year that, if left alone, could hurt the most."
For more information about Helping Hands, visit jshhnlv.org or call 702-649-7853.
Contact North View reporter Sandy Lopez at slopez@viewnews.com or 702-383-4686. Find her on Twitter: @JournalismSandy.