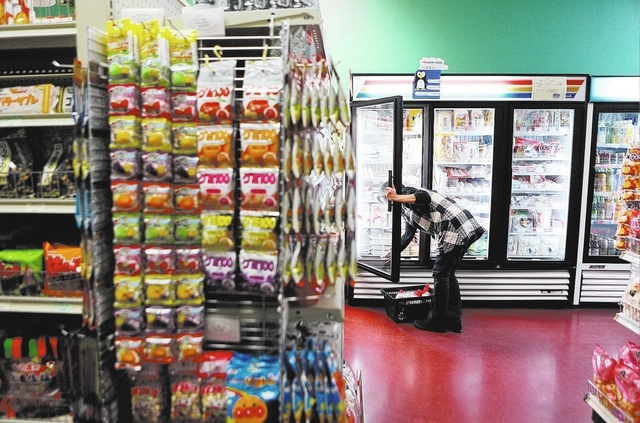 Surrounded by mostly franchise restaurants and businesses, Japan Creek Market, 9310 S. Eastern Ave., is nearly transparent at its location. Despite that, it offers what the other places do not: a variety of cultural foods.
The store, located off the 215 Beltway, is a hidden treasure for those looking for authentic Japanese food. Although small, the store caters to locals looking for a taste of Japan.
"We have so many different types of customers, not only Japanese but also Asian and Americans, as well, who like Japanese foods and products," said Mizuho Ames, Japan Creek store manager.
The store has a kitchen in the back, where workers prepare hand rolls, sushi, onigiri rice balls and beef and vegetable bowls. Ames said the store's bento boxes, a lunchbox with rice and three sides, are one of the most popular items.
She added that the meals are made fresh every morning.
During the holidays, Japan Creek sells osechi-ryori, a traditional Japanese meal eaten only on New Year's Day. The meal consists of fish, meat and vegetables. Each item has a special meaning that promotes good health, good harvest and happiness.
Ames said the store starts selling the popular homemade meals on New Year's Eve.
Workers make it a priority to help customers who cannot understand Japanese.
Margo Newman, a customer, said that although she does not speak or read Japanese, the workers always help her find what she needs.
"I love Japanese food," Newman said. "Now that money is tight, I've been trying to cook more at home. I can't read most of the Japanese labels, so I usually ask the workers for suggestions. They're always helpful."
In addition to kitchen meals, the store sells baked goods from Mammoth Bakery, which delivers fresh items every Tuesday, Thursday and Saturday.
The store also has popular brands of Japanese beer, such as Sapporo and Asahi.
Cooking ingredients, such as Panko breadcrumbs, homemade tofu, fish, Japanese sauces, noodles and fried rice mix, are abundant throughout the aisles.
Exotic fruits and vegetables such as daikon radish, satsuma mikan, a Japanese style of orange, and shiitake mushrooms are mostly imported from California, while the rest of the items come mainly from Japan.
The owner, Yasuyuki Tauchi, opened the market in 2009. Ames said Tauchi previously owned a Japanese restaurant but ran into financial hardships.
Since there was a need for a Japanese market in the area, Tauchi opened Japan Creek Market and has been attracting decent business ever since.
"There are some Japanese grocery stores in Las Vegas, but most of them are located on the west side of town," Ames said. "Tauchi liked this location because it has good access to 215 highway."
For people who want to cook Japanese meals with meat, the store offers sukiyaki and shabu-shabu meat, which is used for a Japanese dish consisting of thinly sliced beef boiled in water.
A unique item that cannot be found at most regular stores are quail eggs, which are often used in Japanese cuisine.
The store also has plenty of Japanese beverages, snacks, cookies, candies and ice creams in stock.
"This place has a good mixture of Japanese seasonal items that I can't find at regular grocery stores," said Megumi Sugiyama, a customer. "Everything tastes fresher from here, too."
Jake Mahlik and his wife have been coming to the store since it opened. His wife, who is from Japan, enjoys cooking Japanese food and finds the prices reasonable.
"The workers are very friendly, and they treat you like family," Mahlik said. "This is a quick corner market that provides you with a little bit of Japan."
In addition to Japan Creek Market, people looking for cultural treats in the Sunrise/Whitney area can also head to Cardenas Market, 4421 E. Bonanza Road, which specializes in Mexican food and products.
The store has a meat market, a juice bar, a bakery, produce and makes fresh tortillas.
Contact Sunrise/Whitney View reporter Sandy Lopez at slopez@viewnews.com or 702-383-4686.