Jewelry store in The Market LV puts polish on boutique owner's dream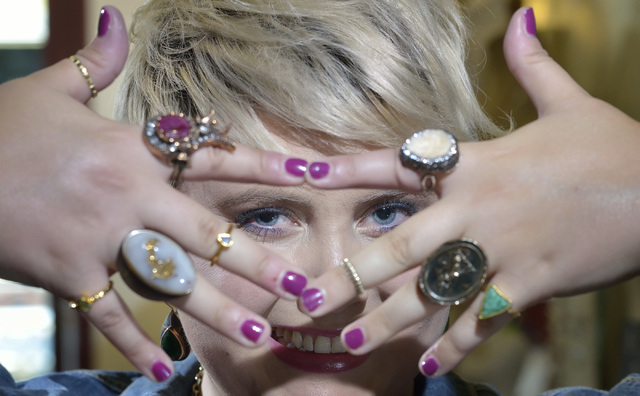 You might say MarkieChar Jewelry is a gem of a boutique. Its owner, Faith Lozich, carries hard-to-find lines, one made by women in Uganda and her own pieces. It's long been a dream of hers to own a shop. The trouble was, she had no idea what kind of merchandise it would entail.
"When I was younger, my grandmothers were always a big influence," she said. "They had costume jewelry and would let me wear their rings or put their pearls on. It was a great memory of mine. Getting older, I knew I wanted to be in fashion but I didn't quite know where I fit in."
For the past two years, she has had a shop at The Market LV in Tivoli Village called MarkieChar Jewelry.
The shop's name is unique, too.
"The name comes from my two grandmothers," Lozich said. "My mom's mom, Marjorie, who we call Markie, and my dad's mom, Charlotte, who we called Char. So, MarkieChar came full circle, with them giving me the inspiration and love for jewelry and accessories."
The shop utilizes homey touches to show off the fashion jewelry. A dresser held jewelry trees. A tall chest sported earrings. A makeup table with a mirror was reserved for statement necklaces. Shoppers strolled the displays.
"I think the things are pretty unique," said Maegan Jackson, visiting from Zion, Utah. "I think the prices are average, so most people can afford it."
Lozich studied merchandising and marketing, but it wasn't quite what she was looking to do. At 26, Lozich set out to learn the ins and outs of jewelry crafting, sometimes using videos to learn wire wrapping and soldering and experimenting along the way.
"It was six months of me, self-teaching," she said.
Soon, she had a booth at the Carlsbad Village Faire in California. One of the biggest in the country, the market encompasses about eight blocks of downtown. Lozich also joined the Encinitas Festival, relying on her mother, Carol, to help her do the beading so she'd have enough merchandise to sell.
Coming to Las Vegas a few years ago meant approaching salons and boutiques to carry her designs and doing trunk shows. It also introduced her to Tivoli Village's fresh52 farmers market. Lozich's first experience with Tivoli came with its own challenges.
"A windstorm would come, and jewelry would be everywhere," she said. "But it was so much fun, and my mom was right there with me. But she let me be in the spotlight."
When The Market LV concept came to Tivoli, 440 S. Rampart Blvd., Lozich was eager to get aboard.
"They said they were looking for a jewelry store. … They brought us up here for the hard-hat tour," she said. "They showed us where spaces were chalked out."
By July 2012, MarkieChar had its own space. It was a little more than 200 square feet, but it was hers.
She added more jewelry lines — her best seller is Alex and Ani — then accessories such as handbags and scarves by David & Young. Other lines are Pyrrha, Kris Nations, Papaya! and Triple 7 and Goodworks, a charity-based jewelry company dedicating 25 percent of the net profits to provide backpacks and school supplies to underprivileged children. Another line, 31 Bits, is jewelry made from paper.
For her own designs, Lozich said her inspirations come from everything. She loves organic materials and works with stones that have awkward shapes or look "a little funky." She uses raw diamond pieces to ramp up the interest level. Drusy stones are another favorite for their rough tones.
"I love anything that's different," Lozich said. "I try not to go with the mainstream jewelry that's out there."
Keeping up the stock of her designs is a challenge. Her pieces often sell within a week of being brought to the store. A piece that took hours to make can be sold the first day.
Now in a larger spot in The Market LV, Lozich enjoys being near the elevator entrance.
Directly across the hall is the B Sweet Candy Boutique. Owner Arlene Bordinhao said the two shops serve the same demographic.
"We feed off each other's business because we have chocolate, which women also enjoy," she said. "So we get the best of both worlds as gifts: jewelry and chocolate. What woman doesn't love both? Those are the go-to gifts for Valentine's Day, birthdays, Mother's Day."
Carol Lozich, her retired mother, often helps at MarkieChar and manages the financial matters. She said her daughter's success with a brick-and-mortar shop was never in question.
"I know Faith and her determination," she said. "If it's in her mind, then she's going to do it."
For more information, visit facebook.com/markiecharjewelry.
Contact Summerlin Area View reporter Jan Hogan at jhogan@viewnews.com or 702-387-2949.