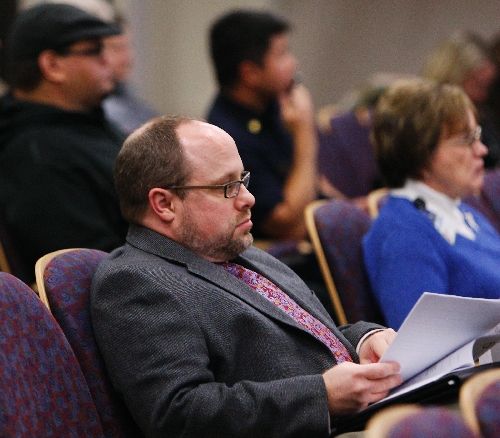 As the newly appointed city attorney for Henderson, Josh Reid said his skills as a lawyer will outshine his last name.
"When people are looking for a good lawyer, they don't care who your father is," Reid said. "They don't care what your last name is. They want a good lawyer who will represent them. They care about my legal skill. I don't need my last name to get by. I think if people look at what I've accomplished, it's clear I am well qualified to take on the challenges of the city."
Reid, 40, said it wasn't his last name or his father, U.S. Sen. Harry Reid, that helped him become a good lawyer who has practiced at three law firms in the past decade.
Reid was 11 when he realized his father was a politician. The family moved to Washington, D.C., and often returned to Las Vegas for summers and holidays.
"It was after he was first elected to Congress," Reid said. "I went to high school with children who had senators and ambassadors for parents."
Reid attended Brigham Young University starting in 1989.
After a two-year break as a missionary in Spain, Reid came back to college with the goal of becoming a doctor.
But after an internship with the National Institutes of Health, he realized it wasn't the career path he wanted to take.
"I didn't have the stomach for it," Reid laughed.
Keeping on the biology path, Reid decided to become a professor. After graduating from BYU, he attended Yale University in 1995 to study environmental science.
He then interned with the Council on Environmental Quality.
"It was the same summer as Monica Lewinsky," Reid joked, "except my summer was a lot less exciting than hers."
During his internship, he saw a cross section of environmental science and law, which made him consider law school.
After receiving his master's in environmental science, he attended law school at the University of Arizona in 1997.
He graduated with a job offer from Lionel Sawyer & Collins in Nevada.
"It was a great firm," Reid said. "But there were no environmental lawyers to work with."
Reid was looking for people with environmental law backgrounds who could groom him.
At the time, he was living in Henderson. Reid said he would think about working as Henderson city attorney, a position once held by his father.
"I always had a big appreciation for the City Council and staff," Reid said. "I always thought if that position opened up, I would take it."
But longtime city attorney Shauna Hughes was in that position, so Reid didn't think more of it.
Reid then took a job at Parsons Behle & Latimer in Utah.
Even though he lived in Utah, traveled to Las Vegas often for work.
After about five years of constant travel, Reid looked for a job in Southern Nevada that would allow him to stay close to his family.
"I am a father first," Reid said.
Reid has two boys, 7 and 10 years old, and has been married for more than 11 years.
Four years ago, Reid returned to Henderson and took a job at Brownstein Hyatt Farber Schreck.
Reid has been involved with several private and public renewable energy projects.
Reid said he didn't pay much attention to the events unfolding around former city attorney Elizabeth Quillin, who resigned from her position after being arrested on a charge of misdemeanor drunken driving.
After the position opened, a friend recommended that he apply.
"I didn't really tell anybody I was applying except immediate family," Reid said. "I didn't tell my friends or extended family."
Ellen Schulhofer, managing partner of the Las Vegas office of Brownstein, said the firm wishes Reid "well in all his future endeavors."
"Josh is a talented lawyer," Schulhofer said in an email. "His experience and knowledge will be of great benefit to the city of Henderson. He will be sorely missed by everyone at Brownstein."
Reid wants to use this position to serve the community.
"I am not using this as a stepping stone," Reid said. "I plan on being in the position for a while."
On Nov. 29, the Henderson City Council voted 4-0, with Councilwoman Kathleen Vermillion abstaining, to name Reid the next city attorney.
At the meeting, the council addressed complaints that Reid was chosen because of Sen. Reid's influence.
"I am aware of the public scrutiny because of my last name," Reid said. "I have dealt with it my whole life."
Reid said he is prepared to rise above the standard set and do his best for the city.
At the Dec. 20 meeting, the City Council voted 4-0, with Vermillion abstaining, to approve Reid's contract and a $199,000 salary.
The new contract is different from Quillin's contract in that Reid could be terminated with cause if he is charged with a criminal misdemeanor offense rather than a felony conviction.
Reid said he was not allowed to reveal his salary at Brownstein, but he said he was taking a significant pay cut to take the city attorney job.
Fred Horvath, director of the city's human resources department, said it only made sense to start him at the salary.
"If we didn't, we would have the top person in the city attorney's office making less than an assistant city attorney," Horvath said .
Reid is slated to make $5,000 more a year than the top assistant city attorney.
He started Dec. 27 and is slated to attend his first council meeting at 7 p.m. today.
Reid said most of the scrutiny probably has more to do with discontent with his father.
"People don't like my father," Reid said. "They figure they didn't defeat him in the last election so they would pick on his son. I understand. My father is a political figure, and it comes with the territory."
Contact Henderson/Anthem View reporter Michael Lyle at mlyle@viewnews.com or 387-5201.