Knowing Vegas: Who are some of Southern Nevada's streets named for?
September 2, 2015 - 11:10 am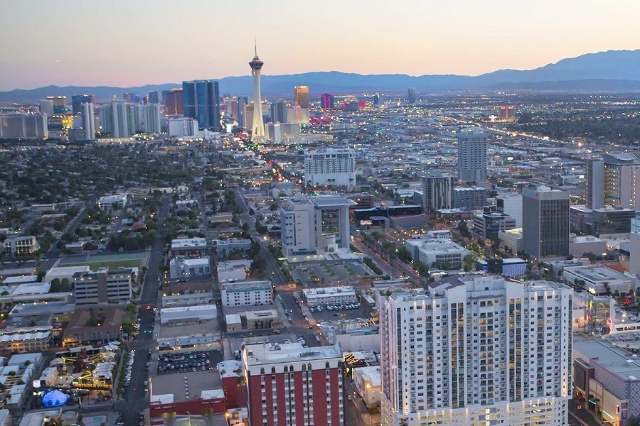 Navigating Las Vegas' major roads isn't very difficult when you realize most correspond with the major hotel on the same street or by traveling via the Las Vegas Valley's surprisingly simple highway system.
While many locals will grumble at a few streets that don't seem to make sense around Southern Nevada, many were named with purpose.
In some subdivisions, it's obvious that street planners seem to have a little fun with it, between a Beatles-themed neighborhood, a subdivision all named for J.R.R. Tolkien and various other cleverly-named areas of town referencing movies, sports, landmarks and popular culture.
Major roads — intersecting the Strip — are mostly named along with a hotel of the same name. Flamingo Road intersects the Strip at the Flamingo hotel-casino, Tropicana Avenue intersects the Strip at the Tropicana hotel-casino, and so on.
Many others, however, named for specific people, often go unrealized by Las Vegas locals and visitors alike. Most people are aware of streets named for Frank Sinatra and Elvis Presley, but others, named for pioneers, innovators, entertainers and politicians are passed without a second thought.
Here's the background on some of those streets around Southern Nevada, for those of you who don't know:
Fremont Street: John Charles Fremont, born in 1813 in Georgia, was a military man leading surveys into the West who's responsible for multiple namings in Nevada. According to "Nevada: a History of the Silver State" by historian Michael Green, Fremont officially identified Las Vegas on an American map and named Mount Charleston for the town in which he grew up. There's no telling how much Fremont would have enjoyed a zipline or eclectic selection of bars.
Dean Martin Road: Sure, you know Sinatra, but some (especially those under 30) in and out of the city may not know Martin's name. For nearly three decades, Martin was one of the hottest entertainers in town. He was an actor, singer and performer — among other things — who later befriended Sinatra and formed "the Rat Pack." Dean Martin Drive and Frank Sinatra Drive run parallel on either side of the I-15. He's one of a few who has had the lights of the Las Vegas Strip dimmed in his honor after death.
Stephanie Street: In naming the Las Vegas valley, one will find a lot of nepotism around familiar names. Stephanie's family may not be familiar these days, but she lends an example. According to Mark Hall-Patton, Stephanie Page Wurzer was the oldest daughter of a manager at Stauffer Chemicals — Harold J. Wurzer — whose friend named the street. At the time, of course, the always-busy major Henderson street was just a small road. Here's the full story.
Carson Avenue: Anyone who grew up in Las Vegas will remember what happens when you follow the old "Kit" Carson trail, but do you remember what he did? As part of Ewing Young's party in 1829, Christopher "Kit" Carson helped publicize the Old Spanish Trail through Southern Nevada, according to Green's book. He later led a group or surveyors that included Fremont. If you follow the new "Kit" Carson trail, you'll find a few eateries and government buildings.
Lamb Boulevard: No, this isn't that Lamb. Many are familiar with Floyd Lamb Park and various other valley things that have taken the name of the former Nevada senator. Lamb Boulevard was actually named for another member of family, Press Lamb, Hall-Patton told the Review-Journal in 2009. Other Lambs included a sheriff and county commissioner, Ralph and Darwin, respectively.
Joe W. Brown Drive: Five decades ago, an area called Las Vegas Park became known as the failed horse-racing track after legislation passed in order to merge industry with tourism, Green says. Joe W. Brown, who owned the Horseshoe while Benny Binion went to prison, bought the complex and transferred the land to the city. The drive snakes around the property from Sahara to Desert Inn.
Stewart Avenue: Helen Stewart became known as "the first lady of Las Vegas" for her involvement in the development of Las Vegas. While raising multiple kids and running a ranch, Stewart became the first woman on the Clark County School District's Board of Trustees and at one point owned the most land in Lincoln County.
For more background on the namesakes of places and roads in Las Vegas, check out Naming Las Vegas. Contact Kristen DeSilva at kdesilva@reviewjournal.com.  Find her on Twitter: @kristendesilva