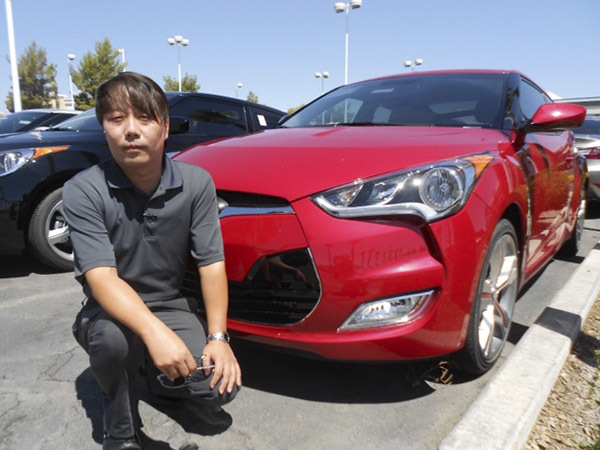 Johnny Choe has been in the car business for more than 12 years. He recently moved from Austin, Texas, to join several of his friends and former Texans who have joined Planet Hyundai Sahara in the past few years.
After speaking with Jason Laguna, general sales manager of the dealership at 7150 W. Sahara Ave., Choe made the transition and hasn't looked back.
"This dealership is No. 1 in its region and that says a lot," Choe said. "It is part of a locally owned group of dealerships, and there is a lot to be said about hands-on owners who play a role in the business every day. It's better for the dealership and it's especially better for the customer.
"I really like what I see here. I visited Vegas to see the business and learn about the customer base and community. I loved what I found here."
Choe could sell any vehicle for just about any dealership. He was the top sales consultant at the Austin Hyundai dealership in each of his 12 years. He has known the family that co-owns the dealership in Las Vegas with longtime local business owner Ron Coury. He so enjoyed working for the family in Austin, he wouldn't work for anyone else.
"I sell Hyundais because I don't have to worry about my clients," said Choe, who speaks fluent English and Korean. "The Hyundai brand offers the best safety, reliability, affordability and warranty with their 10-year, 100,000 mile powertrain and five-year, 60,000 mile bumper-to-bumper warranties. They have set a high standard in this country with automobiles. The Hyundai is clearly the best in the business."
Choe recorded several sales in his first few days at Planet Hyundai.
"I love meeting new people," Choe said. "I have discovered that many of the people who live in Las Vegas are from other cities, too. This is a true melting pot."
Choe's best way to relax is to play golf and he couldn't have found a better city when it comes to luxurious golf courses.
"I play golf with my wife so we get to spend time together on the golf course," Choe said. "Golf is simply a very relaxing way to re-charge and that's a critically important key to being successful, especially in the car business."
Planet Hyundai Sahara is part of a group of dealerships that includes Centennial Hyundai at 6200 Centennial Center Blvd. in the northwest valley and the Planet Hyundai Used Car Superstore at 7100 W. Sahara Ave.
For more information, visit www.planetlv.com or www.centennialhyundailasvegas.com or call 702-938-1400 (Sahara) or 702-483-2200 (Centennial).