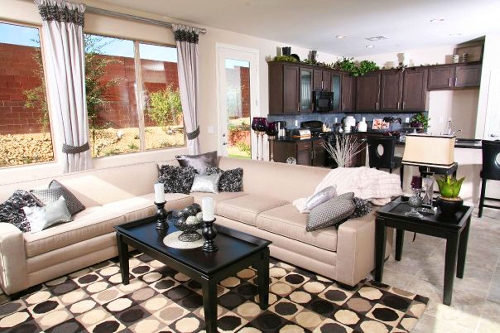 According to Harmony Homes sales agent Brent Simmons, the longtime real estate mantra "location, location, location" has become a consideration among home buyers who are seeking the total home package in today's competitive Las Vegas Valley realty market.
Simmons said the location of Harmony Homes' Ladera Terrace neighborhood coupled with its home designs and nearby amenities have enticed home shoppers to the only actively selling neighborhood within The Mesa village of the 22,000-acre Summerlin master-planned community.
"Location is one of the biggest considerations in real estate and buyers have certainly been impressed by the location of Ladera Terrace. No other new-home neighborhoods are currently being built in The Mesa village," Simmons said. "For the moment, we are unique because if you want to buy a brand-new home in Summerlin South, Ladera Terrace is it."
He said that the neighborhood's location in the southwestern valley with convenient access to Interstate 215, the Las Vegas Beltway, has appealed to buyers.
"Ladera Terrace's location is absolutely unbeatable. Within the neighborhood there are four parks, which include playground and picnic areas as well as a community pool for the residents enjoyment. Additionally, the neighborhood is next door to the 19-acre Mesa Park where there are night-lit tennis and basketball courts, baseball fields, playground and picnic areas," Simmons said. "Plus, our residents have convenient access to all of the amenities that Summerlin is well known for, including over 150 miles of community trails, 22 beautiful parks, and great open landscaped spaces."
The neighborhood features three two-story models that measure 2,320, 2,523 and 2,622 square feet respectively. Prices start from $246,990.
"As with most Harmony Homes neighborhoods, Ladera Terrace includes a lot of features … like granite countertops, 9-feet ceilings and covered miradors. All three of our models have equally popular open floor plans with either a great room or open sight lines. Each features a courtyard, second-floor laundry rooms, a loft or additional bedroom and balcony," Simmons said. "Some design variations are available, including the opportunity to build a home with three, four or five bedrooms, depending upon your individual needs."
Additionally, all of the homes are Energy Star certified and include many energy-efficient features such as Milgard low-e windows, programmable thermostats, 50-gallon gas water heater, two 13-SEER air conditioners and insulated heating and cooling ducts.
"Our buyers come from all across the gamut — blue collar, white collar, teachers, lawyers, doctors. Our price range is such that a real Las Vegan can afford a quality single-family home instead of being priced out. Harmony Homes builds homes within different price ranges that people who actually live in our city can afford," Simmons said.
To visit, take Interstate I-215 to Russell Road and head west. At the roundabout, turn right on Mesa Park Drive and then turn right on Hawk Springs Drive at the second Ladera Terrace entrance, following the signs to the model homes.
The models are open 10 a.m. to 6 p.m daily except Monday when models open noon to 6 p.m. When daylight savings time ends next weekend, the sales office will close at 5 p.m. The sales office may be reached at 982-0018.
Harmony Homes offers 17 neighborhoods located throughout the valley, with single- and two-story homes ranging from 1,312 to more than 4,000 square feet and priced from the $90,000s. All new homes come with Harmony Homes' warranty that covers all components for two years and the home's structure for 10 years.
For additional information, visit HarmonyHomes.com.