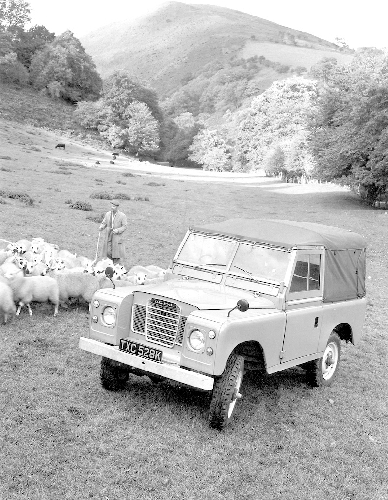 No matter who owns the Land Rover company today, the brand is a certified legend that is loved and respected in more than 140 countries by people who have a taste for adventure and a need to go just about anywhere.
At the end of World War II in 1945, Great Britain, although one of the victors over Nazi tyranny, was among the vanquished in terms of its battered economy. In an attempt to restore the country's financial health, the government encouraged British industry to develop products that would bring in hard currency from its trading partners. Businesses that were able to develop viable exporting strategies were given a higher allotment of the raw materials (products such as steel and aluminum were in very short supply at the time) necessary to produce these goods.
The upscale Rover automobile company found itself without an appropriate export commodity. The outfit, which had switched to manufacturing cars instead of bicycles back in 1904, needed a temporary vehicle that could be quickly and easily brought to market and sold abroad for a brief period while its passenger-car facilities were modernized.
It was Rover's chief engineer Maurice Wilks who turned desperation into inspiration. After the war, this part-time farmer had acquired some surplus American Army Jeeps as work vehicles and was impressed with their sturdiness. Wilks thought that building a similar vehicle — largely using existing mechanical pieces — would make the perfect export, not to mention home-market vehicle.
Using an actual Willys Jeep chassis, the first Landrover (it was originally one word and later became two), was constructed in October 1947. The Jeep's 80-inch wheelbase was retained for production models, which had lightweight aluminum bodies and a 50-horsepower 1.6-liter OHV four-cylinder engines borrowed from Rover's P3-series sedans.
The export-destined Landrover's official introduction took place, appropriately enough, at the 1948 Amsterdam Motor Show. At this stage, the off-roader was utilitarian to the extreme, with permanent four-wheel drive and a canvas roof. The headlights were mounted directly in front of the radiator, but behind a wire mesh grille for maximum protection. A set of removable doors was optional.
Perhaps surprisingly, this basic transportation device with its mountain-goat agility proved to be an immediate success, and orders began flooding into the company's Solihull, England, plant. The "temporary" Land Rover was rapidly becoming a bona fide smash hit.
Since then, the Land Rover has been in an almost constant state of development and refinement. A metal hardtop became optional in 1950 and engine displacement was increased to 2.0 liters in 1952. Shortly after, the then-standard 86-inch-wheelbase model was joined by an extended-length, 107-inch-wheelbase wagon that could seat up to 10 passengers. By 1957, a 62-horsepower diesel engine could also be ordered.
By the end of Land Rover's Series One (its manufacturing designation) production in 1958, the number of body style/engine combinations had exponentially grown, as had its tough-as-nails reputation. The factory also had a difficult time keeping up with demand. By 1959, worldwide sales had surpassed the 250,000 mark.
With the launch of the Series Two that year, Land Rovers became longer and more powerful. Buyers could even select a 12-passenger vehicle that was tax-exempt in Britain since it was technically considered a bus. In the early 1960s, the company developed specially bodied Land Rovers for commercial and military use. Called Forward Control, or cab-over units, they served as heavy-duty transporters and even fire trucks.
After 13 years and 750,000 in total sales, a more sophisticated, yet similar-looking Series Three Land Rover was introduced in 1971. The forward gears on the four-speed manual transmission had been fully synchronized and the rear axle was made stronger. The revised headlights were now mounted on the front fenders, well protected behind a stout steel bumper.
By that time, the Land Rover had been joined by the new Range Rover, a gentrified sport utility vehicle with V-8 power, an automatic transmission, air conditioning, power windows and other passenger-pampering items.
As the venerable Land Rover passed the 1-million production milestone in 1976, its reputation, along with its ability to climb mountains, ford rivers and go where no vehicle was ever meant to be driven, remained carved in granite.
Although flat-out performance was never the Land Rover's strong suit, it did receive the Range Rover's 3.5-liter V-8 in 1979.
The original Land Rover morphed into the Defender model — which looks somewhat like a Jeep Wrangler — and continued the tradition of all-conquering capability that has made it highly sought-after from Moscow to Madagascar.
Malcolm Gunn is a feature writer with Wheelbase Media. He can be reached on the Web at www.wheelbase.ws/media by clicking the contact link. Wheelbase supplies automotive news and features to newspapers across North America.