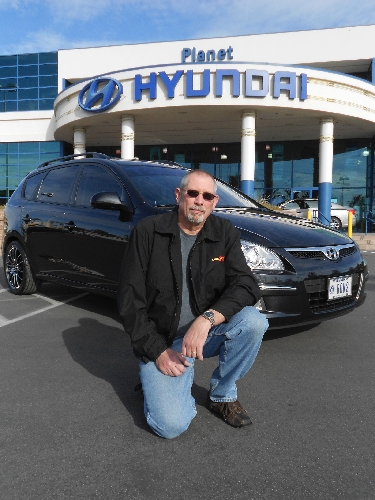 You could say that Las Vegas resident Ron Smith is definitely a fan of the Hyundai vehicle line. He first purchased two Hyundais from a San Diego dealership in 1988 and 1991 before moving to Las Vegas, where he later bought another three Hyundais from Planet Hyundai Sahara starting in 2008.
An engineering operations shift supervisor at the MGM Grand on the Strip, the native of San Diego has literally studied the Hyundai vehicle line from front to back over the years. His latest purchase, a 2010 Hyundai Elantra Touring sport wagon, was bought the same day his wife, Birgit, also purchased a second 2010 Hyundai.
"We had intended to trade in her Hyundai Accent for a bigger Hyundai," said Smith of the day the couple ended up purchasing two cars from Planet Hyundai sales consultant Anthony Fisher. "My wife wanted a bigger car, so we got her the Elantra and I fell in love with the Touring sport wagon that was sitting on the showroom floor."
A former 17-year veteran of the U.S. Air Force, Smith purchased the fully loaded Touring sport wagon before coming back two days later to assist his daughter, Bianca, in the purchase of 2006 Hyundai Sonata.
"It is fun to drive and it is very responsive," Smith said of his Touring sport wagon. "It's not a sports car, but it's not a sedan either. It's somewhere in between."
Smith said the Touring sport wagon came equipped with a two-liter engine generating 137 horsepower. The vehicle now has almost 20,000 miles and has delivered almost 26 miles to the gallon with the biggest percentage of driving in the city.
"We had four trips to San Diego and the Touring wagon handles very well on the road," he said. "I bought this car because of the grandkids and I do a lot of salt water fishing. There is plenty of room to haul everything when we're going to San Diego. In addition, you can fold the rear seat down and it's then an open wagon.
"The car is very versatile. We can put everything necessary in the car for long or short drives. And there is no comparison with the bang you get for the buck when comparing to other vehicles. These cars come with 100,000-mile warranties on the drive train and 60,000 miles bumper to bumper. That's the standard warranty on every new Hyundai sold and that is so important and valuable to me."
The Touring sport wagon now has custom rims added by Smith, who also added a 3-inch exhaust system for greater horsepower.
"I won't own a car unless it's fun; and the Touring sport wagon is fun to drive," he said. "For a little four-cylinder, it has lots of pep and I haven't had the chance to drive a fun car like this since my days in Europe when I had a Formula RS Capri, an Audi Quattro and my GTI Golf Volkswagen."
The Smiths purchased all of their vehicles from Fisher, who was once named the top-selling Hyundai sales consultant in the nation.
"We love the dealership," Ron Smith said. "The people here are trained about their product line so they know what they're talking about and we appreciate that. We really like their approach and the way they do business there. There are no games when buying a car from Planet Hyundai and there is no pressure either."
Planet Hyundai's locations include another facility at 6200 Centennial Center Blvd. in the northwest valley. Further information can be found by calling 938-1400 (Sahara); 483-2200 (Centennial) or by visiting www.planetlv.com.