Las Vegas-area companies go green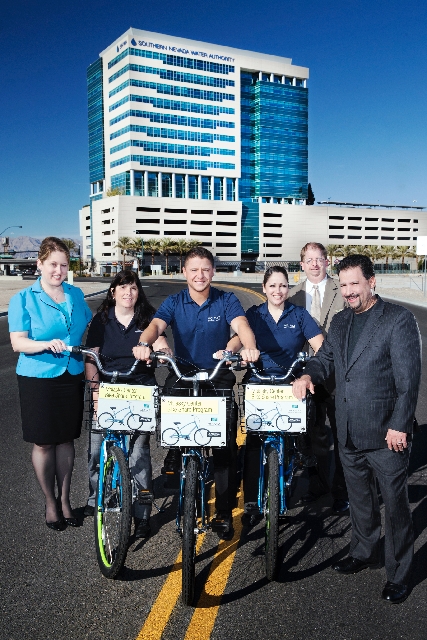 When Tracy Omar goes to work at the Springs Preserve, just about everything around him has some kind of story to tell that touches on the extraordinary.
The buildings are made from bales of straw and packed earth stacked like layers of a birthday cake. His desktop is fashioned from crushed sunflower seeds, and the carpets underneath his feet are reincarnated from plastic bottles and old rubber tires.
Omar is science and gardens supervisor at the preserve, 180 acres of museums, exhibits and desert gardens created by the Las Vegas Valley Water District to show the potential for living "green" in the desert.
The facility has a platinum rating from the U.S. Green Building Council's Leadership in Energy and Environmental Design (LEED) certification program, which means its sustainable elements — from furnishings to construction and design — are of the jaw-dropping variety.
Solar panels, for example, produce about 75 percent of the facility's energy. Roofs shaped like butterfly wings collect rainwater used for irrigation, and even the wastewater is treated by running through gravel and plant roots in the preserve's constructed wetlands, according to Omar.
"Almost on a monthly basis we have foreign dignitaries (taking tours), rangers from parks in foreign countries. We had a large group from Africa here a couple of weeks ago. … We really are a model of what can be done," he said.
Sustainability at a project such as the Springs Preserve is one thing. The notion that Las Vegas, a city known for excess, can become committed to green practices is another.
Yet, there are businesses both large and small, nationally based and locally grown, that are leading the way when it comes to "going green" in the valley.
Their reasons are varied. It seems to be a combination of consumer demand, the decreasing cost of being eco-friendly and some forward-thinking business leaders who understand the practical and social implications of saving resources.
MGM Resorts International is perhaps the most obvious example of this shift in Southern Nevada. The casino giant, which has about 50,000 employees in Las Vegas, has a division devoted to creating sustainable projects corporatewide. It enlists the help of "green teams," or task forces made up of employees at each hotel that help create and implement eco-friendly programs, according to Cindy Ortega, the company's chief sustainability officer.
"The fact is that in the business world and in the corporate world, greening is really important and that's because business has the scale to really make a change," Ortega said.
Green practices at the various resorts have included everything from switching to custom-made LED lighting for slot machines, to using solar shades on hotel room windows and purchasing limousines fueled by compressed natural gas, according to the company's 2011 annual Corporate Social Responsibility Report.
Since 2007, the corporation's move toward sustainability has resulted in an annual reduction of water usage of 12 percent or about 550 million gallons, a reduction of electrical consumption by more than 10 percent and a quadrupling of the company's overall recycling rate, the report states.
But the real "game-changer" was the creation of the towering CityCenter — including the 4,000-room Aria hotel, residential towers and a 500,000-square-foot retail district — which is the largest privately funded sustainable development in the world, Ortega said.
The project, which earned a LEED Gold certification, creates its own electricity on-site and is 38 percent more energy efficient than it would have been with normal construction, Ortega said. Even while the project was being built, the company recycled 94 percent of the construction waste.
Ortega said sustainability not only makes sense as a way to save money on utilities and protect the environment, it can attract business. A growing number of companies are doing what she calls "greening their supply chain." In other words, they are trying to work with other companies that are committed to sustainable practices.
According to Ortega, 18 percent of MGM Resorts' Las Vegas hotel rooms are used by business and convention clients. Their largest customer is IBM, which is one of the greenest companies in the world, she said.
"They send us comprehensive surveys that we have to fill out before they'll do business with us. They won't send us something that just has a check box that says: 'Do you recycle?'  " she said.
Tom Jones, associate professor at the William F. Harrah College of Hotel Administration at the University of Nevada, Las Vegas, said meaningful sustainable practices in the resort industry have been taking place since about the mid-1990s, but the progress has been slow until recently. A growing number of companies, for example, are now hiring sustainability managers, while it used to be "revenue management managers," he said.
Las Vegas has been more progressive than some may think, he added. Harrah's, for example, was at the forefront of the now ubiquitous towel-exchange program, developed to save on water and energy costs by asking hotel customers to reuse their towels, Jones said. The hotel also pioneered waste- and energy-management programs.
There are also local hotels that participate in socially responsible, eco-friendly programs. One is called Clean the World, in which hotels collect their unused soaps, box them up and deliver them to a factory where they are melted down, sterilized and sent to Third World countries, Jones said.
"Studies have shown that in the hospitality and hotel industry, there are markets out there that will make their purchase decision based on the sustainable practices at a property and will even pay a slight premium to stay in a property that does these things," he added.
Here are some more examples of Las Vegas "going green":
Molasky Group
Even while the Molasky Corporate Center in downtown Las Vegas was being built, paints free of volatile organic compounds, or VOCs, were used on the walls, and the flooring was attached with nontoxic water-based glues, according to Richard Worthington, president and chief operating officer.
The building's insulation is made of shredded blue jeans, 98 percent of the steel used in the project is recycled, and water from the heating and cooling system is reused for the landscaping.
The Molasky Group of Companies spent about $4.5 million more than what would normally be required in a typical construction project "to take a leadership position in our industry, in our community, and to demonstrate to others that you can raise the bar and the threshold for sustainable development in Southern Nevada," Worthington said.
It seems to have worked. The center's largest tenant is the Southern Nevada Water Authority and the 285,000-square-foot building, 100 N. City Parkway, is the first downtown office building to receive a LEED Gold Class-A certification.
Since opening the center in 2007, its first LEED building, five of Molasky Group's most recent projects have also been constructed to meet LEED Gold certification.
UNLV
The University of Nevada, Las Vegas has been gradually "going green" for several years . One of the newest projects is the addition of filtered-water dispensers in campus buildings to cut down on the amount of plastic water bottles on campus, according to sustainability coordinator Tara Pike.
The university is also working hard at increasing its recycle rate at large events. During last season's final home football game at Sam Boyd Stadium, more than 7,000 pounds of material, including glass, plastic, paper and aluminum, was sorted and recycled, Pike said.
Also, the staff at most of the on-campus kitchens collect food waste for composting and this fall the school is piloting a compostable-collection program in the Student Union. For the first few weeks, staff and volunteers will be standing by recycle containers in the dining area showing students which of their leftover food items should be placed in the different bins, including those set aside for composting.
"It's going to be a lot of work but it's good for us to try it. We're going to weigh everything, we're going to get numbers, we're going to really kind of study this and get down to the nitty-gritty and see if this is something we can continue doing," Pike said.
There will also be a community garden project to encourage the idea of sustainability, consisting of 43 plots spread throughout campus that can be rented by various groups, she said.
Expedia
Online travel company Expedia Inc., which has offices in Las Vegas, offers "Tips for Green Travel" on its websites. It also provides travelers with the chance to limit their carbon footprint through a partnership with a company called TerraPass, said Kristin Graham, Expedia's vice president of engagement and communication. Travelers basically fund clean-energy projects that help offset the emissions created by their airplane flights.
Sustainability also reaches the company's corporate culture. The headquarters in Bellevue, Wash., for example, is located in a LEED-certified commercial building, the first of its kind in the city. The more than 2,000 employees in the building also have access to free bus and ferry passes, and discounts on parking if they drive a hybrid vehicle, Graham said.
Element
For eco-conscious travelers, a whole new world is starting to open up. In the northwest part of town, for example, there is the eco-friendly Element Las Vegas Summerlin hotel. It is part of a new chain developed by Starwood Hotels and Resorts Worldwide to appeal to consumers who are looking for the ultimate in sustainable lodging.
All the hotels are "built green from the ground up" and include amenities such as in-room recycling bins, furniture made from soy-based fabrics, priority parking for hybrid cars — even a stationary bike in the gym with a pedal-powered generator that charges tablet computers and cellphones, said Paige Francis, Starwood vice president of marketing, specialty select brands.
"Growing numbers of consumers are choosing brands that reflect their personal choices. Sustainability is a hot button. I think the hotel industry will take a page out of Element's eco-wise book, because consumers will demand they do so," Francis said.