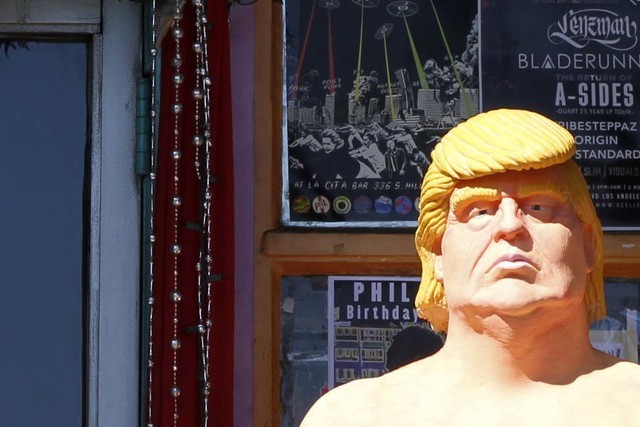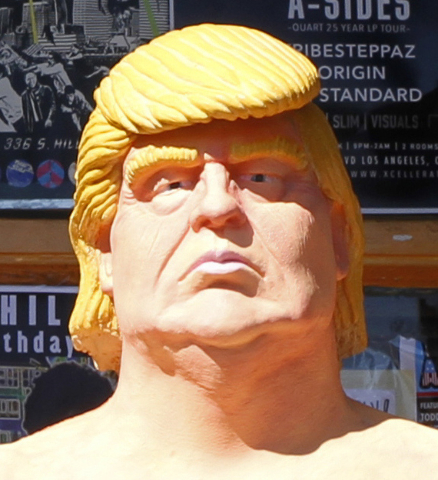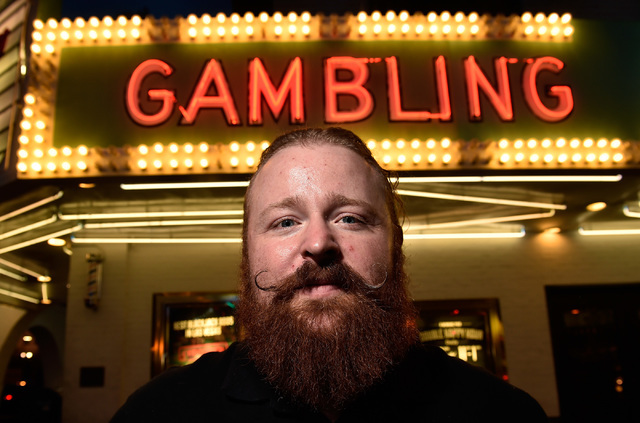 We haven't seen the last of Naked Trump.
That's a promise from Joshua Monroe, aka "Ginger," the Las Vegas artist behind the life-size, nude statues of the Republican presidential nominee that took the world by storm in August.
"There's more to come," Monroe, 36, said Thursday. "I own the mold."
On Aug. 18, five of the 80-pound statues unexpectedly appeared in public areas of Seattle, San Francisco, Los Angeles, Cleveland and New York.
The anarchist artist collective INDECLINE has taken credit for placing the art, which is titled "The Emperor Has No Balls" and depicts Donald Trump with veiny skin, a bulging belly and genitals that are the opposite of "huge."
While the statues have since been removed from their original positions by both business owners and authorities, their appearance seems to have resonated with a global audience that has a disdain for Trump and his campaign's platforms.
The surviving statues have become local landmarks, appeared Tuesday on "Jimmy Kimmel Live" and, soon, one will be up for auction.
Beverly Hills-based celebrity auction house Julien's Auctions has plans to sell a statue on Oct. 22 as part of a 250-piece auction that will include pieces from renowned street artists including Banksy, Mr. Brainwash and Invader.
Originally estimated to fetch anywhere from $10,000 to $15,000, the Trump statue will probably sell for a higher price because of ever increasing interest, said Megan Mulrooney, the company's head of street art auctions.
"It seems there's a lot of people who want their hands on Trump," she said. "I think people always want to own history. It's like the ultimate piece of memorabilia, so to speak."
A portion of the auction proceeds will benefit the National Immigration Forum, an immigration policy organization. None will go to Monroe.
The Trump campaign declined to comment on the statues Thursday, including whether Trump or his affiliates planned to bid at the auction.
Monroe said he has received offers from parties across the country and overseas to either buy or feature his work. He is already making more statues to meet the demand.
"There's one on its way to Stockholm right now for a TV show. It's kind of like the Swedish version of the 'Colbert Report,'" Monroe said Thursday, referring to political satirist Stephen Colbert.
Monroe said he does not have plans to make statue replicas of Hillary Clinton, the Democratic Party's presidential nominee.
"I'm not her biggest fan, but I'm not wanting to get on her bad side," he said. "I think that would open a very large can of worms."
Contact Michael Scott Davidson at sdavidson@reviewjournal.com or 702-477-3861. Follow @davidsonlvrj on Twitter.