Las Vegas Business Academy gives professionally focused grad students a leg up
December 9, 2013 - 6:49 am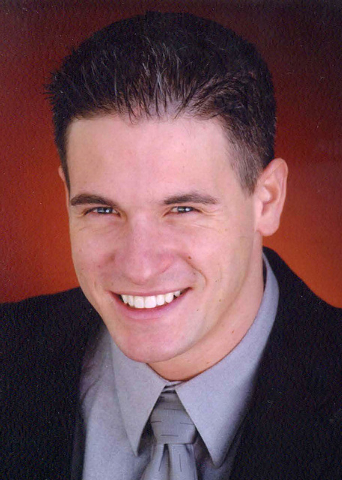 With his purple-frame eyeglasses, matching purple tie and charming, direct personality, Rino Armeni Armeni exudes style and sensibility. Through his Las Vegas Business Academy, Armeni wants to create a cadre of Nevada business leaders as bold and bright as his outfit.
The nonprofit academy awards scholarships of up to $75,000 to college students. But instead of awarding grants to undergraduates, only graduate students enrolled in a master's program for law, hotel administration or business in Las Vegas are eligible.
"Las Vegas has never been known for higher education, but we're trying to change the image of the city," Armeni said in an interview at the Las Vegas Business Academy's 1,500-square-foot headquarters on Tropicana Avenue near the 215 Beltway.
After awarding the scholarships in October to two students enrolled in the University of Nevada, Las Vegas' law school and hotel administration college, respectively, Armeni wants to give scholarships to three graduate students in 2014. This year's scholarship winners were Las Vegas native and former 2000 Olympic gymnast Tasha Schwikert, who is attending UNLV's law school; and Matt Sheahan, a former New Yorker attending UNLV's hotel administration school.
Armeni said graduate students are specifically targeted because they're more decisive about their career aspirations.
"I learned with (undergraduate) students, they don't know what to do until their senior years," Armeni said. "It would be a gamble for us to give the amount of money we're giving."
Armeni, the former marketing director for Southern Wine and Spirits of Nevada and a former Hilton and Marriott hotel executive from Europe, relies on his 26-member board to mentor scholarship winners and show them life in business.
For example, Armeni said board member Dominic Caldara, president of Get Fresh Sales, will show one of this year's scholarship winners, Sheahan, what it's like to bid for products and deliver items to retailers.
"Matt is going to work the fruits and vegetables at 3 in the morning and learn to understand quality in business," Armeni said.
One of the organization's 11 charter members, Gary Charmel, president of wine and spirits distributor Johnson Bros. of Nevada, said the group hopes to keep Las Vegas' best and brightest from leaving Nevada while also luring bright young business professionals here.
"The bottom line is that we're trying to reverse the brain drain in Las Vegas," Charmel said. "We're all better off if we can attract the better-educated people who can drop roots in Las Vegas."
To raise money for scholarships, Armeni taps his vast grapevine of contacts. He has to generate at least $225,000 to provide the scholarship money for three graduate students in 2014.
In 2013, 28 applicants vied for the scholarships. Armeni stressed that the winners need to be both bright students and charismatic leaders.
"We're looking for all the qualities you need in a leader. We also want them to be a good person inside," he said.
Contact reporter Alan Snel at asnel@reviewjournal.com or 702-387-5273. Follow Snel on Twitter at @BicycleManSnel.