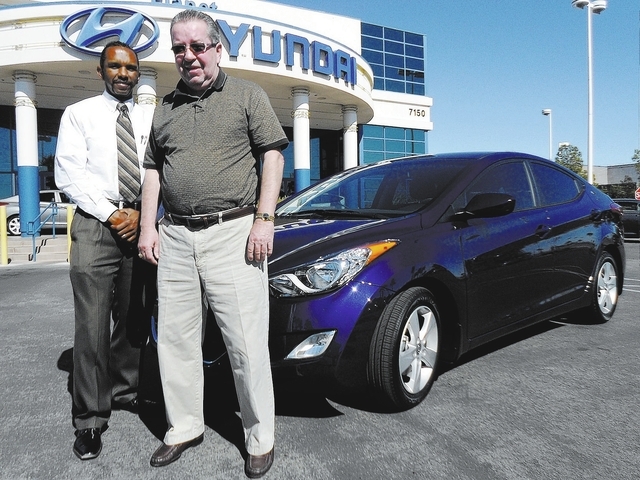 Considering his background in the car business, Las Vegas resident Bill Bennett certainly knows the industry.
So when Bennett goes to work each day, he visits clients in a 2013 Elantra purchased from Planet Hyundai Sahara.
A former sales associate in the car business, the native of New York has purchased three Hyundais from sales consultant Tony Fisher, and he's in the market for another one.
"It's a terrific deal," Bennett said. "I wanted a blue car and I ended up with the indigo blue. It was the right interior and the Planet staff I worked with really knew what they were doing. They are all very pleasant and also very knowledgeable."
When Bennett lived in Long Island, N.Y., he drove a Hyundai Tiburon and said he loved the car as soon as he got into it.
"I was in the machinery business at the time and I loved the car," said Bennett, who now also owns a Hyundai Accent. "My partner and I used to install machinery and we went all over Canada, Boston, and just all over the East Coast. The car never broke down on me and never even had a flat time.
"I had 80,000 miles on the car and never had an issue whatsoever with it."
The latest purchase of a Hyundai may have been the easiest ever for Bennett, who has now owned seven Hyundai models including one Accent, three Elantras and three Tiburons.
"Tony is very low-keyed," Bennett said. "He knows the car inside and out and he allows you to make your own mind up. There is no high pressure whatsoever and the support crew at the dealership is excellent."
Bennett said he loves the way his latest purchase drives. He puts about 300 miles a week on the Elantra.
"This is the only car I have ever had that actually got the mileage shown on the sticker," he said. "The Elantra gets 30 miles to the gallon around town and 35 to 36 on a trip. It is a four cylinder, has a lot of pep and handles very well.
"I was just coming in to have my car serviced and the next thing I knew I was buying a car. I'm glad they made the offer to me that they did."
Bennett said the warranties were a big factor in his purchase. He has a 10-year, 100,000-mile engine warranty along with the five-year, 50,000-mile bumper-to-bumper warranty.
"I may have used the warranty once back in Long Island, but I have never had to use the warranty since," Bennett said. "To me, the warranties with Hyundai are unbeatable."
Planet Hyundai Sahara is at 7150 W. Sahara Ave.
The locally owned umbrella list of dealerships also includes Planet Hyundai Used Car Super Store at 7100 W. Sahara Ave. and Centennial Hyundai at 6200 Centennial Center Blvd.. Further information can be found by calling 702-938-1400 (Sahara) and 702-483-2200 (Centennial) or by visiting www.planetlv.com.