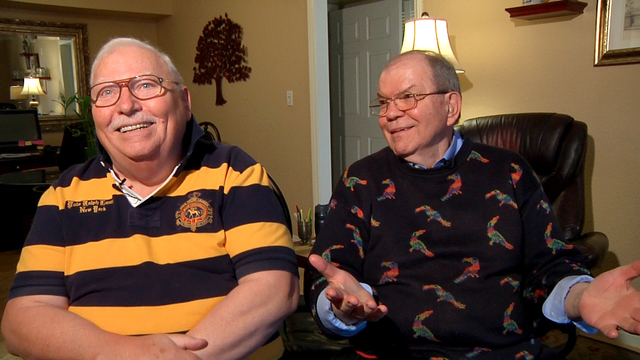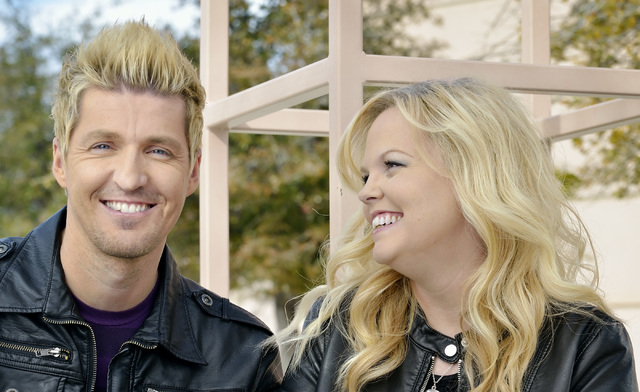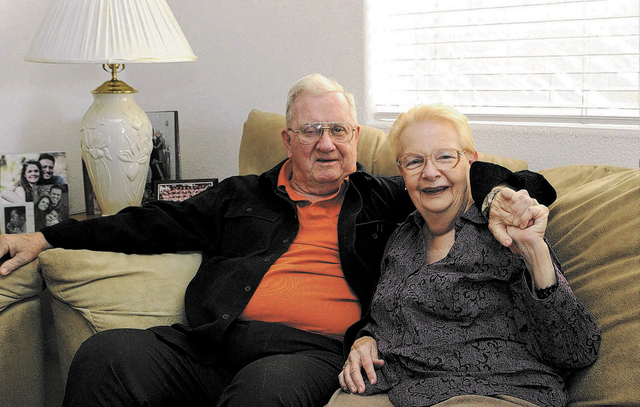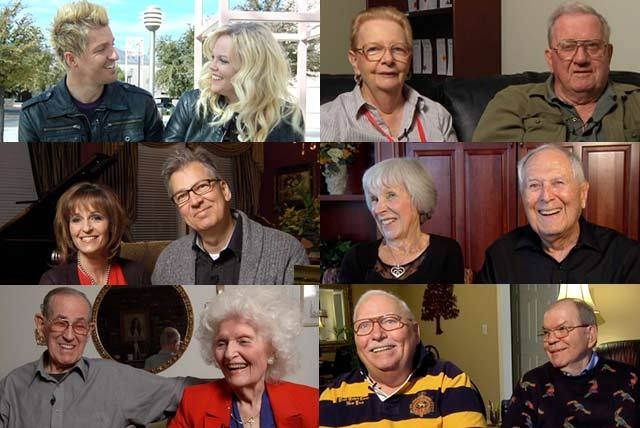 View readers from all over the Las Vegas Valley responded to the call to share their love stories. Six couples took time out to share their tales of romance with View videographer Michael Quine. More shared their stories with View reporters. To read all View's love stories and other tales timed for Valentine's Day, visit reviewjournal.com/life/love-stories.
To view the full story to any of these excerpts, click on the story subhead.
'IT'S IN THE SCRIPT'
A Sunrise Manor couple met during a production of "Fiddler on the Roof," a musical about the father of five daughters and his attempts to maintain his family and Jewish religious traditions.
Playing the role of Hodel, one of the daughters, is how Sandra Huntsman met her husband Steve, who played her love interest, Perchik.
Sandra and Steve Huntsman were aspiring actors in their early 20s who shared an immense passion for theater and music.
"It took me a while to notice him, so it wasn't love at first sight," Sandra said. "But when I noticed him, he was pretty much all I noticed."
A few days after their initial rehearsal, Steve was cast as Perchik after another actor quit. After rehearsing together for three months, the actors began trying to find ways to spend more time together.
Steve said it was more than just Sandra's looks that caught his attention.
"The first thing that I fell in love with was her voice," Steve said. "When I first heard her sing, I (became) instantly attracted. Her voice was beautiful, absolutely beautiful."
In the beginning stages of the rehearsal, Steve liked another woman who lived in a different state, and Sandra even helped him get out of a rehearsal once so that he could see her.
"I always thought she was cute," Steve said. "I guess I didn't know if I wanted to be with somebody who was also an actor, but it came to prove that it was probably a better thing."
After spending multiple hours rehearsing each day and talking on the phone, Steve and Sandra became an official couple five months after meeting.
Two weeks later, before closing night, Steve confessed to his mom that he was thinking of marrying Sandra and he was feeling overwhelmed. Steve said his mother, who has been married to his father for more than 40 years, replied, "When you know, you know."
That same day, Steve went out to buy a ring and prepared to give the performance of his life inside the Summerlin Library Theater. He decided to propose to Sandra during the scene in which Perchik casually proposes to Hodel.
Instead of simply standing and asking for her hand in marriage, Steve got down on one knee and opened a box with a ring inside and said, "Hodel, will you be my bride?"
"My first thought was I didn't even know he liked me that much," Sandra said. "We'd only been dating officially for like two weeks, so I was very surprised. I had to say yes. It's in the script."
"I tricked her," Steve said, laughing.
The couple had a hard time finishing the scene. Sandra said she was in such shock that she could not breathe, and she kept shaking. Steve even had to help her sing a song during the scene.
"The cool thing was that at the end of the song, we got a standing ovation in the middle of the show," Sandra said. "We've been in a lot of shows since then, and I don't think any of us have gotten a standing ovation since."
The couple became engaged in November 1998 and married the following March.
— Sandy Lopez
CO-WORKER'S EX-BOYFRIEND WAS HUSBAND MATERIAL
Summerlin-area residents Lara and David Stone met in Tempe, Ariz., soon after she graduated from college. Her new job was working at a student organization at Arizona State University.
"My boss hired a young woman to assist me who quickly became a good friend," she said. "She would talk about a previous 'boyfriend turned good friend' who lived in Los Angeles."
A few months went by, and the co-worker invited David, the ex-boyfriend, to a party, as he was to be in town visiting family members who lived in Phoenix. Cupid had both of them in his sights, and they began a long-distance relationship. One week, she would fly to Los Angeles, and the next week, he would fly to Phoenix.
Lara moved to Los Angeles 1½ years later for graduate school. The couple continued dating and married two years later.
— Jan Hogan
73-YEAR-OLDS SAY LOVE AND RESPECT HAVE HELPED RELATIONSHIP SURVIVE
Dieter Bornemann was engaged to a woman a few months before he met his current partner, James Borden.
"You can't hide (being gay). It comes through," Bornemann said. "You're not truthful to yourself. You just can't fight it like people say."
While Bornemann, 73, said he was attracted to Borden's personality, Borden, 73, jokes that he was in it for the money.
"I thought he had money," Borden said. "He had a brand new yellow Thunderbird, and I looked at (him) and thought, 'Where did he get all that money?' "
The couple first noticed each other at a New Jersey diner in 1967 and then ran into each other again the following night at a bar.
"He was buying people drinks, and they weren't reciprocating," Bornemann said. "People were taking advantage of him, (and) I said, 'He doesn't deserve this.' "
Borden said they began spending more time together and became a couple. With Bornemann's extensive culinary background, the men opened a restaurant in Red Bank, N.J., in 1971. It was then that Bornemann knew Borden was "the one."
"I was looking for someone to help open the restaurant, and I knew he was a businessman," Bornemann said. "He had a woman come in, and she wanted to buy something he didn't have, and he had such a way to suggest something (else) to her.
"I said, 'What a nice person. This is important for business and everything else.' That was the trick."
After about 40 years, Borden and Bornemann sold the restaurant and moved to Las Vegas. Despite bouts of illnesses, the men said their relationship has survived through love and respect.
"Whatever we did in life, we talked it over," Bornemann said. "Respect to him (and) respect to me. It's a two-way street."
— Caitlyn Belcher
60 YEARS AND COUNTING
Mal and Joni Telloian did their long-distance relationship the hard way.
The pair met in 1952, through family friends who had first come to know Mal, an Army veteran, while he was stationed near Joni Bevilacqua's hometown of Fort Lewis, Wash.
Mal went on two dates with Joni before he was honorably discharged and called home to California.
Letters and monthly phone calls helped sustain the couple for two years before they were reunited and married in 1954.
They've been almost inseparable for 60 years.
"We do everything together," Joni said. "We go everywhere together, and so my worst nights are when I have a dream that he's lost, and I can't find him.
"I remember he wrote to the newspaper the one year, our 54th anniversary, that he still wanted to squeeze the stuffing out of me, and that's true."
The Telloians don't put much weight in holidays such as Valentine's Day and rarely make much hay out of their own anniversary.
They try to make every day romantic, a task that comes easiest on Tuesday and Thursday afternoons, when the pair can be found swirling around the dance floor with two dozen other members of the Sun City Aliante Steppers.
The Steppers, one of the Las Vegas Valley's largest and most visible senior dance troupes, perform roughly 20 paid gigs a year, packing venues from the Santa Fe Station to The Orleans and donating all proceeds to local charities.
Mal, the group's only male dancer, often finds himself the center of attention. The 85-year-old has played everyone from Elvis Presley to an outlaw biker in the five years since Joni talked him into joining the group. Lately, he's featured as part of a solo number set to Britney Spears' hit "Womanizer."
He's always been a good dancer and, according to Joni, an even better singer.
Mal took singing and tap dancing lessons growing up in Los Angeles.
He ended up proposing to Joni at the Lighthouse, the famous Hermosa Beach jazz club where he once wooed her with a tongue-in-cheek rendition of Dean Martin's "That's Amore."
"He loves jazz, and I learned to love it with him," Joni said. "The most romantic thing he used to do is he would sing to me sometimes. … But, really, every day with him is romantic."
— James DeHaven
LOVE AT FIRST SIGHT? NOT QUITE
Rosemary Pisani said that when she met her future husband Lou, it wasn't love at first sight.
"I didn't even pay attention to him," she said. "I didn't realize he was there, but he realized I was there."
The Pisanis have been married for 60 years, so clearly, he managed to get her attention eventually.
"I think he's the romantic one, but he doesn't show it publicly," Rosemary said. "He never did."
"She's the romantic one," Lou countered. "She remembers all the dates."
The pair met in college when native Las Vegan Rosemary Mikulich was attending graduate classes at the University of San Francisco. World War II veteran Lou Pisani came from across the bay in Oakland, and although he was going to school there, the classes weren't his primary interest.
"I went to school there myself," said one of the couple's daughters, Linda Pisani. "One of my teachers said, 'I remember Lou Pisani. He was in the ball field more than the classroom.' "
Lou said he first noticed Rosemary because of her long auburn hair but soon found she wasn't just a pretty face.
"We took the same classes," Lou said. "She's the one that had all the brains, so I was there alongside her to get information on our studies."
After college, Rosemary returned to Las Vegas, where she taught at the Fifth Street and Sunrise Acres elementary schools and and helped in the family motel business. Her father emigrated from Bosnia and Herzegovina in 1914 and operated the Las Vegas Cafe from the early 1920s until 1936. With the money from the sale of the cafe, he purchased the block at Fremont and 10th streets for $70,000 and opened the Ambassador Auto Court . It went through a few names before it was demolished in 2007. When Lou first visited Las Vegas in 1952, the family was in the midst of expansion, adding a second building.
Lou came back to town to visit on New Year's Day 1953 to pop the question.
Lou's dream was to coach high school sports, and through Rosemary's family dentist, who was on the school board, Lou got a job teaching at Crestwood Elementary School when it opened. For five years, he volunteered as a coach at Las Vegas High School until he was hired by the school. He worked there for 30 years.
The couple still fondly remember going to movies on Friday nights at the El Portal Theatre and attending the big high school football games.
"Our favorite thing to do together was to go to church on Sunday and then go out the get a bite to eat," Rosemary said. "We'd go to brunch at the Sahara, the Riviera, the Tropicana and the Flamingo. They had great food."
The couple saw some of the biggest names of the day at the casinos. They recall seeing Liberace, Elvis Presley, Mitzi Gaynor, Dinah Shore, Lena Horne, Frank Sinatra and others.
The couple say that love, commitment, faith and compatibility are what brought them through 60 years of marriage.
"You better understand each other," Lou said. "It's a 50/50 proposition. You have to give in, and your partner has to give in. When you're young and romance is in the air, it goes by so quickly, it's hard to believe. Marriage isn't perfect. What causes the problems is money and not making enough. That's what causes a lot of disturbance in the family."
Lou admits that his coaching kept him away from the family a lot, and that caused some tension in the marriage.
"Women want to be treated well, and the honeymoon doesn't last forever," Lou said.
"Ours has," Rosemary said.
— F. Andrew Taylor
LOVE ON THE SLOPES
Drought has seen workers at the Las Vegas Ski and & Snowboard Resort manufacture plenty of man-made snow to keep skiers busy over the past few years.
But no one at the family-managed resort has ever worked so hard to churn out a love story.
Two generations of the Bean family have met and fallen in love with their significant others on the mountain.
Resort building and facilities manager Brian Schenck literally ran into his future wife on the slopes. Both were traveling at a high speed, and Heather Bean managed to break an arm.
The encounter was every bit as romantic as one might expect.
"We met up here in '95," Heather said. "We were really good friends before (the crash) but didn't start dating until then.
"He borrowed my brand new snowboard afterward — said I wouldn't be needing it."
Heather, a former ticket booth manager now pregnant with the couple's second child, said her fondest memory on the mountain is her wedding, which featured an altar decorated with hearts carved into the snowdrifts by her brother Josh and father Jack.
"(Heather) actually took my job application when I first applied; she didn't really notice me," Brian said. "I was the only employee who dared to date the boss' daughter, so we had that hurdle cleared.
"We'd been working up here together for a while, but it took a couple of (ski) runs after the crash to bring us closer together."
Slope maintenance manager Josh Bean took his wife Stephanie out on a grooming run for their first date.
Stephanie, now a schoolteacher and mother of two, remembers finding herself on a chairlift with Josh at 3 a.m., clad only in high heels and a dress.
It's no surprise that her fondest memories as a couple tend toward toastier climes: their honeymoon in Jamaica and early dates that saw Josh sweating over a homemade dinner in a cozy, snowbound lodge.
"(Josh) is a really good cook," she said. "That's what he did for, like, the first three dates, which is sort of unique, but it's hard to go out on the town when you have to be up before everybody to groom the runs."
Resort ski operations manager Jack Bean's son and daughter in-law have a pallet of charming, mostly family-friendly recollections of love and marriage on the mountain.
But his and Monetta's story came first.
The pair met on the mountain during the 1971 ski season, one that saw Monetta working in the the ski shop while Jack tended to the slopes.
They spent the first of their more than 40 years together in a $50-per-month cabin above the treeline and now live a half-hour away from the resort at the southern end of Kyle Canyon.
The elder Beans still spend every winter at the slopes and every Thanksgiving and Christmas with their kids and grandkids.
Jack doesn't think of himself as a romantic, according to Monetta, but he is a sucker for Valentine's Day, the night he gave her his high school class ring to help break the ice on a first date.
Valentine's Day also marks the anniversary of Heather and Brian's first date and Josh and Stephanie's first kiss.
— James DeHaven
A WIGGLE AND A GIGGLE
After 53 years of marriage, Liz and Dave Dameron don't think the romance is gone, but it sure has changed over time.
"As you get older, the definition of romance changes," Dave said. "It becomes about the way we know each other and depend on each other."
The Henderson couple have been learning the lessons of love since they first met in a French class in college.
"I almost flunked," Liz said.
She was distracted by Dave, who kept wiggling his ears.
"I couldn't resist," she said. "Every time he would do it, I would just giggle."
They had a few conversations — all in English — and became friends.
Liz went off to Brown University for her master's degree while Dave went to Cornell University. They stayed in touch through postcards and letters.
They planned to reconnect to go see a show together.
"It was 'The Taming of the Shrew,' " Liz said. "We have probably watched that show two dozen times throughout our relationship."
She joked that Dave still hasn't tamed the shrew.
Finally, they decided to start a relationship.
While dating, Liz realized that Dave was the one.
Dave casually asked Liz to marry him not long after that. Her mother had invited the couple over for dinner.
Fearing that her own divorce might have adverse effects on her daughter, Liz's mother was adamant about making sure her children were open to marriage.
After Liz told Dave her mother's fears, he simply told her they should get married.
They said their secret to a lasting marriage is that each had a successful career.
"And we weren't always together," Liz said. "We each had our own things going on. When we would come together at night, we had things to talk about because we both had active lives."
When they were ready to settle down, they decided to move to Henderson, where Dave's family had moved several years before.
They still enjoy the show life in Las Vegas, mostly attending off-Strip productions.
"We are notorious to attending the opening nights of events," Liz said. "People say they worry if they don't see us at an opening night."
They have recently returned to the classroom together to co-teach a class in the continuing education program at UNLV.
"He talks about the history of Shakespeare," Liz said. "I tell the class about all Shakespeare's missteps while creating his productions."
Even though the lessons from their French class have faded, the romance that started there remains.
"I can't speak any French," Dave said. "I can still wiggle my ears, though."
— Michael Lyle
More Love Stories
To read more View love stories, visit reviewjournal.com/life/love-stories.
To share your love stories or suggest stories for next year's package, write to letters@viewnews.com.