Las Vegas' entrepreneurial Danny Koker still going strong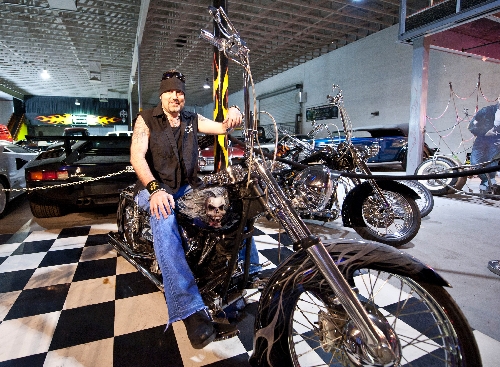 They call him Count Cool Rider, and many locals know him as the host of the long-running local television program, "Saturday Fright at the Movies."
It has been years since Las Vegas resident and businessman Danny Koker has portrayed the vampire count he created for the show, but the nickname stuck.
"I'm happy about that because it's something that I started," he said. "Plus, I'm a huge monster fan. Always have been."
Koker, a self-taught mechanic, television producer, hot rod and motorcycle enthusiast and musician, is the owner and proprietor of Count's Vamp'd Rock Bar and Grill, 6750 W. Sahara Ave.; Count's Kustoms, 2714 S. Highland Drive; and Count's Tattoo Company at the Rio, 3700 W. Flamingo Road.
"I've been really blessed in life to have the opportunity to peruse things that I love, that I'm passionate about," he said.
Koker grew up in Ohio and in Michigan, where his father was an executive for the Ford Motor Company. He credits his father for his love of motorcycles and cars.
"My dad got me my first bike when I was eight years old," he said. "We started a collection together. I had a thing for taking things apart and putting them back together to learn about how they worked even back then. I think that's when my love affair with cars began."
Koker said he was never the kind of person who should be in college, although he attended one year at the University of Nevada, Las Vegas to please his parents.
"I promised I would give it a try, and I did," he said. "It didn't suit me."
Koker said his family moved here twice during his youth. He attended Valley High School.
"I consider myself a local," he said.
Count's Kustoms was the first business Koker opened in the valley, a feat he accomplished nearly 10 years ago.
"Man, I just can't believe it's been that long," he added .
The shop specializes in custom-built choppers, cars and bikes and has been featured on the reality television show "Pawn Stars."
"We've seen a lot of business come our way with people actually shipping their rides to us from across the country," he said. "Pretty awesome experience."
The rock bar is a testament to Koker's love for all things rock 'n' roll, and features food, drinks and live performances from bands like Adler's Appetite, Faster Pussycat and the John Zito Band.
"Every Monday night we have an open mic jam session where anyone is welcome to come and hang out," Koker said. "I wanted this place to be reminiscent of the old rock bars you would find on Hollywood and Sunset in L.A."
Koker said his vision for the club is finally coming together on the heels of the venue's second anniversary.
Las Vegas resident Brad Sparks said he comes to the club regularly for the great music and good times.
"This place is awesome," he said. "Hands down the coolest club in the city."
Koker said that in five years he hopes to be in a position to help the community.
"I hope that, five years down the road, we find our nation, our state, our economy and our business community in a better place," he said. "And I hope I am in a place to finally give back to the community I love so much. That would be my dream situation."
Contact Southwest and Spring Valley View reporter Amanda Donnelly at adonnelly@viewnews.com or 380-4535.