Las Vegas film industry getting a boost through new studio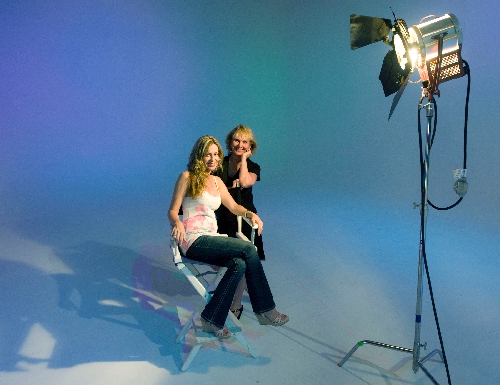 Movie industry veteran Phyllis Carreon-Taie has long held a dream and a vision that Las Vegas could maintain a relationship with the entertainment industry, making Las Vegas a sister location for filming in New York, Los Angeles or any number of other locales.
That's why she opened Dream Vision Studios, a full-service facility complete with a sound stage and partners in catering, screenwriting, props, lighting and just about any other medium needed to create a quality movie, production, event or commercial.
"That was all fine and good until the building we were occupying was foreclosed upon," she said. "No fault of our own. That was on the owner of the building. But we were forced to make do for a few years, not really having a home base."
Carreon-Taie said that's why she is so thrilled to finally be opening a new location.
Dream Vision Studios held a grand opening June 4 at the new studio, 4544 W. Russell Road.
Studio partner Shawn Lane said the venue can provide any number of services for people looking to create something special in the industry.
"The space is also great for events," she said. Throughout the year, the facility will offer (in cooperation with its vendors and partners) classes in everything from movie make up to pyrotechnics.
"It's going to be a fun mixture, and we are very excited to bring this to the public," Lane said. The facility is also equipped to edit in 3-D.
Carreon-Taie said the studio's goal is to become a microcosm of Los Angeles' Paramount Studios.
"We want to show the rest of the world what Las Vegas is made of while enhancing business of vendors that are Las Vegas-based," she said.
Lane said that for services the facility cannot provide in-house, she and Carreon-Taie can at least point people in the right direction.
"We can help with getting your licensing and permits, scripts, anything you can think of," she said.
Carreon-Taie said the past few years have been difficult, but she has worked hard to keep the studio alive.
"Not having a location meant we didn't have a stage, and that's a problem," she said. "But the people I work with are dedicated, and we all just made it work. We didn't stop what we do or let circumstances interfere."
Carreon-Taie, who has worked for major Hollywood studios, said she decided to open Dream Vision after Sen. Harry Reid asked her to consider doing so in Nevada in 2000.
"We have had a tremendous amount of support from a number of places, and we wouldn't be here if that weren't true," she said. "I think things are looking up now, and we are excited to share what we have to offer with the world. We're dedicated to putting Las Vegas on the map for film."
Contact Southwest and Spring Valley View reporter Amanda Donnelly at adonnelly@viewnews.com or 380-4535.