Las Vegas Justice of the Peace Department 3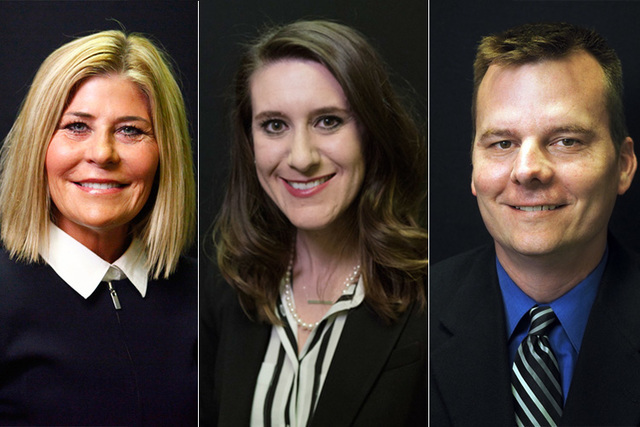 Two lawyers with distinct backgrounds are vying to unseat a Las Vegas justice of the peace after her first term.
Incumbent Janiece Marshall faces Harmony Thames Letizia, a chief deputy public defender, and Sean Patrick Connell, an attorney who focuses on civil matters.
Letizia and Connell pointed to Marshall's low ratings among fellow lawyers in recent years, while the judge said she has learned from her experience on the bench.
Marshall, who was elected in 2010, pointed to her efforts to alleviate overcrowding at the Clark County Detention Center and work in the community, engaging schoolchildren in all aspects of the law.
"I'm a really well-rounded judge at this point," Marshall said, pointing to having presided over thousands of cases.
"I'm a hardworking judge, and it's very important to me that people have their day in court.
It's very frustrating if a judge doesn't actually listen to your arguments and is not really prepared for the case or doesn't understand it."
Letizia, who said she has represented more than 2,000 clients, has worked for the Clark County public defender's office for more than six years. "I've always believed in public service," she said. "As an attorney, the highest level of service we can do for the community is serving as a judge."
Letizia said that, through fellow attorneys, she learned of "a huge problem" with timeliness in Department 3 and decided to run.
Endorsed by the Clark County Prosecutors Association, Letizia said she had more involvement with criminal cases than her opponents.
"I have the temperament necessary, and I have the experience necessary to do a better job than my opponents," she said. "I've appeared in Justice Court almost every day since I started practicing law, so I know Justice Court in and out."
Connell has focused on civil matters, including insurance coverage, bankruptcy, foster parent liability, predatory lending claims and complex construction defect litigation, for much of his 16 years as a lawyer. But he said he also handles criminal cases, including pro bono work for disabled veterans.
He said he was seeking the seat because "voters need to have a choice."
"I looked at polls and decided this would be the race where I could do the most good," he said. "It's an inherent feeling of trying to do something beneficial in the community, and also a commitment to fairness and justice. I view it as an admirable position, and it's something I aspire to."
Connell called his unsuccessful bid in 2014 for a spot on the District Court bench a "stepping stone," adding that "I'm now much better prepared to actually try to win."
Contact David Ferrara at dferrara@reviewjournal.com or 702-380-1039. Find @randompoker on Twitter.